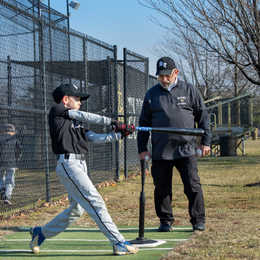 Play Ball!
Under the direction of legendary coach Sam Tropiano, children who attend the Scholastic Baseball Camp at Bishop Eustace discover a love for the game and the skills to succeed.
Hardcore baseball fans across the country know Zac Gallen as a rising star for the Arizona Diamondbacks who shut out the world champion Atlanta Braves last year and once tossed seven innings of one-hit ball at Dodger Stadium. In Sam Tropiano's mind, however, he can still picture the precocious 7-year-old who showed up to the Scholastic Baseball Camp at Bishop Eustace Prep many summers ago and wowed the staff with his abilities, even back then.
"He was like a miniature pro pitcher," Tropiano recalls. "He almost had perfect mechanics as a 7-year-old and then just kept at it. You can tell right away with the good ones. They just have a smoothness to them; they're very fluid in everything they do and it shows pretty early."
Tropiano knows how to spot talent as well as anyone involved with South Jersey baseball, having established himself as one of the most successful high school coaches in state history during his 30-plus seasons at Bishop Eustace. For 30 of those years he has also operated the Scholastic Baseball Camp on campus every June, helping to mold future standouts like Gallen, many of whom end up attending the renowned private school and playing for one of the area's signature programs.
This year's camp will be held from June 27-30 and is open to children between the ages of 7 and 14. The athletes are divided into groups according to age and play on the school's four pristine diamonds. Instruction is heavily focused on fundamentals while also incorporating specialized techniques on hitting, pitching and catching.
"We keep it active and fun at the lower levels, and then at the upper levels it's a little more intense," Tropiano says. "We call it the Scholastic Baseball Camp because there's a teaching component every day. Last year we were fortunate to have Anthony Solometo as a guest speaker, our senior pitcher who went on to get drafted by the Pittsburgh Pirates, and he was great. He spent most of the day signing baseballs for the kids.
"It's a combination of a scholastic approach, but also a celebration of baseball. We never forget that it's fun and we always end the day with a game, which is the highlight for each group."
Tropiano's top-notch staff for the camp includes highly respected high school and youth coaches Nick Italiano and Nick DelGozzo and former Crusader star player Anthony Opperman. A large contingent of current players also volunteers and relates well to the campers.
"It's fun to see these kids grow up right in front of your eyes," Tropiano says. "You don't usually experience that unless it's your own kids, but for us to see them year after year is neat. These kids and their families are so loyal and they come back to the camp every summer, and then stick with the program as well."
Those who end up playing for Tropiano at Bishop Eustace get the wisdom of South Jersey's all-time leader in coaching victories, who became the sixth coach in New Jersey history to join the 700-win club last spring. He has guided the Crusaders to five state championships and six Diamond Classic titles.
Ironically, Tropiano was born in Italy, moved to the U.S. when he was 6 years old and grew up more of a soccer fanatic, but now he is forever linked with America's favorite pastime.
"Baseball kind of picked me; I didn't pick baseball," he says. "It gets into your bloodstream and then you can't get it out."
He has influenced some of South Jersey's greatest players, including hundreds who competed in college and 15 who moved on to professional ball. In addition to Gallen and Solometo, that group includes Blaine Neal, Devin Smeltzer, Mike Moriarty and Billy Rowell.
"Not everybody can make it to pro ball," Tropiano says. "It's tough to get through all the levels of Single-A, Double-A, Triple-A and finally to the show. We've been blessed to have a few of them, and we're also proud of the kids who play college ball and become doctors, professionals and great adults."
Even after all of these years, Tropiano still gets excited every spring and counts down the days until the first practice. An AP psychology teacher at the school, he plans on continuing to coach as long as he remains healthy. "I love teaching and baseball is just an outdoor classroom. It's so neat just being around young people; they keep you young and I love learning more about the game, finding the most efficient ways to teach it and inspiring people."
As for the youngsters who first get affiliated with Bishop Eustace through the Scholastic Baseball Camp, he believes they will find an atmosphere they want to stay around for years to come.
"I think you come to school here with the purpose of building your academic resume and learning great academic skills, and then there's the spiritual component that you put into your life," he says. "We teach these kids about service and giving back to others. The students here are go-getters and they're intrinsically motivated. My players all get after it: academically, baseball-wise and in terms of trying to be the best version of themselves."
Bishop Eustace Prep
5552 Route 70 | Pennsauken
(856) 662-2160
Visit EustacePrep.org to register for the Scholastic Baseball Camp
Photography by Alison Dunlap
Published (and copyrighted) in Suburban Family Magazine, Volume 12, Issue 10.
For more info on Suburban Family Magazine, click here.
For information about advertising in Suburban Family Magazine, click here.
To find out where to pick up your copy of Suburban Family Magazine, click here.