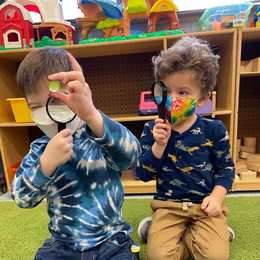 A Year-Round Adventure
From the Early Childhood Center to Camp Kaitana, Congregation Beth El offers families a fun, safe space to learn and grow.
As parents, we wish we could be there for every one of our children's milestones, especially in their formative years when they are seemingly making new discoveries by the hour. Of course, work commitments and busy lives make that impossible, which is why finding the right place for them to develop not just cognitively but socially, physically and spiritually is such a crucial decision.
Fortunately, those in South Jersey have exceptional options for both preschool and camp at Congregation Beth El. Generations of families have trusted their compassionate staff for the care and growth of their children, whether during the school year at the Early Childhood Center (ECC) or in the summer months at Camp Kaitana. It helps to know that when they are away from their moms and dads, our kids are still in a warm, family environment with mentors who are invested in their progress.
"For me, these are the best years," says Sheryl Morales, a longtime teacher at the Early Childhood Center and the director of Camp Kaitana. "They are growing so much and there's so much change that happens in the shortest amount of time. It's really special to watch them learn and to become part of all of the families that have come through here over the years."
Ayelet Mittelman, the ECC principal, believes what sets Congregation Beth El apart is a staff that is focused on ensuring that children feel loved and accepted.
"One of the things I am most proud of with both our ECC and our camp are the amazing teachers we are lucky enough to have," she says. "Our teachers come from many walks of life. Some have been with us for years, and for some this is their first year; but I am so proud to be part of such a dynamic team. The teachers have gone above and beyond to support the students and the school."
Beth El's ECC offers a curriculum centered on developing the whole child, with both a strong academic base and a framework rich in Jewish traditions and values. Yet kids of all faiths are welcomed with open arms and students are encouraged to respect all cultures in an inclusive setting.
Once the school year ends, the safe and nurturing feel of the ECC carries over to Camp Kaitana, which runs from June 22 to Aug. 19 this year. Flexibility is available in both the number of weeks kids can attend and through before- and after-care as early as 6:45 a.m. and as late as 6 p.m. Many of the same students stay throughout the summer and return to the large, bright classrooms and teachers they are used to. "That familiarity and consistency is really beneficial," Morales says.
Of course, fun is the name of the game when it comes to summer camp, and there is plenty of it at Congregation Beth El. Kids love the outdoor playground, gaga and basketball courts, and especially the splash pad where they can cool off on hot days. Picnic tables are used for arts and crafts and other activities, or to enjoy lunch.
Each week of camp features a different theme around which projects, celebrations and occasional special guests are planned. To augment the fun, Morales sets up a "theme room" in the building, which she decorates festively and accordingly with backdrops, props and more. For example, during rock-and-roll week kids can discover their inner rock star; Disney week includes all of their beloved characters; animal week features a visit from some furry friends; and during carnival week they can enjoy a moon bounce and other games.
"Sheryl plans the summer with exciting weekly themes that tie into the daily activities of that week," Mittelman says. "One week we are on a jungle safari and the next week we are celebrating everything Disney. There are art projects, dance parties, parades, costume making, water activities, science projects and so much more."
Children also learn the importance of giving back through a mitzvah, the Hebrew word for good deed, and tzedakah, which translates to charity. Items are collected throughout the summer to be donated to the Voorhees Animal Orphanage, and money is also raised through an art show and bake sale. "At the end of the summer, a representative from the Voorhees Animal Orphanage will come out with one of their animals, usually a dog, and talk to the children about what the money will be used for and we present them with all of the items that we've collected," Morales says. "It's a great way to carry over the ideals that we instill in the kids throughout the school year and into camp."
Whether kids are learning how to be good citizens, growing in their faith or enjoying playtime, there is no question they will make memories to last a lifetime at Camp Kaitana.
"I love the fact that our camp is small! While we may not have the same amenities as other camps, our children have the most amazing experience and make wonderful friendships," Mittelman says. "Our camp offers a vibrant and nurturing environment that the children thoroughly enjoy."
"Even though we're on a smaller scale than some of the bigger camps out there," Morales adds, "we think outside of the box and make it a great experience for the kids."
Congregation Beth El
8000 Main St. | Voorhees
(856) 675-1166
BethElSNJ.org
Published (and copyrighted) in Suburban Family Magazine, Volume 12, Issue 10.
For more info on Suburban Family Magazine, click here.
For information about advertising in Suburban Family Magazine, click here.
To find out where to pick up your copy of Suburban Family Magazine, click here.