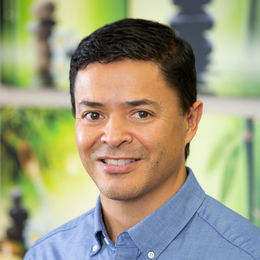 A Restored Quality of Life
Throughout its 17 years, Specialized Physical Therapy has endeavored to deliver individualized, hands-on care to help every patient meet their unique mobility goals while restoring maximum functionality.
As the son of a surgeon, Paul Vidal, DPT, has been around the health care field his whole life. As a medical professional, he has spent his career in physical therapy, a field that left a lasting impression on him during an early stint as a hospital aide.
Dr. Vidal is the owner of Specialized Physical Therapy (SPT), an independent, community-based practice that has offered hands-on, highly personalized physical therapy services for 17 years. No matter a patient's reason for coming to the practice's Cherry Hill or Burlington locations, it is SPT's goal to "get people back to the level of function they're accustomed to, or maybe even better."
"Our tagline is 'Restoring quality of life,'" he explains. "A good day for our patients is functioning more like they want to, to move more optimally, and that's different for everyone. Some people come to us for pain, others have problems moving around, and some people have a combination of both. We also see patients after surgery, for vertigo or dizziness, and for concussions."
Between growing up around the medical profession, and his own experiences as a physical therapist, Dr. Vidal has seen his field go through some significant changes over time. Among the most prominent differences is how practitioners enter the workforce having already earned their doctorates, rather than going back to school as established professionals.
Dr. Vidal explains, "The entry-level doctorate degree really speaks to the level and depth of the education we receive in school. Education continues throughout one's career because we're constantly learning and growing in our profession."
That deeper education leads to breakthroughs in the field, like realizing pain is a complex multidimensional issue that can be amplified by emotional or circumstantial factors. Administering treatment from an array of perspectives accordingly yields better results.
"Pain is the No. 1 reason people come to see us," Dr. Vidal says. "As physical therapists, we address it from a physical standpoint, but we have to understand that pain is more than just a physical thing: There's a huge psychosocial component to it. … If a patient had a bad day, their pain rating might be at an 8 instead of a 2. When the body is being challenged and stressed on multiple levels a person's perception of pain can be negatively impacted."
In recent years, partly due to the opioid crisis, treatment has moved away from prescription drugs and invasive surgeries and has gravitated toward more conservative care, including physical therapy. Conservative care is a beneficial and recommended approach, as recent research demonstrates the effectiveness and efficacy of physical therapy, not only in patient outcomes, but in safety and cost. However, Dr. Vidal points out, "that there are times when medications and/or surgery are needed".
Getting to know each individual who steps through SPT's doors is an essential part in meeting the patient's needs and helping them achieve their goals.
"When you develop a relationship with a patient the outcomes are improved because the patient gets to know you and trust you," says Dr. Vidal, who adds that collaborating with a team of professionals from different, complementing perspectives is part of understanding each patient as an individual, rather than the expression of their pain or injuries.
Dr. Vidal states, "Collaboration with other healthcare professionals is essential, especially when a patient comes to us directly, under what is known as direct access. Direct access means a patient can come to see us without a physician's prescription".
Embracing and utilizing advancements in technology, medicine and psychology is just part of administering modern, effective physical therapy. For the team at SPT, their approach to restoring patients' quality of life means building a relationship with them while leading with three core values: specialize, partner and trust.
"'Everything we do has to be consistent with our core values," Dr. Vidal says. "That's how we ensure we'll be here for our patients for the next 17 years."
Being a community-oriented practice means that the SPT team can organically, authentically demonstrate their commitment to improving their neighbors' quality of life, according to Dr. Vidal.
"It goes back to building relationships: As a community-based company, giving back to the community you serve is essential," he says. "The more you put out there and the more people and organizations you partner with, the more it's a win for everyone, and it builds goodwill by extending our core values beyond our offices."
And it is an honor every time a patient trusts SPT's reputation enough to come to them with their physical therapy goals.
"We're grateful and thankful every time someone chooses Specialized Physical Therapy," Dr. Vidal confirms. "Patients should have a choice in where they want to go for their care, and when they choose us, we make sure they've made the right choice."
Specialized Physical Therapy
Cherry Hill: 1919 Greentree Road, Suite B | (856) 424-0993
Burlington: 11 Cadillac Road | (609) 880-0880
SpecializedPhysicalTherapy.com
Photography by Alison Dunlap
Published (and copyrighted) in Suburban Family Magazine, Volume 12, Issue 9.
For more info on Suburban Family Magazine, click here.
For information about advertising in Suburban Family Magazine, click here.
To find out where to pick up your copy of Suburban Family Magazine, click here.