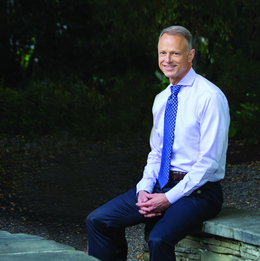 'Family is at Our Core'
For more than 40 years, Collingswood's two-generation Kresloff Eye Associates has been treating its patients with state-of-the-art eye care and old-fashioned compassion.
Earlier this year, a news item delivered a little bit of surprise optimism. According to a recently published study, there is a promising link between cataract surgery and the reduced risk of cognitive decline in people 65 and older. The findings show that, in a 10-year study of more than 3,000 elderly individuals, those who opted to treat their cataracts surgically were 30% less likely to develop dementia.
The new findings are further evidence of how cataract surgery can offer unexpected benefits. But Dr. Michael Kresloff has known for years that reclaiming one's vision often means a patient gets to reclaim so many of the things that bring them joy, too.
"Cataract surgery is an opportunity to give a patient their sight back and tremendously improve their quality of life," says Dr. Kresloff. "People want to lead active, healthy lives for as long as they can and maintaining good vision enables that."
More than 40 years ago, Dr. Kresloff's father, Dr. Richard Kresloff, founded Kresloff Eye Associates in Collingswood, where they're both on the practice's four-doctor team. Having both grown up around ophthalmology and followed his father's footsteps, the younger Dr. Kresloff has seen the area of medical care transform over the decades, noting how far today's cataract surgery has come.
"Cataract surgery has definitely evolved tremendously in recent years," he confirms. "The most recent leap forward is the ability to do cataract surgery with a laser. With modern technology, surgery no longer uses needles: It's bladeless, which makes it a remarkably precise, reproducible and, in general, painless experience."
It is, in fact, such a successful procedure that long-time wearers of corrective lenses are dazzled when they report how vastly improved their vision is—an especially remarkable trend considering that cataracts are most likely to affect those 55 and older.
"Many patients not only see better after removing the cataract but they also become much less dependent on, or even independent from, their glasses or contact lenses to see well," Dr. Kresloff says. "I love it when patients come to me, sometimes with teary eyes, and they say they've been wearing glasses since the second grade, and now they no longer need to."
No matter how impressively medical technology has advanced, though, some patients are still understandably apprehensive about pursuing ocular surgery.
"There's no doubt that the thought of eye surgery certainly can be scary, so I try to make it less scary by reassuring the patient that I'll be with them throughout the entire experience, that I'm always available to answer any questions and help in any way," he says.
That patient-first approach has been the hallmark of Kresloff Eye Associates since its beginnings, and a tradition that Dr. Kresloff is thrilled to continue into the practice's second generation.
"I try to treat patients exactly as I'd like to be treated when I go to the doctor: I want to be listened to, I want any problems I'm having to be addressed and fixed, and I want my questions answered," he says. "I hope my patients feel that I'm knowledgable, warm and kind."
Respecting patients as human beings and not just reducing them to their symptoms or diagnoses goes beyond developing a one-on-one rapport with them in the doctor's office. In addition to offering office times before and after typical working hours, Kresloff Eye Associates' team is always within reach.
"Eye problems aren't limited to a 9-5 schedule," says Dr. Kresloff. "I and our team of doctors are available 24 hours a day, every single day of the year for anybody who has a problem."
In the two years that the pandemic has gripped the world in ebbs and flows, routine medical exams and regular checkups of all kinds have fallen by the wayside for some. The Collingswood practice has taken extensive safety and sanitary measures so patients don't feel like they have to compromise their ocular wellness to minimize their COVID infection risks.
"When the pandemic first started, even with all the changing information initially, we did our research because the most important thing to us is keeping our patients safe," Dr. Kresloff says. "We've instituted multiple layers of protection. Even before you walk in, there's screening questions and temperature checks. Every single patient and staff members are wearing masks. We try to keep patients in a single room the entire time."
The practice's proven reputation for putting its patients first has earned it plenty of local accolades over the decades. Most recently, the readers of Suburban Family recognized Kresloff Eye Associates as one of the region's Five-Star Physicians, an honor that Dr. Kresloff takes to heart.
"I truly care about helping people, and that means I've trained very hard to become an expert in my field—and I still regularly attend courses, read literature, and stay at the forefront of knowledge, innovation and technology," he says. "Family is at our core: It's woven into everything we do. That means treating our patients with kind, compassionate care."
Kresloff Eye Associates
900 Haddon Ave., Suite 102, Collingswood
(856) 854-4242
KresloffEye.com
Published (and copyrighted) in Suburban Family Magazine, Volume 12, Issue 9.
For more info on Suburban Family Magazine, click here.
For information about advertising in Suburban Family Magazine, click here.
To find out where to pick up your copy of Suburban Family Magazine, click here.