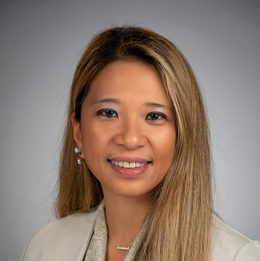 A Welcomed Addition
Nemours Children's Health is pleased to bring Dr. Lily Tran to its team of difference-making pediatric neurologists.
After spending much of her life on the West Coast, including a successful stint at Children's Health of Orange County in California, Dr. Lily Tran recently relocated to the other side of the country and was searching for a new professional home to continue her life's passion as a pediatric neurologist focusing on epilepsy. It turned out that one of our region's most renowned health care systems for kids, Nemours Children's Health, had all of the characteristics that Dr. Tran wanted, and a perfect marriage was born.
"I came to the East Coast to be close to family," she says. "When I was looking at job opportunities, I was drawn to Nemours Children's because they provide patient- and family-oriented care. As a doctor I'm part of a medical team to help parents and caregivers find the best care for their child. The patient-centric care that Nemours Children's emphasizes really falls in line with my philosophy."
Dr. Tran is especially excited to join the expanded neurology department at Nemours Children's, which is offering the latest treatments and technology in the field to area families. She has a clinic in the Deptford office and can connect local families with the organization's resources at its main hospital in Delaware.
"A big advantage our patients get coming to the Nemours Children's Health, Deptford office is that we have everything under one roof," she says. "With 20 different specialists, medical imaging, a surgical suite, EEG testing and more, patients get direct connections to the services they need. In other facilities, patients are often shuffled from one place to another, putting more appointments and time constraints on families. Here, we're in the same building, working together to deliver comprehensive, highly personalized care. We connect with our colleagues in our hospital as well, bringing these resources to families so they get the best care possible close to home."
Her interest in the subject goes back to when she was a child herself and was further piqued as an undergrad, when she got a job as a research assistant in a neurology lab studying brain function.
"I've always been drawn to the brain and how it operates and makes us who we are," she says. "Over the years I continued to have an interest in neurology, and I've always been a kid at heart so I liked treating kids. When I went into medicine, I knew I was going to do something in pediatrics.
"During my pediatric neurology training I found epilepsy very intriguing. It's an area that had a lot of potential and therapeutic interventions that could improve and change a family's quality of life. I wanted to play a role in that."
She explains that a diagnosis of epilepsy comes when a patient has a tendency to suffer from recurrent seizures, which can start at any age. Causes for epilepsy include abnormal structure, where the brain has not developed correctly; genetic mutations that leave the patient more susceptible to seizures; and metabolic issues in which the person is unable to produce adequate energy for the brain to function.
"There are four main ways to treat epilepsy," Dr. Tran says. "One is medication, which we're all very familiar with. Another is dietary therapies, which is where people adhere to a ketogenic diet or a modified Atkins diet. The third is neurostimulation, meaning a device is implanted and sends electrical stimulation to your brain to help prevent seizures or keep seizure frequency at a low rate."
Dr. Tran is particularly interested in the fourth treatment modality, however, which is epilepsy surgery. She has seen great strides in surgical procedures and results throughout her career and is eager to explain the benefits to South Jersey patients.
"A lot of people view epilepsy surgery as a last resort because it is brain surgery, but we're trying to encourage families to be open to it sooner, because the sooner we do surgery and control seizures, the better the outcome," she says. "Oftentimes when patients have tried two medications and we're talking about a third, I strongly encourage the family to have the child evaluated by an epilepsy specialist like myself to see if the child is a candidate for epilepsy surgery. I've had many patients improve dramatically after epilepsy surgery, and a lot of parents come back and say, 'I wish we did this sooner.' So my colleagues here at Nemours Children's are trying to encourage families not to be scared about it."
Educating families not just about surgery, but all facets of epilepsy, is one of Dr. Tran's passions. She works closely with several advocacy groups, including the Epilepsy Foundation of Delaware, and is constantly presenting to groups and taking part in events and conferences.
"Increasing epilepsy awareness and making people more comfortable if they see a child with epilepsy or are caring for a child with epilepsy, that helps the quality of life for the child too," she says. "They're able to participate in more activities and they're not restricted."
Dr. Tran is looking forward to a long career at Nemours Children's and is thrilled to be making an impact in her new home. As epilepsy treatment continues to evolve, the happy smiles she sees from patients and their families confirms that she has chosen the right path.
"I remember one patient whose seizures improved over time as we adjusted treatment modalities," she says. "One day his mom came in and hugged me and started crying because her son was able to bring cupcakes into school to celebrate his birthday. That was such a huge impact on the child and the mom; it's the little things in life that they take joy in. It shows me that I am doing something to improve their quality of life and bring some positivity into their world.
"If you talk to some of the families, it can be pretty dark for them when they're living with epilepsy. For us as health care providers to bring some sunshine to their lives is very rewarding."
Nemours Children's Health, Deptford
1280 Almonesson Road | Deptford
(800) 416-4441
Nemours.org
Published (and copyrighted) in Suburban Family Magazine, Volume 12, Issue 9.
For more info on Suburban Family Magazine, click here.
For information about advertising in Suburban Family Magazine, click here.
To find out where to pick up your copy of Suburban Family Magazine, click here.