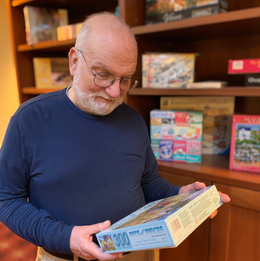 "I am Brightview"
How one resident is settling into his newfound independence at Brightview Mount Laurel
Joe Sambuco and his wife Maureen moved into Brightview Mount Laurel about seven months ago. The former Collingswood residents explored multiple senior living communities in the area, but once they walked through the front doors of Brightview Mount Laurel, they knew they were home.
For this, Sambuco credits not only the staff but the residents of the community.
"After we moved in it seemed as though every day new staff members were coming in to introduce themselves, and every day another resident was coming to invite us to another activity. We have great neighbors here," he says.
"I can't express how good it feels when all the staff here knows you by your name. It makes us feel as though we are part of a family—and I do a pretty good job at remembering their names too," Sambuco continues.
Moving into the community, Sambuco and his wife have not sacrificed any of the independence they were accustomed to when living in their former home. "We don't have to follow any program. We have all the independence we want with all the help we need," he says. "The staff here is focused on us having the best day possible on our schedule.
"We couldn't be any happier with our choice to move to Brightview Mount Laurel. We have lived here for about seven months and now I feel like 'I am Brightview.' I look forward to the new residents moving in and making them feel welcome like the other residents did for me and my wife."
This experience is not unique at Brightview, where residents are empowered to be community ambassadors who warmly welcome every new arrival, says Executive Director of Brightview Mount Laurel, Lavanda Clinkscales. This is an approach all 45 Brightview Senior Living communities embrace.
"We ensure their first days will be a time for them to flourish but this starts before residents move in," says Clinkscales. "We have residents and their families submit a life story, which helps us provide them with their favorite means, activities they're interested in and an introduction to new friends who share a common bond. All our residents remember what their first days were like and it is our residents who come forward to make sure everyone feels right at home."
Being surrounded by fast friends helps new residents decide how they want to fill their social calendars, which includes everything from off-site excursions to on-site activities utilizing the myriad amenities found at Brightview. Those include a library, fitness center, walking path, spa, salon and dining areas. Offering two neighborhoods at the Mount Laurel location—one for assisted living and another for residents who have Alzheimer's and dementia—which means a specific care plan is tailored to each individual to ensure their medical needs are exceedingly satisfied, too.
When searching for a senior living community, consider the tenure of the staff and if the associates seem to enjoy their jobs, says Clinkscales. "Search communities that focus on residents' independence while offering great choices in activities and dining options. Most importantly, take the time to visit communities and meet those currently living there. There is no one better to ask about a community than someone who calls it home."
Sambuca couldn't agree more. In fact, he says to ask for him by name during your visit. "I'll be happy to welcome you to Brightview, my new home," he concludes.
Brightview Mount Laurel
400 Fern Brook Lane
Mount Laurel
(856) 222-1213
BrightviewSeniorLiving.com
Published (and copyrighted) in Suburban Family Magazine, Volume 12, Issue 9.
For more info on Suburban Family Magazine, click here.
For information about advertising in Suburban Family Magazine, click here.
To find out where to pick up your copy of Suburban Family Magazine, click here.