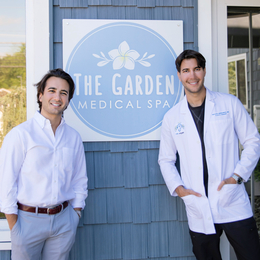 "No Fluff–Just Results"
The Garden Medical Spa provides effective and safe customized treatments with trust built in.
Simply put, The Garden Medical Spa offers results. It's a "No fluff–Just results" philosophy with customized treatment plans provided in a comfortable environment where clients feel right at home.
Co-founded by brothers Drs. Michael and John Mirmanesh, The Garden Medical Spa has locations in Voorhees, Sewell, Collingswood and Northfield, New Jersey, and Tampa Bay, Florida, with plans to open in Northern New Jersey, Pennsylvania, and Charleston, South Carolina, this calendar year. Not to mention, for the ultimate in convenience, they offer a mobile med spa outfitted with Botox, chemical peels and fillers, available for private events such as birthday or bachelorette parties.
Dr. Michael Mirmanesh is the medical director and the scientific liaison. He spends a great deal of time training and is constantly on the road advancing the field of aesthetic medicine. Dr. Michael passes his knowledge onto every team member at The Garden Medical Spa ensuring they are all well trained with the same knowledge and philosophy for treating clients.
Dr. Michael has an artistic side which goes a long way in plastic surgery and aesthetic medicine, however it's his passion for science that drives him to ensure treatments are safe and effective. He has trained hundreds of plastic surgeons and aesthetic providers over the years on the art and science of cosmetic medicine. An expert in laser physics and laser science, Dr. Michael is one of a few plastic surgeons in the country with extensive background in laser therapy.
Teamwork makes the dream work
Dr. Michael loves working with his brother Dr. John. "It's like working with your best friend, you have a partner you can trust," he says. Both brothers know none of this could be done without their staff of close to 25 incredible professionals. "Teamwork makes the dream work," says Dr. Michael. "We all equally provide the outcomes," he adds. Team members are even included in assessing new hires. "Everyone gets an input on who joins our family," says Dr. Michael. "A big part of our job is to make our clients feel comfortable and all team members must have that innate ability to do this."
There is one statement that has become a big belief at the facility: "The Garden Medical Spa belongs to our clients." It's felt by clients the moment they walk in and are greeted by the patient concierge. Dr. Michael and his team feel that clients have dedicated time to themselves, and they deserve to feel comfortable and relaxed, "like they are walking into their own home," he says.
No fluff–just results
The Garden Medical Spa stands by the efficacy of treatments. If it doesn't work, they don't do it.
The Garden Medical Spa offers a full spa menu for the face and body from BOTOX, peels, fillers, laser therapies and more, including treatments for acne and men's hair loss. SmoothGlo is a popular laser light therapy that gets rid of red and brown spots, improves texture and has next to no downtime.
However, before any treatment, clients are given a comprehensive evaluation of the skin by looking at sun damage, skin type, volume loss, and more with advice on the best course for each client. All budgets are respected, and cookie-cutter treatments are never pushed.
"Many treatments we offer are proprietary," says Dr. Michael. "With my background and our team's experience, we know how to combine treatments to offer individualized plans that get results. We want clients for life and we do that by building trust, providing results and making our clients feel safe."
The Garden Medical Spa
Multiple locations
Published (and copyrighted) in Suburban Family Magazine, Volume 12, Issue 9.
For more info on Suburban Family Magazine, click here.
For information about advertising in Suburban Family Magazine, click here.
To find out where to pick up your copy of Suburban Family Magazine, click here.