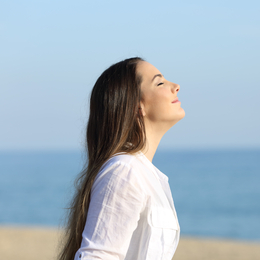 Breathing Easier
Getting to know the co-directors of Capital Health's state-of-the-art Lung Center
The impact of lung cancer continues to be far-reaching, affecting more people than various other cancers combined. However, those who may be experiencing symptoms don't always recognize the urgency of getting screened. Capital Health has committed to bringing access to comprehensive care for detecting, evaluating, monitoring and treating lung disease at its state-of-the-art Lung Center.
Led by co-directors Dr. Africa Wallace and Dr. Diana Kolman, the Lung Center delivers expert clinicians, advanced diagnostic testing and leading-edge technology in the areas of lung cancer, thoracic surgery, interventional pulmonology, pulmonary rehabilitation and smoking cessation. Suburban Family recently spoke with Dr. Wallace and Dr. Kolman about their expertise and mutual passion for providing top-level care to patients.
Dr. Africa Wallace
Director, Thoracic Surgery
Co-director, Capital Health Lung Center
Dr. Wallace is a board-certified Thoracic Surgeon at Capital Health, specializing in thoracoscopic or robotic approaches to surgery. Her extensive educational background includes a bachelor's from Harvard University, a medical degree from the Georgetown University School of Medicine, a general surgery residency at Georgetown University Hospital, cardiothoracic surgery residency at the University of Pittsburgh Medical Center (UPMC), and postgraduate training as a minimally invasive thoracic and esophageal surgery fellow at UPMC.
What interested Dr. Wallace about the field of surgery was the ability to combine clinical knowledge and technical skill to serve patients, save lives and alleviate pain. She says thoracic surgery offered an unlimited potential for new discoveries as well as complex and challenging surgical methods of treatment for diseases in the chest. Her thoracic surgery experiences have fostered her passion of treating lung cancer.
"I consider lung cancer to be a public health issue," she says. "Lung cancer kills more patients than breast, colon and prostate cancer combined. Having an impact on those numbers has become my life mission."
Thoracic surgeons specialize in the surgical management of disease in the heart, lungs, esophagus and major blood vessels of the chest, which can include benign or malignant conditions. Dr. Wallace's practice is skewed toward thoracic oncology, including cancer in the lungs and esophagus and masses in the mediastinum. She focused heavily on screening and early detection, as this provides a patient with the best opportunity for cure. However, in addition to oncology, she enjoys her benign (non-cancer) practice as well, involving esophageal and foregut diseases.
Innovations in this field have vastly improved patient outcomes, and Dr. Wallace counts herself fortunate to be witnessing these advancements firsthand. Robotic-assisted surgeries, the leading-edge technology in minimally invasive surgery, provides the ability to diagnose and treat diseases of the chest that were previously inadequately treated.
"Most patients don't truly understand robotic surgery. Many think the robot performs the procedure," she says, adding that the robot is merely an extension of her movements at the console which is translated to bending and rotating of the robotic arms and instruments in real time. In addition, she notes the robotic platform is an amazing tool and has shown to improve treatment outcomes, reduce recovery time, reduce complication rates and improve overall survival.
Joining Capital Health has been pivotal in Dr. Wallace's career. Upon her arrival, the health system started building the thoracic program from the ground up, she says. "I wanted to be part of building something special for the patients in New Jersey and Pennsylvania. Capital's mission is to deliver the highest level of care in a state-of-the-art facility with cutting-edge technology.
Dr. Wallace continues, "I was also attracted to Capital Health's commitment to serving the city of Trenton and improving the overall health of the community. Capital has developed partnerships in the community to help support that mission."
Within the various specialties at Capital, there is a natural collaborative environment. Dr. Wallace often works closely with Dr. Diana Kolman, an interventional pulmonologist, whom she calls a devoted colleague and friend.
"Dr. Kolman is a smart, well-trained and highly skilled interventional pulmonologist, and I am glad to call her a friend," Dr. Wallace says. "We work together to treat patients not just for lung cancer, but with benign nodules, COPD and non-surgical lung issues. This multidisciplinary approach provides patients with better access to skilled physicians and treatment, decreases redundancy of testing, and improves patient outcomes. There is nothing better than having a partner with the same level of passion and dedication who works just as hard and makes herself available. Every day it's an honor to work with her and I look forward to seeing what more we can do together."
Even as she works daily to improve the lives of her own patients, Dr. Wallace is also striving to advance policies in the medical arena, as well as inspire the next generation of physicians. She is the current Treasurer for the Eastern Cardiothoracic Surgical Society, a member of the Women in Thoracic Surgery and Association of Women Surgeons, and serves on the Diversity and Inclusion Task Force of the Society of Thoracic Surgery.
"These groups allow me to foster connections with surgeons from around the world. I think it's important to establish yourself as a leader in your field and be involved in changing policy and setting standards and guidelines. In addition, the societies serve as a forum to exchange professional ideas and concerns," says Dr. Wallace.
Her influence goes beyond current medical professionals. "I am very much committed to mentoring young people who are interested in medicine and surgical subspecialties. I am an advisor, coach and mentor for young women of color. I help them navigate the process of becoming a doctor and surgeon. By sharing my narrative, I help young women realize how hard work, perseverance and commitment to your goals can pay off."
Dr. Diana Kolman
Director, Interventional Pulmonology
Director, Pulmonary Rehabilitation Program
Co-director of Capital Health Lung Center
Dr. Kolman is board certified in Interventional Pulmonology, Pulmonary, Critical Care and Internal Medicine. Having completed her residency in Internal Medicine at Hahnemann University Hospital/Drexel University College of Medicine. She then pursued a Pulmonary and Critical Care fellowship at Temple University Hospital before applying for an Interventional Pulmonology fellowship at Cooper University Hospital. This is where she truly found her calling in medicine.
"My road here was all over the place, but I have always been involved in the intensive care unit, which led to my fellowship at Temple. That program provided the groundwork for my future career in interventional pulmonology. The training was amazing and the attending [physicians] were supportive," Dr. Kolman says. During that time, she came across lung transplantation patients who were presenting with complications after the transplant, and she worked closely with thoracic surgeons. This eventually led her to the emerging field of interventional pulmonology.
Her husband, an interventional pulmonologist, encouraged her to pursue it. "I realized how much I loved it and how it would help me have a positive impact on patients who have diseases in the airway. The rest is history," she says.
The focus of Dr. Kolman's practice is to use minimally invasive procedures to treat and diagnose benign and malignant diseases in the lungs or airways. "The patients I work with typically present with difficulty breathing. They may be coughing up blood or can't lie down flat, and that often leads to the discovery of a mass growing in their lungs or being blocked by a tumor. That's when I come in and help open up their airways," she says.
Dr. Kolman refers to herself as a plumber of the airways, and uses bronchoscopic ablative techniques to excise tumors. She doesn't treat cancer systemically (this done by an oncologist) , but her role better prepares patients to undergo chemotherapy or radiation. "Whether it's putting in a stent to open airways or inserting a catheter into the chest to drain fluid, these modalities help patients symptomatically and improve their quality of life while undergoing their treatment.".
The next advancement in interventional pulmonology is Robotic bronchoscopy. This technology will allow physicians like Dr. Kolman to biopsy previously inaccessible parts of the lung. "This is going to lead the way for diagnosing and treating lung disease. We are looking in the near future to provide guided bronchoscopic ablative therapies such as cryoablation, photodynamic therapy, microwave ablation, radiofrequency ablation. It's very exciting to be witnessing this," she says.
Dr. Kolman remains passionate about educating the community on lung cancer awareness and treatment. The worst thing people can do is dismiss their symptoms. "A lot of patients think their shortness of breath is due to aging or weight gain, but I am a believer that if your body is telling you something, then you need to follow up with a physician. There is no shame in discussing it because even small things can be a big problem down the line," she says.
Smoking continues to be the highest preventable risk factor for lung cancer. "Vaping is considered dangerous also, with yet to be discovered risk of cancer. There's not a direct correlation between lung cancer and vaping but we know that it leads to significant lung injury and a variety of respiratory symptoms and damage to lung tissue," Dr. Kolman says.
For a community that previously did not have access to a lung center, she is proud to provide outreach to patients around Capital Health. As co-director of the Capital Health Lung Center with Dr. Africa Wallace, director of thoracic surgery, Dr. Kolman says they are looking forward to growing the range of services available to this population.
"I've never been a part of a team where I feel so supported to bring my ideas and research. The communication on every level is amazing and it trickles down to the patients," she says. "If I think a patient could benefit from Dr. Wallace looking at their scan, I can come right out of my room and ask her to check it out."
The entire team's goal is to not waste a moment of the patient's time. "There's nothing worse when you hear you have cancer or that you might and you have to wait for different appointments and biopsies. We are always discussing treatment plans between departments and keeping things moving in a timely manner," Dr. Kolman says.
Patients will no doubt notice a natural friendship between Dr. Kolman and Dr. Wallace. "I find Dr. Wallace inspirational. I look up to her. She is one of the most phenomenal surgeons and she is fantastic with patients. She is straightforward and doesn't sugar coat anything," Dr. Kolman says. "She is approachable and kind, which the patients really respond to. I'm honored to be her colleague and friend." Dr. Wallace will also be the first Black female president of the Eastern Cardiothoracic Surgical Society in 2023.
Dr. Kolman hopes to continue to champion Capital Health's adoption of the robotic bronchoscopy platform and remains active in organizations, including the American Thoracic Society, the American Association for Bronchology and Interventional Pulmonology and the American College of Physicians.
Capital Health
Multiple locations
CapitalHealth.org
Published (and copyrighted) in Suburban Family Magazine, Volume 12, Issue 9.
For more info on Suburban Family Magazine, click here.
For information about advertising in Suburban Family Magazine, click here.
To find out where to pick up your copy of Suburban Family Magazine, click here.