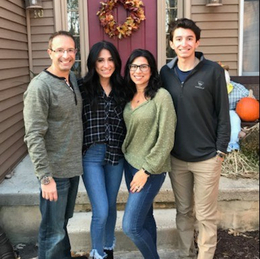 Medford Pharmacy
Meet Marie Galeno, RPh., the newest pharmacist at Medford Pharmacy.
How long have you been a pharmacist?
25 years
What interested you in joining Medford Pharmacy?
I am very excited to be joining the Kress team at Medford Pharmacy. I worked at several retail chain pharmacies and wanted to be part of one that was local and family-run where I could give personalized care and counseling to patients and pets.
What experience will you be bringing to your responsibilities at the pharmacy?
I graduated from the University of the Sciences in Philadelphia and am CPR certified and trained to administer immunizations, which I will be doing at the pharmacy. I will also do counseling and drug compounding.
You're also a Medford resident. How long have you lived here and can you tell us about your family?
I have lived in Medford for 23 years. My husband, Jim, is a pharmacist at Cooper Hospital. We have two kids that graduated from Shawnee High School. Gianna is currently a senior at West Virginia University studying to be a physical therapist and our son Jimmy attends Rowan University and is studying engineering. We also have two dogs, Yankee and Jeter.
Medford Pharmacy
639 Stokes Rd #101, Medford, NJ 08055
208 White Horse Pike #9, Barrington, NJ 08007
(609) 654-6884
Facebook.com/MedfordPharmacy
Kresspharmacy.com
Published (and copyrighted) by Suburban Family Magazine.
For more info on Suburban Family Magazine, click here.
For information about advertising in Suburban Family Magazine, click here.
To find out where to pick up your copy of Suburban Family Magazine, click here.