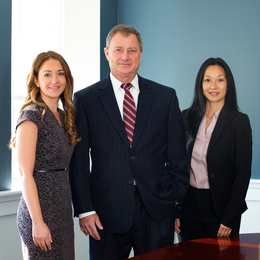 Planning for the Future
Brian Walsh and the team at Oppenheimer's Haddon Township branch bring a wealth of experience to helping clients of all kinds with their financial planning.
Financial planning is more than asset allocation, managing stock market risk factors and retirement savings. For Brian Walsh, it's about the clients.
"The relationships with clients is the best part of the job," he says.
Walsh, a longtime Medford resident who raised his three children there, has been in financial planning for more than 40 years, and has been with The Walsh Group of Oppenheimer & Co. Inc. since 1998, where he's currently a managing director. Oppenheimer itself is a well-known name in the financial sector, and with good reason: It's been helping people plan for the future since 1881, making it one of the oldest firms in the country. And with offices in New York City, London, Tel Aviv and Hong Kong, its reach is as far-ranging as its perspective.
That means Walsh draws upon the acumen of a financial institution that has weathered an array of storms and withstood the ebb and flow of financial trends and patterns for 140 years. That wisdom is how Walsh helps clients plan for the future, whether they're closing in on their retirement years or building college funds for their children.
Experience isn't the only thing on Oppenheimer's side: Walsh says the welcoming family feel at the firm is an asset in its own right.
"Irene Louie has been my personal assistant and has been at Oppenheimer for over 20 years," he notes, adding that she brings a sense of genuine hospitality to the office. "She is my front line of communication with my clients. She's extremely professional and just a very pleasant person to work with."
Working with his daughter also adds to the familial warmth and expert financial guidance one can expect from Oppenheimer's Haddon Township branch. Kristin Marinis, a CERTIFIED FINANCIAL PLANNER™, joined her father in 2012 after she enrolled in the Oppenheimer training program upon receiving her finance degree from the University of Scranton.
"It's phenomenal teaching your daughter about the business knowing that she will, in time, take over the business," says Walsh. "It was a perfect fit. The work she does can be very detailed, and the benefit to clients is that it's easier to develop a portfolio strategy once you have a completed financial plan."
Walsh notes that Marinis is also licensed to do long-term care planning, which he says is a hot-button issue since people are living longer than ever.
"Long-term care is critically important to a financial plan, for the middle class particularly," he says. "I've seen it all too often: A husband or wife passes, and then the surviving spouse needs care, which is very, very expensive. If you start planning for that in your 50s or 60s, it takes a lot of pressure off your family."
Walsh has been in the industry long enough to know that as times change, so does the value of a dollar. That was a significant motivator when he decided to approach portfolio management from a no-minimums angle—a departure from most firms' policy of demanding at least a $500,000 investment before taking on new clients.
"I'm willing to work with almost anybody if they're looking to invest and are open-minded, and I will teach them what they need to do," he explains. "It's a whole different world in terms of what was a lot of money 40 years ago versus now. … I've been doing this for so long that I've often found it's not about the money, it's about making the right decisions for your clients. Adapting to make sure my clients' needs are being met is what it's all about."
He works with numerous other investment firms and financial planning institutions, so a client who already has accounts with the likes of Vanguard, Fidelity and Blackrock can work with Oppenheimer's "open architecture that allows us to custom-design portfolios." It also helps Walsh further customize a client's portfolio of investments according to their goals.
And for those clients coming to him with no idea where to start, Walsh is more than capable of helping even the most fiscally flustered clients find their footing. That starts with a conversation as he learns their plans and personalities to best gauge things like their financial position and capacity for calculated risk.
"We'll have one or two appointments where I teach them how to invest," he says. "As they learn and understand, then we can plug in the investments that will help meet their needs. We're looking to customize their portfolios and create the proper asset allocation with no in-house bias of products."
Taking the time to make sure he's helping clients develop a deeply personalized portfolio while fostering a close relationship with them is, he believes, why his clients refer him to their friends and family.
"Every referral is a compliment," he says. "I do get a lot of referrals and I'm hoping it's because I do a good job and I am completely honest in the way I present information to my clients."
The Walsh Group of Oppenheimer & Co. Inc.
222 Haddon Ave., Suite 301, Haddon Township
(856) 858-1043
Oppenheimer.com/TheWalshGroup
Photography by Alison Dunlap
Published (and copyrighted) in Suburban Family Magazine, Volume 12, Issue 8.
For more info on Suburban Family Magazine, click here.
For information about advertising in Suburban Family Magazine, click here.
To find out where to pick up your copy of Suburban Family Magazine, click here.