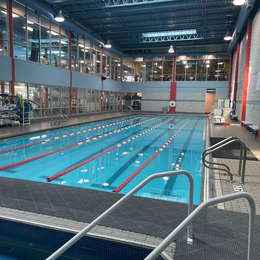 Off the Couch and into a Community
At Echelon Health & Fitness, members progress in their fitness journey and make valuable connections that keep them coming back.
Fitness has become a part of our culture, so much so that it can be intimidating. We're inundated with products and services that promise to get us in shape, but so often they seem too intense for a novice, inevitably setting people up for failure.
At Echelon Health & Fitness, members are taught to crawl before they can run, says Jeff Quinn, managing partner. "We're not throwing you into a crazy workout where you can't walk the next day. We progress based on members' ability and fitness goals," he says.
From the moment you walk into Echelon Health & Fitness, the atmosphere just feels different than any other facility. Everyone inside has been in your shoes, taking that first step on their fitness journey.
"People have more options now than ever to initiate their fitness journey: online, at home, corporate gyms, corner studios, yet still only 17-18% of the U.S. population belongs to those gyms and studios combined," Quinn says. "Our competition is inactivity and people's couches. Gyms are part of the solution, but what separates us is our programming and the community we've built."
Quinn says the first 30 days of a person's membership are the most important. "This time period is critical to their success. If they come at least nine times during that month, their chances of sticking with it increase 85%, and just for showing up, taking an assessment and downloading our app, after 30 days, we will take $10 off their monthly payments after completing our Tour Of Echelon which helps new members get comfortable," he says.
Incentives work and it's a huge component of Echelon's business model. "We offer reward points through our app just for being active. When you swipe in for a class, you earn points that can be redeemed in dollar value on the rewards platform," says Quinn.
Echelon also offers a unique program called Member PERX with approximately 800 local businesses participating in the program, giving Echelon members an exclusive discount. "Since 2016, members have saved $430,000 using Member PERX," Quinn says.
However, more than these money-saving incentives, results are going to have you coming back to Echelon.
In its MBSC Thrive program, Echelon ensures that members have the attention and accountability they need to succeed. Created by Mike Boyl, who is considered to be among the best group training gurus in the country and has been recognized by Men's Health, Thrive is offered in small groups or one on one with coaches who are nationally certified in the program.
"This program helps you move better, feel better and look better," says Quinn. "Working with a coach is proven to produce better results not only because they work with you through your goals, but they hold you accountable with texting and phone calls, making sure you are coming in."
Soon enough, members notice how comfortable they feel coming to Echelon. "It's really the people in the club who contribute to that comfort level. We're family-owned by David and Susie Chung who are here virtually every day, and the staff takes customer service to the next level. Everyone is always willing to help members out however possible," Quinn says.
Those who are interested in taking this step toward improving their mind and body can request a complimentary seven-day pass online. Over the course of the week, Quinn says you'll be given a detailed tour of the facility and will have full access to everything, including upwards of 50 group fitness classes from hot barre to spin.
What Echelon Health & Fitness members have to say:
"I knew Echelon was unlike any other gym from the first class; it immediately felt like a community. The variety of classes, equipment and amenities is perfect for all ages and fitness levels, bringing such a unique, diverse group of people together. My primary training is the Thrive small group fitness program, which has untapped athletic potential I didn't know was possible. The coaches and instructors are motivating and professional while fostering relationships and a culture of community going beyond the gym itself. Thank you, Echelon and Thrive for supporting all of your members!" - Tracy Styf
"As a member for over four years, I can honestly say that I would not consider any other gym. This is a family-owned business and the owners truly care about their members. Any facility can put some gym equipment in a room, but EHF has fitness instructors and personal training coaches who are dedicated and caring professionals. This makes all the difference in creating a real community among many of the members and keeps us coming back! And if you are interested in personal training in a small group setting, the Thrive coaches at EHF will provide an effective and functional workout tailored to each person's abilities and goals." - Alex Y.
"I joined Echelon Health & Fitness in September 2019. Since the moment I walked through the doors I realized this was not an ordinary gym. Shortly after joining, I decided to try Thrive. It looked like a hard workout but I'm always looking for a challenge. Signing up for Thrive was the best thing I have ever done. Joining this community has changed my way of living; Thrive not only takes care of my physical health but also my mental health. The coaches put so much effort in our well-being inside and outside the gym doors. Now, two years after my first session I am healthier, fitter and happier than I have ever been and it's all thanks to EHF and Thrive." - Jackie L.
Echelon Health & Fitness
1160 White Horse Road | Voorhees | (856) 454-2976 | EchelonHF.com
Published (and copyrighted) in Suburban Family Magazine, Volume 12, Issue 8.
For more info on Suburban Family Magazine, click here.
For information about advertising in Suburban Family Magazine, click here.
To find out where to pick up your copy of Suburban Family Magazine, click here.