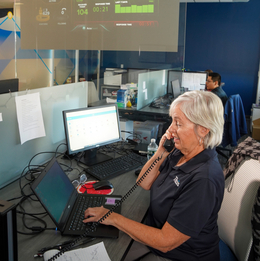 By Your Side
Whether they're receiving in-hospital care or managing their diagnoses at home, patients can be assured that technological advancements help Inspira stand by them every step of the way.
Since 1899, Inspira Health has proactively responded to the region's evolving medical needs, from administering those first doses of penicillin to providing polio vaccines to building the predictive models that monitor COVID's regional peaks and valleys.
"We could consider the pandemic the catalyst for developing our first predictive models," says Inspira's Senior VP of Innovation and Technology Dave Johnson. "Our first foray into predictive modeling started as a collaboration with other regional health systems. It was our attempt to predict COVID, the peaks and the impact it could have on bed capacity and ventilators, not just here at Inspira but within our region. I think our first model did a great job predicting the curve."
Johnson says the charitable health care organization has remained at the forefront of advancing and harnessing the preparatory potential of predictive modeling.
"Inspira has been persistent in continuing to model COVID," Johnson says. "We work with the New Jersey state model, and then we take that model and break it down for our region and our service area.
"We've refined and trained our model to be very reliable," he continues. "It takes into account so many different variables, from vaccination rates to efficacy to the variants in our region. We use that to activate surge levels aligned with our surge plan, and it drives other models focused on PPE and ventilator use and even our supply chains."
Well before the COVID-19 pandemic overtook everyone's everyday life, Inspira was helping those whose lives were overturned by more intimately personal health crises. Its Health+ is a free service powered by AI partner THAÏS that manages chronic care patients and their conditions from the comfort and privacy of home.
"We put a SmartHub in the patient's home, kind of like an iPad-like device, that's directly connected to our 24/7 data center," Johnson explains. "We monitor their biometric data, either post-discharge or as part of an active management program as referred by their physician in our medical group. That data gets collected from a variety of devices such as blood pressure cuffs, scales, heart-rate monitors or blood sugar testing kits."
Combining collected biometric data and a patient's responses to questions about their patterns, activities and behaviors, Health+ delivers at-home checkups that "flag that patient as either higher risk or lower risk" to determine if their health is stable or necessitates medical intervention.
"Those questions are driven by the patient's patterns over time, and also their biometric data," says Johnson. "Say there's a change in their blood sugar: The algorithm will ask them if they had a certain type of food lately or if they've eaten in a certain amount of time.
"Depending on how they rate in terms of risk, there could be an intervention that's required," he adds. "That could be asking them to repeat their checkup, it could be a call from our call center to talk through everything, or it could be scheduling an appointment with their physician tomorrow. It's even led to emergency dispatches."
Health+ has also allowed patients to enjoy a greater autonomy paired with diminished anxiety for an overall improved quality of life.
"It empowers the patient to take control of their own health care, and ultimately reduces their visits to the emergency room or in-patient care," Johnson notes. "The big response has been a reduction in anxiety levels. Patients who have chronic conditions tend to be very, very anxious because they're concerned about their health. With Health+, we found that we're discharging patients a bit earlier than they normally would be if not for this program, and patients feel like, 'Okay, I can stay safe at home and still feel like Inspira is there with me and taking care of me.'"
While Health+ is assisting more than 600 patients with their at-home chronic care management, Inspira's on-site tech is ramping up preventative measures to deliver benefits like early detection by complementing radiologists' skills with intuitive technology.
"We use AI to detect lung nodes in images," says Johnson. "It certainly creates an efficiency because computers are much faster at scanning and detecting potential problems. So it does help facilitate the efficiency of radiologists who have to read many, many images."
He elaborates: "If a patient comes in potentially with pneumonia and the physician orders a lung scan, in addition, we'll run it through this AI algorithm and platform that's trained specifically to look for lung nodes and nodules for earlier detection and, hopefully, less invasive procedures if we do have to treat a malignancy."
Inspira isn't content to rest on its laurels, though, and is always looking for new ways to use its ever-advancing technology to benefit the region's residents.
"COVID was the reason we built predictive models, but now we're looking at how we can apply that same model, that same technology to identify clinical areas of risk for patient populations," Johnson says. "We're now looking at other areas where we can apply this predictive model to drive health care in a different direction."
Inspira Health
1-800-INSPIRA
InspiraHealthNetwork.org
Published (and copyrighted) in Suburban Family Magazine, Volume 12, Issue 8.
For more info on Suburban Family Magazine, click here.
For information about advertising in Suburban Family Magazine, click here.
To find out where to pick up your copy of Suburban Family Magazine, click here.