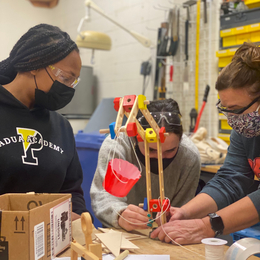 Building the Future
The dedicated engineering program at Padua Academy provides a unique opportunity for girls to develop and apply problem-solving skills.
Along the way in life we all face challenges that require a bit of troubleshooting, and our ability to reach a solution calmly and efficiently could depend on how well we've been prepared. For students at Padua Academy, preparation begins in high school by way of an exclusive engineering program that is the only one of its kind at an all-girls school in Delaware.
Offered at two levels: Discover Engineering and Engineering Design, and led by Cheryl Szurkowski, engineering/mathematics teacher, these courses teach a variety of skills that may help students determine if engineering is the right career path for them. And even if a student does not plan on pursuing STEM as a career, the skills are universal.
"These skills comprise the engineering design process, which includes identifying the problem, researching, creating a solution and testing this solution before redesigning again. This process is a very thought-provoking way of dealing with any problem they encounter," says Szurkowski. Students also learn to work with a variety of material and tools, including power tools such as band saws and drill presses.
Junior Makeda Duey says what interested her about the engineering program was the opportunity to deliver novel solutions to current problems in society using ingenuity and creativity associated with techniques and tools. "It makes me think in ways that are not typical in comparison to other subjects in school. [Answers are not] clear and simple. It makes you think of how the principle learned could be applied in real-world scenarios," she says.
The program has grown to include partnerships with the University of Delaware, and most recently Chemours. Szurkowski says, about five years ago, she reached out to Dr. Jenni Buckley at the University of Delaware. "She was very willing to work with us getting more female students into engineering, which is one of her goals also. She and I developed a curriculum and I have been using and improving on it ever since."
Through this partnership, Padua engineering students are able to visit the design studio at Spencer Laboratory, the mechanical engineering building at UD, and create their solutions for a given problem. "This design creation involves the use of large power tools which we do not have access to at Padua. The students also present their solutions at the UD Senior Engineering Projects event in December. They are judged by industry professionals and university faculty on their projects and presentations," Szurkowski says.
This year, Padua launched a similar program with Chemours, a global chemistry company. "The engineering students were given either a solar panel or a wind turbine and asked to develop the most efficient design. They researched their particular energy source and tested various solutions and will present their findings to a panel of Chemours professionals [in early December]," she says.
Duey and her fellow students are also learning valuable soft skills that will undoubtedly come into play throughout life, says Szurkowski. "Additional soft skills learned in these classes include communication skills as they present their projects and processes to industry specialists and college professors, problem solving when choosing their solution after research, teamwork by working with various students on these projects, time management especially as the prototype must be ready for the presentation at Chemours and University of Delaware where the dates are predetermined by others. These soft skills have helped our students build confidence for their college classes in developing design concepts and promoting their ideas in team projects," she says.
Melina Trautman is one example. The Padua 2020 graduate is a current Penn State engineering major. Her lifelong love for tinkering with things and playing with LEGOS made her a natural for an engineering career. She says there is no question that Padua's engineering courses made her better prepared for college.
"There is no other program that prepares you for a collegiate career path in engineering other than Padua's. Speaking from experience, my first year engineering class in college was modeled extremely similarly to Mrs. Szurkowski's Discover Engineering courses. The design process is something that remains a constant no matter how experienced you are as an engineer, and Padua's program—and other rigorous academics—prepared me to be a successful undergraduate in STEM," says Trautman.
She encourages anyone to consider the courses. "Even if not pursuing a career in engineering, the ability to think like an engineer can help you in numerous ways. Problem solving is a skill needed for everyday life and can help you optimize even the simplest of processes," Trautman continues. "Thinking like an engineer also drastically improves your ability to work in groups and appreciate the strengths of other people, which is a skill needed in any career path."
Duey agrees, saying she is building confidence that she will carry into the future, no matter what her career. "The main message I want others to know is that a girl can be confident and comfortable in pursuing anything at Padua regardless if your interest is in engineering," she says.
Not only is Padua's engineering program unique, so is its robotics team. Coached by Szurkowski and mathematics teacher Ray Helie for the past 11 years, X-squared Factor was the first all-female robotics team in Delaware, aptly named after the two X-chromosomes in women. "Our robot is named Father Roboto, after Father Robert Balducelli, the longtime pastor at St. Anthony's of Padua in Wilmington," Szurkowski says. There are currently 13 girls on the team who compete in meets throughout Delaware and in the Delaware State Championship.
Szurkowski says she is proud to be part of the Padua team developing the next generation of engineering leaders who will build the future. "Our students have access to these and other STEM classes which opens up their eyes to all the possibilities for various careers in the future. I have had many students return after graduating and tell me how their experience in these classes allowed them to excel in college as they had developed skills and the self-confidence to advocate for their ideas. Many have shared stories where they were judged in their college classes for being female but were strong enough to stand up for their ideas and ultimately respected for their contributions."
Padua Academy
905 N. Broom St. | Wilmington, Del. | (302) 421-3739
PaduaAcademy.com
Published (and copyrighted) in Suburban Family Magazine, Volume 12, Issue 8.
For more info on Suburban Family Magazine, click here.
For information about advertising in Suburban Family Magazine, click here.
To find out where to pick up your copy of Suburban Family Magazine, click here.