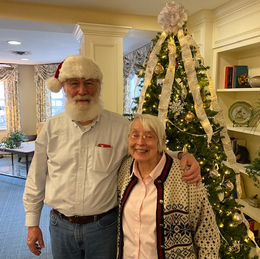 A Community of Camaraderie
New residents find worry-free living with friends and a sense of belonging.
Home can mean a lot of things to a person. It's the place where one feels most comfortable and safe. As a person ages, the physical sense of home may change, yet those feelings of calm and security should remain. Those who are seeking a new home for their later years in life can find more than just four walls at Brightview Senior Living—they'll find a new community.
Tracy Gill is the executive director of Brightview Senior Living in Woodbury. Gill has been at Brightview for over two-and-a-half years. Gill, along with all the associates at Brightview, knows the residents by name as well as their life stories, their likes and dislikes, which helps make them feel loved, valued and appreciated, she says. "I encourage our potential families or residents to spend some time in our community, walk through the halls and sit through a meal or an activity program. It won't be long before they get a feel for the community. It's a culture that sets us apart from other communities."
That community feeling is what drew Barbara Arbor to Brightview. She's one of the newest residents at Brightview Senior Living in Woodbury. Arbor moved in on Sept. 1, 2021, and is thrilled with her new apartment.
"It looked just like home. Everything was all in place. My family fixed it all up for me," she says.
Prior to coming to Brightview, Arbor was living alone in her home with her dog. She
was also beginning to fall a lot. Arbor was ready to make the move as she was getting more and more concerned about falling and being by herself. A wonderful friend found a loving home for her dog and off she went to Brightview. "I always listened to my daughters because they watch out for me," says Arbor.
Upon an initial visit to Brightview, Arbor liked the view from her potential new apartment and everyone she met was extremely friendly and openly talked with her and her daughters. She is so happy that she now has other friends to live with.
As Arbor and her daughters looked at options, Brightview stood out because of the overwhelming friendliness of the residents and the "homey feel" she said it had.
The staff and residents made Arbor feel right at home from the start. "I don't know how they did but everyone knew my name," says Arbor. "I felt really welcomed from the start."
One of the things she loves most about Brightview is the camaraderie. "Everyone wants to know how you're doing," says Arbor. She also loves the food demonstrations and the musical performances. "Other residents ask me if I am happy here and I say: 'Yes I am.'"
Arbor would recommend Brightview. "It's beautiful here; I love the grounds with the trees and the pond. I like being outside like when we had our picnic. Come check it out and see what you think. Come and see me if you want, I'm here. You are well taken care of with everything at Brightview," says Arbor.
"I am glad I don't have the responsibility of a house anymore because there aren't any worries."
Brightview has three locations in South Jersey
Marlton, Mount Laurel, Woodbury
BrightviewSeniorLiving.com
Published (and copyrighted) in Suburban Family Magazine, Volume 12, Issue 8.
For more info on Suburban Family Magazine, click here.
For information about advertising in Suburban Family Magazine, click here.
To find out where to pick up your copy of Suburban Family Magazine, click here.