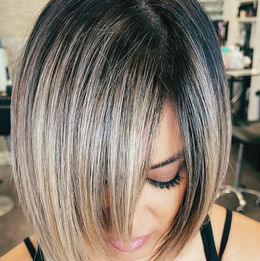 On the Cutting Edge
With a focus on safe products and revolutionary techniques, Wair Studio Salon is raising the standard of hair care.
When Hope Doms launched her own business, Wair Studio Salon, three years ago, she wanted the client experience to exceed expectations. Having been in the industry for more than 20 years, Doms' knowledge has shaped Wair Studio Salon into a pioneer for revolutionary products and techniques, including organic hair color and the signature "Calligraphy" cut.
The professional stylists at Wair are continuously trained and educated. This is important to Doms, who was responsible for education for the Matrix brand, as well as JC Penney salons nationwide earlier in her career.
"Education and training differentiate us from other salons," she says. "Wair stylists attend multiple training sessions every year to ensure they keep ahead of the latest in hair and remain the best at what they do.
"Our salon is a professional yet welcoming environment where clients feel like they are part of a family and feel they trust us," says Doms. "We offer clean, sustainable, luxury brands and focus on brands that make a difference. With sustainability and the environment in mind, none of our products are tested on animals. We care about our clients and it's important that we use the best on-toxic ingredients in our products that provide great results."
Why Non-Toxic Color?
The world of hair is changing and low-chemical, natural technology is leading the way in the world of beauty. At Wair Studio Salon, their mission is to provide the best personal service using luxury products that focus on sustainability, non-toxic clean technology and provide the best result in hair care.
"We believe hair color is a healthy choice. Our color is clean from ammonia, PPD and resorcinol—three ingredients that are excluded from the color line we carry," says Doms.
AMMONIA—typically used to swell the hair and open the cuticle scales to allow color to penetrate deep within the cortex. For anyone with sensitive skin or scalp, this is an unhealthy additive. Wair has replaced it with MEA, an alkaline agent that mimics the role of ammonia, minus the odor, red eyes and irritation.
PPD—Paraphenylenediamine is a chemical known to cause dermatitis, reddening and swelling of the scalp and face. Wair has replaced it with low levels of PTDS (P-toluenediamine Sulfate), enabling up to 50% of PPD-allergic stylists and clients to now use color.
RESORCINOL—a popular coloring agent toxic to wildlife and the human immune system. Shade dependent, Wair has replaced it with 2-Methylresorcinol or 4-Chlororesorcinol, two chemicals kinder to the environment and with less potential to sensitize.
FEATURES & BENEFITS
+ Enhanced vibrancy
+ Color longevity
+ Detangling benefits
+ Promotes hair growth
+ Deep hydration and conditioning
+ Calms frizz and unruly hair
+ Reduces oxidative stress on scalp
What is the Calligraphy Cut?
As mentioned, education and training for the most up-to-date way of doing things is very important at Wair. Wair is the only salon in South Jersey to offer the exclusive Calligraphy cut.
"This is a great cut for fine hair as the Calligraphy cut adds volume. Calligraphy is a new haircutting technique where the stylist slices hair with a knife instead of scissors. Our stylists have trained and mastered this cut," says Doms. "The hair is cut at a 21-degree angle which causes much less injury to hair, resulting in more volume and stronger hair."
The knife used for this cut leaves a much larger cut surface and hair can more easily absorb products. In a Calligraphy cut the cut surface is smooth, giving split ends no shot, she continues.
The ideal candidates for a Calligraphy cut are women and men who have thin, feathery, weak hair. "They will love the volume that results from this cut," says Doms. "It's also a great way to go for those with split end-prone hair.
"It's really great for any hair length. It does wonders for those who never thought they could wear a 'bob' style because their hair is too thin. A calligraphy cut solves that problem and gives thin-haired clients a great bob style. The cut can also achieve big waves and bangs as well as a sleek, smooth elegant look," she says.
While the calligraphy cut might cost a bit more, the cut lasts longer—about twice as long especially for women with longer hair. Men too can benefit from this cut, which lasts about two weeks longer than their usual cut.
Doms and her staff are passionate about their work all day, every day. From using the right natural products without harsh chemicals to specialty cuts, Wair does it all to help give their customers a pleasant salon experience yielding beautiful results.
Wair Studio Salon
65 E. Route 70, Suite 1B
Marlton
(856) 334-8231
WairStudioSalon.com
Published (and copyrighted) in Suburban Family Magazine, Volume 12, Issue 8.
For more info on Suburban Family Magazine, click here.
For information about advertising in Suburban Family Magazine, click here.
To find out where to pick up your copy of Suburban Family Magazine, click here.