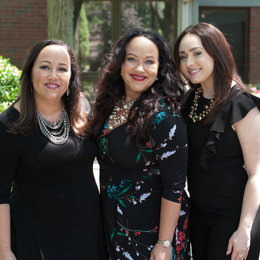 A Homegrown Team
Lia Domenick spearheads the hard-working Allstate insurance agency bearing her name, The Domenick Group, staffed by hand-picked South Jersey residents intimately tuned into their neighbors' individual needs.
Lia Domenick wouldn't say she found her calling at 19: What really happened is that it found her.
"When I started in the business in 1994, I took a part-time job in college on Insurance Row in Philadelphia," she recalls. "One day, the vice president of claims came downstairs and said something like, 'Hey, kid, I hear you run circles around the other staff here—do you want to come upstairs and work in claims?' And I had no idea what claims was … but I took him up on the offer, I put my head down and I learned the business."
She proceeded to plumb the depths of the insurance world "from discipline to discipline, learning everything about the entire industry and how it works." Decades later, that dogged determination to rise above the rest remains the hallmark of The Domenick Group, a full-service Allstate agency delivering a full suite of insurance protection to the families and businesses who call Mount Laurel, Medford, Moorestown and Marlton home.
Offering the likes of auto, property, life and business insurance, the team comprising The Domenick Group diligently individualizes the packages they offer clients, tapping into not only the team's expert knowledge of their industry but also the regional know-how that helps them provide "a full circle of protection."
"We strive for that local presence because the best people to understand the exposures and the risks of families and businesses in South Jersey are people from South Jersey," Domenick says. "Prior to COVID, what set me apart from the others was in-person meetings with clients, just getting to know them and their needs, what their lives look like, what their exposures are. Now we do virtual meetings so that we can continue that personal connection."
Since the agency was founded five years ago, every member of the predominantly female team was invited to join the group based on their proven track records of success. "We built our team around high-performers—our talent pool is literally hand-picked," she notes.
In fact, her twin sister Anna Crane took the leap of faith that first cemented the office's family feeling and then established its family legacy as they used their respective strengths to establish a powerhouse agency together. It will eventually be placed in the very capable hands of Crane's daughter Sabrina, who started working at The Domenick Group as a part-time receptionist in high school and received all the requisite insurance licensing as soon as she turned 18.
"I bought a 40-year business with one of the oldest Allstate books in New Jersey, and was thinking about how I was going to take on this giant undertaking," explains Domenick. "Then I thought of Anna, who's been in district management forever, had 250 employees and is the best leader I know. I knew I had to ask her to jump off this cliff with me, which meant asking her to get four licenses in 30 days and quitting her job with two days' notice.
"When I called her, she asked, 'Are you absolutely insane? My daughter's going to college—this is not the time!'" she continues. "But she did it and she came on board with me, and together we doubled the revenue of the business in about a year."
Domenick isn't just looking out for her team and their clients. She wants to help industry newcomers better understand what it takes to succeed in insurance, while also proving that long-held misconceptions belong in the past to better help everyone in the future.
"Young people especially tend to think of insurance as a boring career for stodgy old men," she says. "I don't think they understand the importance of insurance: It's a means of protection from financial loss, but it's also what makes everything in our economy possible. A business can't even start unless it's insured. It's what gives people the ability to buy a house, to buy a car, to have ownership of their financial assets. It's how, after a loved one dies, people can get on with their lives after going through the hardest thing they've ever faced. We really do make a difference to our clients."
And to keep spreading its positive impact, The Domenick Group's owner is ready to keep expanding. That means hiring new talent that can maintain the dynamic results longtime agents Natasha Beverly and Tara Fleming deliver while continuing to offer a highly individualized, supportive insurance experience to every client who trusts the team to be there for them.
"It has been such a rewarding profession," she says. "The greatest compliment we can receive is knowing we were there for our clients and that the promises we made to them were fulfilled when they needed us."
Allstate – The Domenick Group
651 Route 73 N., Suite 302, Marlton
(856) 810-7410
TheDomenickGroup.com
Published (and copyrighted) in Suburban Family Magazine, Volume 12, Issue 7 (October 2021).
For more info on Suburban Family Magazine, click here.
For information about advertising in Suburban Family Magazine, click here.
To find out where to pick up your copy of Suburban Family Magazine, click here.