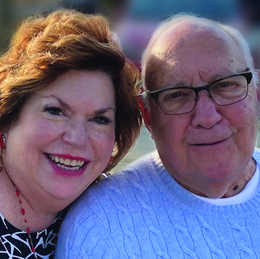 A Reasonable Resolution
For more than 25 years, attorney Maryann Rabkin has guided clients through the divorce process and toward a holistic outcome.
Maryann Rabkin's 25-year career in family law may very well be the result of fate. After law school, Rabkin was assigned to clerk for a judge in civil law, which was her desired practice area. However, shortly after they began working together, the judge was reassigned to family law. Not one to shirk away from an unexpected turn of events, Rabkin told the judge they would get through it together and do what needed to be done.
"That year tested my own personality for being able to practice effectively and not lose who I was as a person, which can sometimes happen with family law," she says. "It's an emotional process for people but as a result of witnessing those emotions and working closely with judges and litigants, I realized that family law was where I was meant to be and it's where I've been ever since."
She went on to found Rabkin Law Offices, P.C. with her husband Ira (who retired several years ago) and all these years later, Rabkin says she still loves what she does. "In my practice of family law, I help people through one of the most difficult times in their lives, and use my skill set and experience to seek a resolution that is fair and reasonable," she says.
In many cases, the best outcomes can be found without involving a judge and courtroom, and Rabkin herself is saying goodbye to traditional litigation in her career. "I am in the process of finishing all of my litigation files and will be fully focusing on alternative dispute resolution mechanisms in the practice," she says. "Litigation can polarize and fracture what is already a pretty tense and tentative situation. It can make it so much worse than it needs to be."
Alternative dispute resolution (ADR) has always been something Rabkin encouraged her clients to pursue. Options can include mediation, led by a neutral mediator who finds compromises and agreements between both parties to reach a fair and equitable result, and collaborative law, which requires a commitment by both parties not to go to court.
Rabkin is one of a few attorneys in the area trained in collaborative law, and she is a member of the South Jersey Collaborative Divorce Professionals. A collaborative divorce aims to reduce the negative emotional and financial impact on a family, she says. "Every professional involved has been trained in this method. We have a divorce coach, child counselors and professionals who can appraise properties or evaluate a business if needed. Every person involved has a commitment to avoid litigation, even the professionals. If the going gets tough, taking them to court is not an option. … If for any reason one person pulls out of the collaborative process, they must start all over with a different attorney."
From her vantage point, Rabkin believes that ADR processes usually result in a more conciliatory outcome that preserves the health of the family. "At the end of a divorce, the people involved are still a family. They will continue to share life events of their children—graduations, marriage, grandchildren. This is a way to preserve the opportunity for people to stay civil and supportive of each other and their children as they move forward with their lives."
Another benefit to couples going through a divorce, alternative dispute resolutions give them the power to make decisions. "By nature people will comply with agreements they made voluntarily, contrary to following a decision by a judge who doesn't ever get to know your family but is going to make the big decisions that may be different from what you would have liked to see," she says. "Courts also attempt to finalize a divorce within one year, but that doesn't take into consideration people who aren't emotionally ready to be divorced. Collaborative law and mediation doesn't extend that timeline but helps individuals to get to the point of acceptance."
As Rabkin enters this new stage away from the courtroom, she has taken time to reflect on her career. "Our firm has always been very engaged with clients and we care deeply about the people who have passed through our doors in any matter. We have been fortunate to be supported by professionals and paraprofessionals who approach work the same way: do your best every day," she says.
Honesty and empathy have been the most important qualities in family law, and she encourages any newcomer to the field to maintain those qualities if they want to be successful. "You will not impact more people than you will in family law. It can be challenging but it's also rewarding," Rabkin says. "Remember to keep your balance of career and personal life and make time for yourself, and stay true to your own moral center."
Rabkin Law Offices P.C.
1415 Route 70 E., Suite 202
Cherry Hill Plaza
Cherry Hill
(856) 216-1500
RabkinLawOffices.com
Published (and copyrighted) in Suburban Family Magazine, Volume 12, Issue 7 (October 2021).
For more info on Suburban Family Magazine, click here.
For information about advertising in Suburban Family Magazine, click here.
To find out where to pick up your copy of Suburban Family Magazine, click here.