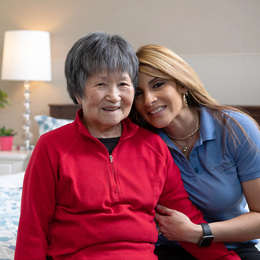 Living in Perfect Harmony
Harmony Village at CareOne Stanwick Road helps residents with dementia lead enjoyable, fulfilling lives in a safe environment.
When most people think about a devastating disease like dementia, images of seniors laughing together, sitting behind a piano or even dancing are not the first ones that come to mind. The common perception is that these folks can no longer do the things that make them happy and will eventually look nothing like their old selves. But while it is true that changes will come, especially as the disease progresses, those with dementia can continue to live fulfilling and meaningful lives, as long as they're in the right environment.
Finding that place for a parent or grandparent, a beloved aunt or a family friend can be a challenge, and South Jersey has plenty of options when it comes to care. Harmony Village at CareOne Stanwick Road in Moorestown is one that stands apart from the rest because of its complete focus on memory care and its commitment to treating those with dementia like the unique individuals they are and not just a number.
"I've been in this industry for over 25 years now," says Rachael Wittman, the executive director at Harmony Village. "I've seen many communities that put a door with a lock on a wing and call it memory care. To me, a memory care wing and a memory care program are two completely different things.
"Our residents can create, they can have a sense of humor and joke around, they can play the piano or other instruments they've played in the past, they can dance, they can sing, they can volunteer. They can go on trips; we've taken residents to Atlantic City for the air show, we've taken them to a Beatles tribute show, we've taken them to the pool and the mall. Even those with advanced dementia are capable of anything we're capable of—with the right supports in place."
That is what Harmony Village at CareOne strives to provide in a safe and comfortable setting strictly for residents who need memory care at any stage of dementia. Amenities include private apartments, a dining room that constantly draws raves for its menu, an activity room, an on-site beauty salon and spectacular outdoor spaces.
What really makes Harmony Village different, however, is the fact that residents are grouped in different neighborhoods according to their cognitive ability. Whereas other memory care facilities may have those in the early stages of dementia living side by side with people at the end of life, Harmony Village groups residents with their peers at similar cognitive levels. This system allows Harmony Village to tailor services to each individual and focus on his or her strengths.
"It helps our residents to be with people like them, with people on their level who they feel comfortable with," Wittman says. "Dementia is a progressive illness and as our residents progress, their strengths and abilities change, leading to different levels of activities. Programming looks very different from neighborhood to neighborhood.
"Some of our residents might not be able to keep up with Bingo, for example. So in one neighborhood we might have traditional Bingo, in another we might do Bingo with pictures instead of numbers and letters, and in our next neighborhood we might have residents watch us play Bingo. We change whatever our activities are to meet the needs of those residents so that everybody can be included."
Harmony Village currently has four separate neighborhoods but that number will soon grow to six. This is an exciting time for the community thanks to an ambitious expansion that will add 31 rooms and bring the total number of beds to 99. Construction is expected to be completed in the first quarter of 2022. The project also includes a new, state-of-the-art outdoor space to go with the two existing gardens on the property.
Adding two neighborhoods will allow the staff at Harmony Village to continue monitoring each resident to make sure he or she is grouped accordingly.
"As dementia progresses, we start to see changes in socialization," Wittman says. "We see our residents start to isolate. They become reluctant to leave their rooms, and won't come to activities anymore because they can't keep up. But when we put them in the correct neighborhood with people they can relate to and socialize with accordingly, we see amazing progress."
This model also enables Harmony Village to continue to care for their residents, even as they need advanced care. "I am a very strong proponent of aging in place," Wittman says. "Having to move a loved one with dementia as their disease progresses is very stressful for families and extremely disruptive to an individual with dementia to change their environment and routine. We do everything we can to keep our residents at Harmony Village and even have a neighborhood dedicated to those at end of life."
Harmony Village is in the process of hiring a dementia specialist, which will further distinguish it from other memory care facilities. This new role will help educate families while providing staff with practical tips and pointers on how to best care for residents. Wittman is searching for the perfect candidate to join a staff that has had little turnover since she came on board eight years ago.
As for her background, her grandparents played a large part in raising her, and she has always enjoyed spending time with seniors. As an undergraduate student at Florida State University, she was part of a work-study program and was assigned to a renowned dementia researcher, Michelle Bourgeois, Ph.D, and became interested in the field.
"I enjoyed working with her and I loved learning about dementia," she says. "I just felt a connection with the people I met and with their families, and I went on to get my master's degree in gerontology because I knew I wanted to work with older adults with dementia."
More than 25 years later, she is still just as passionate today, and she sees the same level of devotion from the rest of her staff. With statistics showing an increase in people with dementia and many baby boomers in need of long-term care, Harmony Village is proud to offer them a safe place to call home.
"Our residents have lost so much," Wittman says, "Even their memories. Giving them an enjoyable life, something to look forward to every day, really does make you feel like you're doing something great. I realize that not every individual is cut out to work in memory care, but for my team, I know this is a calling."
Harmony Village at CareOne Stanwick Road
301 North Stanwick Road | Moorestown
(856) 638-1244
www.care-one.com/locations/harmony-village-at-careone-stanwick-road
Published (and copyrighted) in Suburban Family Magazine, Volume 12, Issue 7 (October 2021).
For more info on Suburban Family Magazine, click here.
For information about advertising in Suburban Family Magazine, click here.
To find out where to pick up your copy of Suburban Family Magazine, click here.