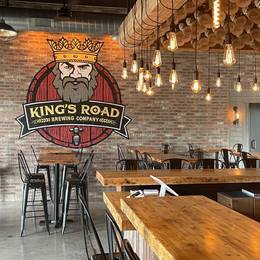 Now Pouring in Medford
King's Road Brewing Company expands on the community-centric success it found in Haddonfield to a second location.
Many people may admit to coming up with some great ideas while enjoying a beer with friends, but who can say they acted on them? Bob Hochgertel can. Back in 2016, the Haddonfield resident was sitting with friends Chris Thomas, Pete Gagliardi and Michael Plunkett, who also lived in town, discussing the diminished pedestrian traffic in the downtown district. They agreed the town had so much going for it—great restaurants, a variety of retail, top schools—but it was lacking a destination. Thomas, half-jokingly said, "We should open a brewery." It couldn't work; Haddonfield was a dry town, wasn't it? Actually, no, as they found out a few days later through Plunkett, an attorney in the group who had researched the matter.
Armed with this knowledge, Hochgertel, who has always enjoyed traveling and sampling craft beer, told his wife he was going to open a brewery in Haddonfield. "If I'm being honest, I half expected—and wanted—her to talk me out of it," he says. "But her response surprised me: 'Hon, I think you should do it, but you have to be the first one [in town].' … I went back to the group and told them 'I'm doing it. Who's with me?'"
From that moment on, Hochgertel says it was full speed ahead as he, Thomas and Gagliardi (along with fellow investors Vicki Cummins and Jeff Farrell) lined everything up. In December 2017, they opened King's Road Brewing Company on Kings Highway. The response was beyond anything they could have anticipated, says Hochgertel, who is managing director. "The community was so receptive and supportive, so much so that within four months we realized we needed a bigger space and we moved 25 feet away into 131 Kings Highway in November 2019."
Months later, the global health crisis shut down the King's Road tasting room, but, like so many in the food and beverage industry, it pivoted to delivery and curbside pickup as quickly as possible. "We had no idea if that would be enough to sustain the business, but the community support really showed itself. We were able to keep the business open and pay our full-time people," Hochgertel says.
It became clear to the group of partners that they could not make enough beer to keep up with demand, so they began looking for a production facility. "It was just exploratory, seeing what was out there," Hochgertel says. He was invited to check out the former Kirby's feed mill location in Medford, which was being redeveloped as a destination market by a friend of his.
"I was immediately struck by the similarities of Medford and Haddonfield. Both are historic with a proud community that is very supportive of its businesses. It felt very familiar, but at the same time, it was far enough away from our Haddonfield location that I didn't think it would cannibalize from our existing customer base. … We found ourselves building out to a second, much larger location during a fragile time."
King's Road brought on Josh Ervine as head brewer for Medford. Ervine's pedigree in the industry spans over 20 years, including brewing at Yard's, Philadelphia Brewing Co. and Iron Hill, where Ervine had previously collaborated with King's Road.
"I love how community focused King's Road is. I've always enjoyed following local breweries and what they bring to a town. It means a lot to me to be part of this new endeavor in Medford and I'm happy to be involved," Ervine says.
At the Medford location, Ervine will be overseeing a much larger footprint of production space, with room for further expansion when needed. If you've never been to King's Road, Ervine ensures there is something for everyone on tap. "We always want to have something on tap that's friendly for people just getting into craft beer. We have fruited ales that may remind people of wine, all the way up to a bold West Coast IPA. We also keep our signature King's Gold Lager and Black Musket Stout on tap all the time," he says. With the added space under his purview, Ervine will expand into other offerings like Belgian tripels and saisons. "The offerings won't be the same in each location, but we're not too far apart that if you don't see something in Medford, you can head over to Haddonfield to try it."
Hochgertel says King's Road would also like to have more of a presence in local restaurants and bars, and a canning line is under consideration to be added in Medford.
Small towns truly seem to be the best fit for King's Road. "We're so thankful for the support we've received in Medford, from the town residents to the township administration. We knew it was a great community but we had no idea how receptive they would be," he says. "In Haddonfield, we've been called their local 'Cheers' and there is no better compliment than that. We have become an inherent thread in the fabric of the community, and we make sure to show our appreciation by giving back to township and community organizations whenever possible. We're hoping to do the same here in Medford."
King's Road Brewing Company
KingsRoadBrewing.com
131 Kings Hwy E.
Haddonfield
(856) 427-8100
67 N. Main St.
Medford
(609) 451-5661

Published (and copyrighted) in Suburban Family Magazine, Volume 12, Issue 6 (September 2021).
For more info on Suburban Family Magazine, click here.
For information about advertising in Suburban Family Magazine, click here.
To find out where to pick up your copy of Suburban Family Magazine, click here.