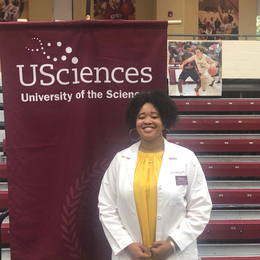 Alumni Success Stories
How three students from Georgian Court University are fulfilling their passions.
During his time at Georgian Court University, Tyrek Cooper was all about putting in work—in class, in the community and in his calling: social work. In four short years, he worked numerous jobs on campus, held leadership positions and helped others—just as he was helped by a Georgian Court alum years before he arrived on campus.
The South Jersey native, who recently graduated this spring, dealt with dyslexia as a youngster. He fought his way from remedial English classes to honors courses at Mainland High School, and attended GCU because of Josephine Carney '07, one of his teachers—a GCU graduate—who believed in him.
Carney encouraged him to push past his learning disability, racism and his home circumstances. She gave Cooper extra books and assignments to challenge him. Her husband supported Cooper as well and gave him odd jobs to help earn money for college. Together, the couple helped him apply to college, celebrated his acceptance and drove him to campus for the first day of his GCU journey.
Cooper's spirit of determination, perseverance and unyielding work ethic were evident. He was a resident assistant for three years. He worked in university catering and the dining hall. He co-founded a men's leadership program on campus and served as vice president for the Alliance of Educational Opportunity Fund Students of New Jersey.
Also a TRIO scholar, Cooper held down student worker assignments in the Office of Financial Aid and the Office of Student Life. In 2020, he interned with New Jersey's Court Appointed Special Advocate (CASA) program. He applied his compassion and social work insight by reviewing court proceedings and legislative policies affecting adoptions. And he was a campus intern with responsibility for GCU's food pantry throughout the pandemic.
His next step: pursuit of a master's in social work. His goal? To break the chain of poverty and oppression for others.
"Becoming a social worker will not be an easy road to follow; however, I will travel down this path laid out for me in order to continue my own success story, and to influence others to chase a dream of their own," says Cooper.
Pushing to realize his dreams is especially important for another reason: his beloved mentor died suddenly in December 2020. Her husband passed a month later.
"I am fixated on not just getting my degree," Cooper adds, "but fulfilling the full potential that Mrs. Carney saw in me the day she invested in my future."
Danny Ginchereau, who grew up in Burlington County, came to Georgian Court a quiet, anxious student and left as a different person—a graduate equipped to make a difference in the lives of students.
He no longer wanted to just teach history to general education students, but he wanted to reach students with disabilities and those students who thought they didn't care about history.
"I'm outspoken now and confident in my positions," says Ginchereau, who graduated in 2020 and now teaches high school history. "I'm more well-rounded and caring. Georgian Court changed me for the better."
In his mind, two life-altering trips to Washington, D.C., sponsored by GCU stand out.
"I peacefully protested, learned to lobby and became part of the real world and history. The university offered those opportunities to drive real change," he recalls.
During his time at GCU, Ginchereau was president of the Student Government Association, studied abroad in London and was a member of the History Club, among other activities. He's now pursuing his master's degree in education.
"Georgian Court not only gave me the tools to succeed but showed me how to
use them," he says. "The community—faculty, staff, student body—helps you expand your
horizons and alter your perceptions. It's an experience meant to help you become the person you were meant to be."
During her days at Georgian Court as a highly engaged student-athlete, Nijiera Addison was also a member of the Black Student Union and Agape Latte, a student-led program exploring faith and life.
She further honed her leadership and diplomacy skills as a resident assistant her senior year. Basketball tournaments in Croatia, Serbia and Italy taught her that every life is different and to be valued.
"Those trips made a huge impact," says Addison, who graduated in 2019 with a degree in exercise science. "During my senior year, I began focusing on my goals for my life. I gained confidence and maturity. GCU provided many connections that directed me to be better."
Those two elements—the connections she made and her growing sense of confidence—confirmed that she was making the right decision about her future. Today, she is nearing the end of her doctoral studies in physical therapy at University of the Sciences in Philadelphia. She's also a step closer toward realizing her dream of training professional athletes.
"If you surround yourself with the right people, you can be on the right path," says Addison, "the one God intends you to be on."
Georgian Court University
Lakewood | (800) 458-8422 | Georgian.edu
Published (and copyrighted) in Suburban Family Magazine, Volume 12, Issue 6 (September 2021).
For more info on Suburban Family Magazine, click here.
For information about advertising in Suburban Family Magazine, click here.
To find out where to pick up your copy of Suburban Family Magazine, click here.