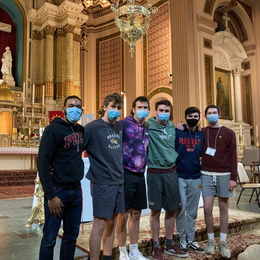 A World of Opportunity
St. Joseph's Preparatory School offers young men an immersive education in the classroom, through co-curriculars and by introducing them to a city's community.
The four years of high school are rife with discovery, opportunity and plenty of chances to learn more about the world beyond the classroom.
At St. Joseph's Preparatory School, or the Prep, in Philadelphia, though, that personal journey isn't just important: It's a sacred rite of passage that helps each young man become a well-rounded alumnus exemplifying the Profile of the Graduate at Graduation.
Beyond a strong academic record, the Jesuit school instills five key characteristics in its students as they make their way through the academic, co-curricular and spiritual development defining the Prep St. Joe's alumni: open to growth, intellectually competent, religious, loving and committed to justice.
"We have a classic liberal arts education and we guide students toward intellectual confidence and ambition. At the same time, we stay on the cutting edge: All of our students have the devices and technology necessary to access a wealth of information," says Principal Andy Cavacos. "They're very serious about their work, but they also have a great sense of humor and a great way about them"
Cavacos has both attended and taught at Jesuit schools, and was drawn to the Prep St. Joe's as less of a career move and more of "a professional, spiritual and personal calling." While his hopes were high, the entire school community not only lived up to but also easily exceeded his expectations.
"I knew the Prep was a great school, but it's also a community of great faith and service," he says. "I've been able to see it in practice, how deeply committed everyone is to being in service for others and with others."
Christopher Casey credits the Prep with giving him the supportive community he needed after his father's passing.
"I received a scholarship for boys who lose their fathers, mostly paid for by a generous group of about six dads, some of whom I never met," Casey recalls. "In the wake of losing my dad, it afforded me male mentorship through good teachers and coaches, and it kept me super busy and involved."
The Cinnaminson native now attends Amherst College, pursuing a double major in chemistry and classics. He says his education, co-curricular involvement and overall experience at St. Joe's has a lasting benefit.
"They were really long days, with class and everything after school, which taught me to manage my time," says Casey. "I started a chemistry club because I had a really great teacher, and then there was lacrosse or hockey practice, or presenting a speech or debate."
Aaron Sykes, a 2016 graduate, says that while his introduction to the Prep was "kind of a fluke," he immediately realized he was meant to be there.
"It was by luck that I found the Prep and it worked out perfectly," he says. "From a religious perspective, there are no such things as accidents or coincidences, just the right place at the right time."
A year out of Villanova University, the former Cherry Hill resident is putting his chemical engineering degree to use as a University of Pennsylvania research specialist. He credits the Prep with demonstrating the importance of succeeding together.
"When I got to St. Joe's, I was used to being the smartest kid in class—suddenly, I was surrounded by other kids who were the smartest in their classrooms," notes Sykes. "I had to be rigorous about my studies, but it never felt competitive or cutthroat. We were supporting each other so we'd all succeed in an environment of high expectations."
Both positive experiences are what St. Joe's wants for the young men who call it their high school home.
"We're always looking to build up a whole person so they're young men with a great diversity of gifts and talents, who use them to help one another and to the greater glory of God," says Cavacos.
The school's Philadelphia location is a particular benefit to South Jersey students, giving them a glimpse into city life and a whole new community. As service hours are an integral part of The Prep's culture, they're also a significant part of a student's journey to become a man both for and with others.
"The school changed the trajectory of my life, and has enabled me to do so much more with it—and for my community," Casey says.
The benefits of a St. Joe's education are for life, as are the connections that students make. Beyond lasting bonds with friends and mentors, the Alumni Service Corps Program is one more avenue of support that forever unites grads of all ages.
"It's one of the most important resources available to alumni," notes Sykes. "I've heard from older alumni that you can't throw a stone in the city and not hit a Prep guy. It sounded cheesy the first time I heard it, but now I'm realizing how true that is. The alumni network is extensive and it's just waiting to be tapped into."
St. Joseph's Preparatory School
1733 W. Girard Ave., Philadelphia, Pa.
(215) 978-1950
SJPrep.org
Published (and copyrighted) in Suburban Family Magazine, Volume 12, Issue 6 (September 2021).
For more info on Suburban Family Magazine, click here.
For information about advertising in Suburban Family Magazine, click here.
To find out where to pick up your copy of Suburban Family Magazine, click here.