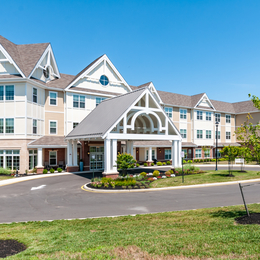 Arbor Terrace Mount Laurel
A retirement community with a family feel
Arbor Terrace Mount Laurel opened in New Jersey last year, and the senior living community's 79 residents already feel a lot like a family—to the staff and to one another.
Executive Director Punam Patel says it's the first impression that makes Arbor Terrace Mount Laurel so special.
"When a family comes in to tour, we have a welcome sign," Patel says. "That's the first of many one-on-one connections with the residents and the families we make when they are here searching for a community for their loved ones. Our care team bonds really well, and it's that nurturing and welcoming environment we have in the community that draws residents and families."
Patel has been at Arbor Terrace from day one; she worked in the sales trailer in 2018 before the community opened to residents in 2020.
Concierge Judy Bradley strives each day to make sure residents know she considers them like family.
"I feel like they're my people, frankly," Bradley says. "They know they can depend on me. I treat them the way I would want my parents to be treated by someone else. I know that their families aren't here every day, so they need someone to advocate for them and make sure they are happy and healthy and doing what they need to do to be engaged."
That belief in making deep connections—one of the standards of the company's Arbor Way philosophy—is evident to Arbor Terrace Mount Laurel residents.
Lee and Jack Anderson moved into the community right after it opened last year, and they've become Resident Ambassadors, befriending new residents, showing them around and answering any questions they have about the community.
Lee is in her late 80s and Jack is 90. When they decided to move out of their home and into an assisted living community, they visited lots of places and did plenty of research.
The Arbor Terrace community was their favorite, hands down.
"It was amazing to us because we had been to other assisted living communities, and they didn't offer what this community does," Lee says. "We were very happy to find out about this [community], and it seemed to satisfy all of our needs."
The Andersons especially enjoy the "congeniality" among the residents.
"We're always meeting new people as ambassadors, and it's a thriving place and they try to have many different types of activities," Lee says.
Arbor Terrace Mount Laurel has assisted living and memory care neighborhoods, as well as Bridges, which serves residents living with the early stages of dementia who need a bit of extra help with daily tasks but who are not yet ready for the full structure of memory care.
The Bridges neighborhood is unique to The Arbor Company communities as an "in between" place. "Cognitively, the residents are still there, but they just need a little bit of cueing and reminding, a little bit of guidance for the activities of daily living," Patel says. "It's a perfect transition option."
The community has a total of 88 apartments, with a capacity of up to 110 residents. It boasts two hair salons, along with a sports lounge, Friendship Hall and a theater.
The sports lounge is the location for afternoon beer and wine socials, and it's especially lively during football season when Philadelphia Eagles fans gather to cheer on their team.
Friendship Hall, which Patel says is a bit like a tavern, is a popular site for exercise classes and other entertainment activities, including monthly birthday celebrations. During the recent National Assisted Living Week celebrations, a magician provided entertainment in Friendship Hall.
The Andersons are former ballroom dancers and they especially enjoy the daily exercise classes. They also took part in the community's recent country-western line dance classes.
"Those who were able to stand would stand and do the line dances and those who were sitting were able to do them as well," Lee says.
Late afternoon is often game time, when groups of residents engage in a little friendly competition playing the vast collection of board games available, Lee says.
Live entertainment is a regular feature at Arbor Terrace Mount Laurel and it can range from music to magic shows.
Being among people in their same age bracket offers a nice "commonality," Jack says. "A lot of us still remember what it was like to work and we talk with each other about former jobs, and that can be exciting to listen to."
Resident David Azaren, who moved into the community earlier this year, enjoys the wide variety of documentary films shown in the theater room and says the community has plenty of aesthetic appeal, both inside and out.
"It's a nice, clean community. The personnel here are very helpful and gracious. The apartment is very nice and there's a nice exterior to walk around the building on nice days. All in all, it's a very comfortable place to be," Azaren says.
The COVID-19 pandemic brought its share of challenges to the community, as it did to other assisted living communities around the country.
"To keep the residents safe was our utmost concern," Patel says.
Arbor Terrace observed many safety precautions, from masking to testing to frequent sanitizing of common areas, and residents were served meals in their apartments.
Many of the restrictions have now been lifted, but the dining room is still reduced to 50% capacity, and meals are split into two seatings, with each resident sitting at his or her designated table.
Arbor Terrace Mount Laurel has many couples among its residents, which Patel says is somewhat unusual in senior living communities.
Patel enjoys seeing the camaraderie among residents.
"In the evenings, they sit outside. They mingle with each other. We have a really, really nice group of residents who take care of each other. Somebody will come and say, 'Hey, so-and-so isn't feeling good. Can you have the nurse go and check on them?'"
The staff members understand that residents may feel a little trepidation at the idea of moving out of their longtime home and into assisted living, so they work hard to make sure residents feel comfortable and happy at Arbor Terrace.
"It's all about nurturing; it's all about engaging and being in their shoes," Patel says. "That's what we say, 'This is our residents' home, and we are the guests in their home, taking care of them.'"
With the holidays approaching, Patel is looking forward to lots of fun celebrations, often with residents' family members joining in for the festivities.
If COVID-19 restrictions remain at current levels, "we are thinking of doing a holiday party differently so the families are able to come and be with their loved ones," Patel says.
Patel is also proud of the work done by the engagement team "who goes above and beyond with activities that are happening in the community."
Even the maintenance director sometimes gets in on the fun; he hosted a beer and wine tasting for residents, and recently led residents in a class on making pinecone bird feeders.
Arbor Terrace Mount Laurel is a special place for residents, but the staff members say it's just as special for them.
"This is one of the most satisfying jobs I've ever had," Bradley says. "The team itself, the management team, works together. The management's not above us; they work with us to make sure the employees are happy as well."
For more information visit ArborMountLaurel.com/Suburban or call (856) 391-8662.
Arbor Terrace Mount Laurel
785 Centerton Road
Mount Laurel
(856) 391-8662
ArborMountLaurel.com/Suburban
Published (and copyrighted) in Suburban Family Magazine, Volume 12, Issue 6 (September 2021).
For more info on Suburban Family Magazine, click here.
For information about advertising in Suburban Family Magazine, click here.
To find out where to pick up your copy of Suburban Family Magazine, click here.