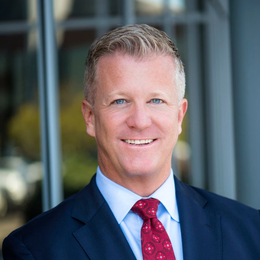 In Your Corner
A good matrimonial lawyer provides more than legal advice during tumultuous times, and Michael Weinberg's commitment to wearing all kinds of hats for his clients recently earned him a peer-nominated honor.
Every year, Michael Weinberg votes for the peers he believes should be honored by Best Lawyers, the legal profession's oldest peer-reviewed publication. The annual guide recognizes thousands of legal professionals as Lawyers of the Year—an especially meaningful distinction because, as Weinberg notes with a laugh, lawyers are notoriously difficult to impress.
So when he was named 2022's Lawyer of the Year for Family Law in Cherry Hill, it was a humbling validation of his work.
"The fact that it's an award from people I hold in high esteem and practice with on a day-to-day basis, it means a lot to me to know I have the respect of my colleagues," says Weinberg, a partner at Marlton's Weinberg, Kaplan & Smith.
Specializing in matrimonial law, the firm is adept at handling other legal disciplines that cross into their clients' divorce proceedings. Weinberg typically represents high-net-worth individuals, business executives, entrepreneurs and their spouses, so elements of real estate investments, business litigation, bankruptcy and criminal defense factor into his work.
But he didn't immediately gravitate to family law at the onset of his career, which began at a large commercial firm. It wasn't until 1998, when he joined his father's smaller boutique firm, that he started working in a handful of different areas, once of which was matrimonial law. It became his exclusive focus by the time he returned to the world of larger firms in 2005.
That variety of experience and ability to wear many hats, Weinberg believes, makes an effective practitioner of family law.
"It's a practice that touches on other legal areas, but that's any area of law," he says. "What makes matrimonial law different is that we're dealing with good people in a really tough period: Their entire life is turned upside down, they're dealing with fear and uncertainty, sometimes there's anger and resentment.
"What makes a good matrimonial lawyer isn't just proficiency," he continues. Weinberg recalls how his father's business card identified him as a "counselor at law," which he agrees is a spot-on truth. "We're more than lawyers: We're therapists, we're a friend, we're a confidante, we're strong when the client can't be, we're sensitive when the client needs us to be. You have to be flexible and you have to know your client well enough to understand what kind of approach to take with them. There is no cookie-cutter approach."
Getting to know a client and their situation also helps Weinberg advise them in the manner best matching their needs. For example, he notes that mediation, where a mediator serves as a third party working with both spouses rather than advocating for only one, is typically better suited for more amicable divorces.
"If you have a situation where there's a concern that there's unequal bargaining power, or if one of the parties is not willing to make full and complete disclosure of assets, liabilities or income, then you have to think long and hard as to whether or not mediation is appropriate," Weinberg explains. "That being said, I do incorporate mediation into my practice, which can be a cost-effective method for resolving issues."
He adds that it's important to resist making clients' decisions for them "because it's their life, not yours." That sensitivity has helped Weinberg steer his clients through immensely difficult times in their personal lives, a feat compounded by the unprecedented challenges presented by the global health crisis that began almost two years ago. He says that while the courts' quick adoption of virtual hearings helped panicked parents who didn't know how quarantining would impact—or could violate—custody agreements, there are still some thorny areas.
"The issue now is if one parent is supportive of their children getting the vaccination and the other parent is not, and whether the court has the authority to override the objection of one parent," says Weinberg. "It's a tough issue, and one that is certainly at the forefront of issues, particularly as schools are now back to in-person instruction."
With global health concerns still complicating matters, Weinberg has some advice for separated parents to help minimize the potential for putting children in the middle of the holidays' custody drama.
"Each county's a little different, but the court system has developed a presumptive holiday schedule," he explains. "It's not etched in stone and each family has their own traditions and ways of celebrating, but it's a useful guide to identify all the major holidays and evenly allocating them between parents."
After all, family law is about helping clients arrive at the best solution for everyone involved.
"Your job is to guide them through an emotional process so they don't make long-term decisions based on emotional reactions," Weinberg says. "You want your client to make an informed decision that is ultimately not just in their best interest but in their family's—especially their children's—best interest, too."
Disclaimer: Michael Weinberg was awarded Best Lawyers' Lawyer of the Year for Family Law in Cherry Hill, which recognizes individual lawyers with the highest overall peer feedback for specific practice areas and geographic regions. Selection methodology can be found at bestlawyers.com/methodology. No aspect of this advertisement has been approved by the Supreme Court of New Jersey.
Weinberg, Kaplan & Smith, P.A.
8000 Sagemore Drive, Suite 8301, Marlton
(856) 795-9400
WKSNJLaw.com
Published (and copyrighted) in Suburban Family Magazine, Volume 12, Issue 6 (September 2021).
For more info on Suburban Family Magazine, click here.
For information about advertising in Suburban Family Magazine, click here.
To find out where to pick up your copy of Suburban Family Magazine, click here.