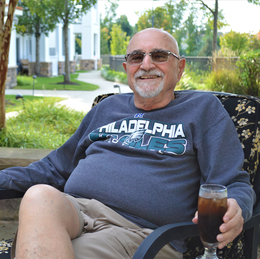 Where You Belong
New residents at Brightview Senior Living find the friendly community they've been missing.
There's an energy of excitement at Brightview Senior Living's Greentree community. Thanks to the availability of vaccines, many seniors who had held off on moving into the community are now being welcomed with open arms.
"The community has been so excited to welcome new neighbors and the level of enthusiasm and excitement is contagious," says Jennifer Steen, executive director, who says a lot has been going on behind the scenes to prepare for every new resident's arrival.
"We take a lot of time prior to someone moving into the community to find out about their interests, what they did for a living and even what they are looking to enjoy here at the community. We have a hospitality committee that we pair each new resident with to help get the new resident acclimated to their new home."
Acclimation happens quickly, and most residents are surprised at how soon they feel at home in their new surroundings. Before long, residents start enjoying all of the amenities and activities, including exercise programs, trips/outings, art classes, live-streamed performances and the always-popular Bingo.
Just ask Benny Riviello Jr., a new resident at Greentree.
Riviello has always been active and is known for being a hard worker. In fact, he was still working as a geriatric physician at age 90, until last January when he retired (for a second time) under his cardiologist's orders. He had been a resident of a 55-plus community for about 10 years, living in a second-floor condo. However, COVID put many of the community's activities on hold, and Riviello found himself sitting around too much during retirement. It was his daughters who discussed exploring nearby senior living communities.
The idea of change made him slightly apprehensive. "I was not hesitant in looking at places, yet change and the decision to make a change is a hard thing, especially for seniors," he says.
There was something—or actually someone—that made Brightview Greentree stand out to Riviello.
"It started with Mari [Maloney]," he says of the community's senior living director. "When I walked in the front door, she was right there. Marianne, the concierge, was at the front desk and Mari was standing by the desk. They both greeted me and said in such a friendly and welcoming manner, 'Hello Ben!' They called me by my first name. They made me feel so welcome! They treated me like they have known me for a while. They made me feel so comfortable and welcome, as if I was family."
The personal attention continued. "Mari met and sat with me and my daughter, Angela, around a round table and we talked. She didn't look at a clock; she gave me her time and attention. It was personal, with such warmth. Afterward, she took me through the community and showed me a few apartments. When we were coming out of the apartment, someone walked by and she introduced me to Jen, the executive director," Riviello continues. "When we were done with the visit and we walked out the front door, I told my daughter, 'Forget the other places; we don't need to go! This is it!' That initial welcoming introduction and feeling told me, in my heart, this was it!"
This was important to Riviello because it was how he treated his own patients, with a personal touch.
He has been a resident now for just over four months. He remembers his first week fondly. "That first week, there was so much going on, yet within one week I felt very comfortable in being here. It is the way everyone speaks to one another. It is more like family than anything else. Everyone says 'hi' because they want to know you. Even in the elevator, they say, 'Ben, how is it going? Are you settling in OK?' My daughter said, 'Dad, did you see in the lobby where they have your picture and a sign that says, 'Welcome, Ben!' and I told her, 'this is what makes Brightview Greentree special!'"
Riviello has been able to experience many different activities, including the Spice in Motion exercise class with Bayada several times a week, and Bingo nights. "I really enjoy the residents I eat dinner with every night; it is just as much the social aspect as it is the meal. I enjoy the cultural and musical programs offered as well and the trips out to breakfast and lunch. My kids know when they can and cannot call me due to my busy activity schedule. They know I will also be at happy hour every day from 3-4 p.m. to enjoy a drink and to socialize."
Now that he is settled in, Riviello feels happy and content. He knows how it feels to be unsure of change, but encourages others to make the move.
"Ask yourself, are you making the change, or are your children forcing you to? I would say to be happy in making the change. … I would say it is a wonderful experience. I am glad I made the change. I like being with others and the socialization aspects; the safety and also the independence that I have my own space and I can go back to my apartment and chill and just relax."
Brightview has three locations in South Jersey
Marlton | Mount Laurel | Woodbury
BrightviewSeniorLiving.com
Published (and copyrighted) in Suburban Family Magazine, Volume 12, Issue 6 (September 2021).
For more info on Suburban Family Magazine, click here.
For information about advertising in Suburban Family Magazine, click here.
To find out where to pick up your copy of Suburban Family Magazine, click here.