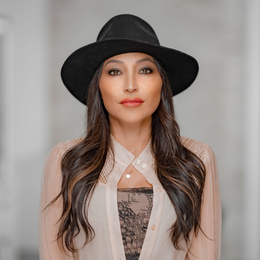 Better Products, Better Hair
At Wair Studio Salon, the use of natural products without harsh chemicals leads to a more pleasant experience and beautiful results for clients.
As a society, we've become more educated about the things we put into our bodies, seeking out organic foods, drinking seltzer water instead of soda and reading labels carefully. If we're making these conscious choices, why would we continue to settle for harsh chemicals being used on our hair?
Hope Doms doesn't want anyone to settle at Wair Studio Salon, which she opened three years ago in Marlton. Through her 20-plus years in the industry, she witnessed time and time again how the chemicals in hair products, especially in hair coloring, would affect clients and stylists.
"Everyone knows the smell of the ammonia when getting their hair colored, and a lot of people experience a chemical sensitivity with redness or itchiness. You sit there for 45 minutes breathing it in," Doms says. "The ammonia in color actually swells the hair up so it can penetrate deeper. This can cause damage and irritation."
She wanted something safer for people and the environment. "I just think, if we're shopping at a place like Whole Foods, eating organic, but then we put something so toxic on our heads—it doesn't make sense," she says.
The decision wasn't only for the clients' benefit, she continues. Stylists work 40 hours a week in that environment. "When you work so closely with that product all day, it gets on your skin, into your nose and eyes—this is better for everybody in the long run."
The zero-ammonia, organic product line is much gentler on hair, replacing the harmful ingredients resorcinol and PPD with safer, less-invasive ingredients, and creating a better result. "Right away after the first and second application, the gray coverage was beautiful, hair was shinier and more vibrant. It was more comfortable for clients too without the smell, and they didn't notice any itching or redness," Doms says.
Over her career, Doms has learned to trust her intuition. After 15 years as a stylist "behind the chair" in various salons, she became an educator for the Matrix brand in New York City. She would go on to help rebrand JC Penney's salons across the country, collaborating as a member of the education team that created the technical training program used in 800 locations. Her resume also includes a prestigious nomination in 2013 for North American Hair Stylist of the Year.
After the birth of her daughter in 2016, Doms returned home to New Jersey and followed her dream of opening her own salon. Now, as the owner and master stylist of Wair Studio Salon, she is applying decades of experience to create a friendly atmosphere where clients aren't lost in the mix.
And because education is the backbone of Doms' success, it's incorporated into her own business. Stylists participate in four major hands-on trainings a year and have access to a library of educational materials.
The level of education and training puts Wair's stylists at the forefront of the most in-demand treatments and services for clients. Balayage is still among the most popular requests, as well as root smudging, face-framing highlights and, yes, even perms. "New perms are more natural and healthier. They are easier to process with no blotting and they smell better. Everyone wants a little bit of texture," Doms says.
Wair is the only salon in South Jersey to offer the exclusive calligraphy cut, created by a German master hairstylist. Wair's stylists are certified in this patented cutting style that is performed with a small calligraph knife, cutting the hair on a 21-degree angle. "The result is hair that is stronger with up to 300% more volume. The cut surface remains smooth and keeps split ends at bay," says Doms.
Hand-tied extensions are another service more people are showing interest in. Unlike other extensions that use chemicals and glue, these are tied by hand with string, lessening the likelihood of breakage or scalp irritation. Doms says this service is perfect for anyone who wants some length and fullness, and it doesn't take a lot to maintain.
The overall trend is low-commitment. "After the pandemic, people don't want to look like they just walked out of the salon. They want hair to look lived in, flowy, with some roots, and they don't want super-straight hair," she says.
It's clear Doms' passion for what she does hasn't waned. She considers each day a blessing to be running her own business and supporting her stylists, all of whom are single moms like her. "I believe in work/life balance, which is why our hours are 9 a.m. to 5 p.m. We all want to be home with our families at night and it gives our creative brains a break, which means we enjoy work more," she says.
"I always think of the story of the tortoise and the hare: slow and steady wins the race. If we're running and running we'll have no energy and we miss everything flying past us on the way. If you take your time and let life happen the way it should, you can focus on things in the moment and appreciate it more when you finally get to your destination."
Wair Studio Salon
65 E. Route 70, Suite 1B
Marlton
(856) 334-8231
WairStudioSalon.com
Photography by Josh Street
Published (and copyrighted) in Suburban Family Magazine, Volume 12, Issue 6 (September 2021).
For more info on Suburban Family Magazine, click
here
.
For information about advertising in Suburban Family Magazine, click
here
.
To find out where to pick up your copy of Suburban Family Magazine, click
here
.