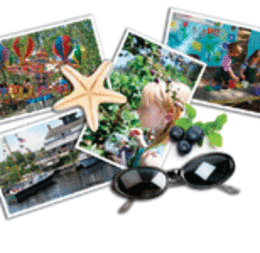 Family Day Trips & Jersey Shore Stop-offs
Get off the beaten path and head to one of these kid-friendly destinations.
Get off the beaten path and head to one of these kid-friendly destinations.
With summer here, most of us find ourselves packing up the car and heading to the Jersey Shore for a family outing. With easy access to so many beaches, the biggest considerations usually wind up to be the traffic and hoping the weather cooperates. Your family may already have established a route and a routine that includes your favorite beach and eating spots; for so many of us, we make no stops in between home and our final destination. But there are endless possibilities and countless opportunities to explore between South Jersey communities and the Jersey Shore.
What follows are some varied stopping off places that offer families with children fun-filled educational, cultural, or recreational activities. In fact, breaking up the car ride with a scheduled activity or pre-planned diversion en route to the shore often makes for a perfect day they'll remember long after summer's gone.
Fun and Amusements
From Cherry Hill or Washington Township, punctuate the hour-long drive to the shore with a visit to Storybook Land, a classic childhood adventure land with timeless appeal. Ten miles west of Atlantic City, on the Black Horse Pike in Egg Harbor Township, Storybook Land is a 20-acre theme park with 50 attractions, family rides, and a petting zoo that brings the classic and timeless stories and nursery rhymes of childhood to life. Call (609) 646-0103 or visit storybookland.com; the park is open daily and admission is $21.95 per child or adult.
Enjoy hours of fun and amusements at the newly renovated Polynesian-themed Clementon Park & Splash World, which is open daily. The new ride everyone is talking about is called Ring of Fire. Also popular are Hellcat and King Neptune's Revenge. There's also the Splash World water park, vintage rides such as a carousel, paddleboats, and tamer rides appropriate for younger children who are not so enthusiastic about roller coasters. Visit clementonpark.com or call (856) 783-0263.
Pick-Your-Own Farms
Traveling south to the shore from Burlington County, don't miss the myriad chances to pick seasonal fruits and vegetables any time you can with your children this summer; South Jersey produce is so abundant that many fruits and veggies have their very own festivals dedicated to them. If you forgo the Atlantic City Expressway for the more scenic White Horse Pike and Black Horse Pike, you'll pass near many farms, often accessible just a few miles off the highway. Visit PickYourOwn.org for a full listing.
Look for signs to local farms, most of them just a few miles from the main road. Look for pick-your-own signs in Hammonton, the Blueberry capital, and home to the largest blueberry farm in the world, The Atlantic Blueberry Company (where you can buy fresh blueberries, but not pick them).
Whenever possible, stop off at the local road side stands, so you can drive home with baskets and bushels of fresh, locally grown, first-quality harvest items like corn, string beans, tomatoes, peppers, cucumbers, berries, melons, peaches and eggplants. You may even get lucky and find the homemade pies and jams created with fruit from the plentiful harvest.
At Butterhof's Shady Brook Farm in Egg Harbor City, you can visit a 150-year-old roadside market for a variety of pick-your-own produce such as corn, tomatoes, strawberries, blueberries, pumpkins, peppers, flowers, eggplant, apples, potatoes, and much more. Open daily. For more information, call (609) 965-1285.
At Fraleigh Rose Hill Farms in Mays Landing, you can pick your own blackberries, strawberries, beans, tomatoes, corn, blueberries, flowers, vegetables and cucumbers. Open daily. For more information, call (609) 625-2600.
Historic Landmarks
Cape May has a lighthouse, a park and the historic open-air living history museum of Cold Spring Village where you will have a chance to see how villagers lived during the 1800's. This living history experience recreates the past through interactive hands on activities suitable for family members of all ages. With plenty of shaded lawns and gardens that surround the working farm, children can view 26 restored antique buildings that portray the lifestyles of this early American time period. Here children will find costumes to try on, crafts and games to keep them busy.
You can see remains of the concrete ship Atlantus and prospect on the beach at Sunset Beach in Cape May Point, the site of a very moving evening flag ceremony.
If it's nature you want, climb atop one of the state's lighthouses for a new perspective on the Atlantic Ocean. The Absecon Lighthouse is a famous landmark in Atlantic City. At 171 feet, it is the tallest lighthouse in the state, with a spectacular view from the top. Call for hours at (609) 449-1360.
At the Ocean Life Center in Atlantic City, Gardner's Basin is a marine biology center that offers educational entertainment for all ages. They have a 25,000-gallon aquarium and many interactive hands-on exhibits. At the Marine Mammal Stranding Center your kids can watch as seals and other rescued animals are nursed back to health before being released back into the wild. Call (609) 348-2880 for more information.
If you are headed to Long Beach Island, don't forget to visit Tuckerton Seaport in Tuckerton, an authentic working seaport village dedicated to preserving the history and traditions of the area along the bay. They have a maritime museum, historic village, and a lighthouse. Don't forget to check out the Tuckerton Junction Railroad Company with their indoor model trains. You'll find many hand-built tracks, a subway system, trolley line, and best of all, this is an interactive display that lets you conduct the train.
At WheatonArts Village in Millville, many crafts are showcased, but glass is the specialty. The village is filled with museums, galleries, interpretive demonstrations, and a variety of educational programs that give exposure to glass blowing, pottery throwing, stained glass cutting, plus a train ride for kids. New this year, in an effort to encourage families to increase their appreciation and involvement in art, WheatonArts is offering Family Fun Days, with free admission on Sundays to all children under 17. A variety of outdoor/indoor events and hands-on activities, exhibits, dance and music performances will be further enhanced by artist demonstrations with the art of glassmaking as the backdrop. Visit wheatonvillage.org or call (609) 825-6800.
Millville Airport houses the Millville Army Field Museum, where World War II airplanes and their pilots are the focus. The newest area attraction, New Jersey Motorsports Park in Millville, has a state-of-the-art track and two road courses where kids of all ages can experience real kart racing.
Headed back from the shore with time and energy to spare? Don't miss the famous Cowtown Rodeo in Pilesgrove, a South Jersey landmark since 1955, where bull riding is on tap every Saturday night. The cost is $15 for adults, $10 for children. It's a definite escape from the ordinary, which is what a day trip is all about.
Published (and copyrighted) in Suburban Family, Volume 1, Issue 5 (July, 2010).
For more info on Suburban Family, click here.
For information about advertising in Suburban Family, click here.
To find out where to pick up your copy of Suburban Family, click here.