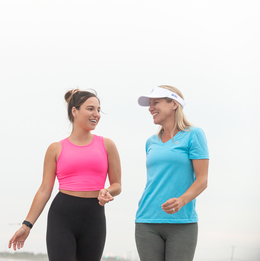 Stepping into a New Mindset
Susan Batastini helps clients tackle life's challenging transitions with Walk 2 Wellness.
Think of the last time you went for a walk with a friend. Maybe it was something quick on a lunch break or a long walk on a Saturday morning. You likely chatted the whole time, catching up on the latest events in your lives. After the walk, chances are you felt rejuvenated, not only from the fresh air, but also from the opportunity to unload some emotions, and were in a much better mood than before.
Susan Batastini, Ph.D., has harnessed that cathartic experience with Walk 2 Wellness, a new approach to counseling that combines walking and talking outdoors to create sustainable mindset shifts in individuals.
Batastini spent 20-plus years as a certified school psychologist, working at both Moorestown Public Schools and Moorestown Friends. It was a career she loved, and she is grateful to have been able to work in her own town all those years. As she hit mid-life, Batastini was approaching a big transition in her life—she was about to become an empty nester—and started to re-evaluate her own life goals and passions.
"My kids were going off to college down South, starting their own lives. My whole life was built around my family and my career for so many years, and I suddenly found myself in this new spot with added time to envision new opportunities," she says. "I had a group of friends who were all in the same boat, and we started walking together every week. We'd talk about our emotions and the challenges of not having kids at home anymore and how to navigate this life transition with no fear or regret. At the end of every walk I would just feel amazing. … It was after one of those walks when I had a huge aha moment where I realized this is what I should be doing professionally."
If she was going to try something new, it was now or never, she thought. She left the school system and as the pandemic hit, Batastini had the opportunity to further pursue her passion in the health and wellness arena and become a certified holistic wellness coach through IAWP (International Association of Wellness Professionals). This past March, she officially launched Walk 2 Wellness, LLC.
The concept is based on meeting up with a friend, confidant and uplifting motivator—in this case Batastini—and discussing a transitional challenge while walking out in nature. "Mother Nature is the perfect remedy. Talking while not sitting face-to-face in a small office but rather alongside one another allows for more free-flowing conversations to emerge. It also fosters the space for silence and reflection. Being able to take in the sights, sounds, smells in nature and in your surroundings can be very powerful. To me, a walk outdoors is restorative and healing."
Batastini says this is a new approach to wellness and not a therapy session where clients may need more of a diagnostic perspective or medical intervention. "In this setting, I am the guide, not the guru. I'm there to support individuals to solve their own challenges and empower them to have the courage to take the next steps," she says. "The goal of the program is for individuals to become the best version of themselves—physically, socially and emotionally."
Clients commit to a minimum of eight sessions, and Batastini can meet to walk in various areas such as Strawbridge Lake in Moorestown or in neighboring towns. She even has clients in the Ocean City and Ventnor shore points who meet on weekends for beach, boardwalk or bridge walks. But before that is determined, Batastini conducts a 30-minute discovery session to determine if this is a good fit for both her and the potential client. And it's not just individuals she meets, it could be couples, a parent/teen, or a small group of people going through something similar (empty-nesters).
She approaches every client with the CORE coaching model, derived from her training at IAWP. "I incorporate the CORE model into my coaching, which focuses on a holistic approach and uses four fundamental steps, which include: looking at the present challenge, the outcome desired, then reframing the situation to a new perspective and envisioning the result," she says.
Batastini's business is about the present. "I'm working with people going through a transition right now, whether it's a new job, a new relationship, going off to college and leaving home, retirement, or empty-nesting," she says.
Walk 2 Wellness sessions are an hour in length and involve a stretching warmup where the session's goals are laid out, before heading out on the walk which typically covers about two miles. The session concludes with a cooldown stretch and review of the next steps. Batastini will also check in on clients during the week through email or text.
Batastini knows firsthand how powerful this concept can be. "I think about last year when I was walking with my girlfriends during the pandemic and I don't know what I would have done without that. It was so good for our mental health," she says. "I believe we have certain experiences for a reason and this was so serendipitous how it all came together. I am still feeding my passion for helping people, but in a different way."
Batastini will be hosting a series on "Empty-Nesting with a Growth Mindset: Embracing the Change" through the Moorestown Recreation Department on Sept. 21, 28 and Oct. 5. To sign up, visit Moorestown.nj.us.
Susan Batastini, Ph.D.
Walk 2 Wellness, LLC
Walk2Wellness.net
susanbatastini13@gmail.com

Published (and copyrighted) in Suburban Family Magazine, Volume 12, Issue 5 (August 2021).
For more info on Suburban Family Magazine, click
here
.
For information about advertising in Suburban Family Magazine, click
here
.
To find out where to pick up your copy of Suburban Family Magazine, click
here
.