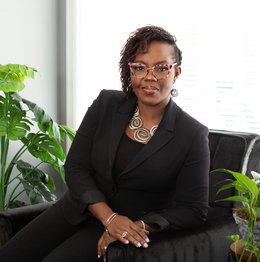 Paying it Forward
Attorney Chandra Betner-Gray faced an uphill battle in her career and hopes to give others the confidence to pursue their goals.
Chandra Betner-Gray remembers watching beloved detective shows as a child—Perry Mason and Murder She Wrote among her favorites—thinking this was the career path she wanted to pursue. When she became a young mother, life interrupted her plans a bit and she felt discouraged. But Betner-Gray never gave up. She finished college and went to real estate school where her experience led her to law school.
Although she's not a detective in law enforcement, Betner-Gray applies the same types of skills when working with clients. As a real estate attorney who also practices in business formation, landlord/tenant rights and wills and estate planning specialties, Betner-Gray must have impeccable attention to detail and think several steps ahead for her clients.
"In real estate law, I have to be thinking about what are the potential pitfalls if things are not done appropriately or according to the contract," she says. "I'm always in preventative mode and protecting clients from certain things."
Betner-Gray says many people in South Jersey aren't as keen to use a real estate attorney. "In North Jersey, people are much more aware and willing to get a real estate attorney, but in South Jersey it takes a little more effort to help people realize this," she says. "Agents will tell their clients they don't need an attorney and then trouble happens. At that juncture, it's not too late to help but it is more difficult. What they need is an attorney from the beginning to go through the contract and advise on what they are signing. A real estate agent is not licensed to give legal advice."
Especially in this crazy pandemic-driven real estate market, buyers are taking big risks just to get a house. "Buyers are waiving inspections—which is not recommended even under normal circumstances—and offering sellers much more than the property is valued for. The lender likely won't cover the difference and buyers are walking into a home with negative equity," she says. "There's a lot to be wary of."
Much like the purchase of a home is a life-changing event, Betner-Gray also works with clients on estate planning. "This too is an area where things can go wrong if plans aren't in place. I work on the probate side (the legal process of proving a will) as well. I recommend people have an estate plan package, it's not just a will," she says.
Millennials also need proper planning, especially if they have started a business. "Many young people have an entrepreneurial spirit and have started a small business, selling something on Instagram or Shopify. They need to have a succession plan in place if something happens to them. … These are all conversations I have when consulting with clients," Betner-Gray continues.
After all, she runs her own business and knows the blood, sweat and tears that go into it. "I spent a long time trying to get someone to open the door for me after I passed the bar. Finally, a local solo practitioner hired me as a part-time law clerk. Aside from him, those opportunities weren't there, but I wasn't going to keep waiting," Betner-Gray says.
"Working for him was inspiring because I watched how he handled the office and managed his schedule. I did a whole lot of work for him on my own, no hand holding, and I realized I had the capacity to learn and do it myself."
Five years ago she founded Betner-Gray Law Office, located in downtown Mount Holly and in walking distance to the county courthouse. She has created an environment where she and her staff are sincerely concerned about their clients' lives and outcomes. "Outside of just the facts presented to us, we're thinking about all the things that could happen and how we can be a resource to help them achieve better outcomes than they were expecting," she says. "Clients are not just a business to us, they become part of our community."
Now Betner-Gray has the chance to pay it forward and mentor others. "It's so important to me to try to offer people what I didn't have. Folks in this field were not as freely giving of what I needed when I was first starting, so I do work hard to be available and share any little bit of info I know by way of webinars, seminars or speaking engagements," she says.
"As a woman starting her own business in the legal field, which is still primarily male, it can feel like an uphill battle to be heard and acknowledged as an equal. You have to find internal strength and a sense of value as a human to not shrink back. Regardless of if you feel supported, you need to be your No. 1 supporter and forge ahead in what you're hoping to achieve," Betner-Gray continues. "Dig deep, find your inner sense of confidence and you'll find you are so much more capable than you even thought."
Betner-Gray Law Office
115 High St.
Mount Holly
(609) 479-1227
BetnerGrayLaw.com
Photography by Alison Dunlap
Published (and copyrighted) in Suburban Family Magazine, Volume 12, Issue 5 (August 2021).
For more info on Suburban Family Magazine, click
here
.
For information about advertising in Suburban Family Magazine, click
here
.
To find out where to pick up your copy of Suburban Family Magazine, click
here
.