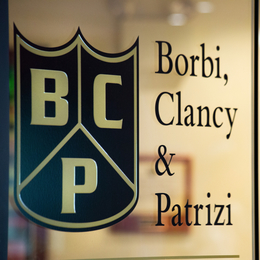 Credibility in the Courtroom
John D. Borbi has Borbi, Clancy and Patrizi of Marlton thriving.
When you ask John D. Borbi, senior managing partner and head trial counsel of the Marlton-based personal injury firm Borbi, Clancy and Patrizi, why his law firm is thriving when many other personal injury firms are struggling, he doesn't hesitate to answer. Then again, very few top trial lawyers need to think too hard to answer a question.
"It's actually pretty simple. Results," Borbi says. "Excellent results come from several factors, among them hard work, knowledge and experience, [and] good marketing." Borbi has achieved million-dollar jury verdicts in nearly every county in New Jersey. His success is not only recognized through the legal profession in the area, but statewide. This respect has also trickled into other industries, Borbi notes. "When you find yourself representing the spouses and family members of insurance company executives and claims managers at their recommendation, you know you are doing something right," Borbi says. "Recently, we have been requested to represent the family members of judges and fellow attorneys throughout the state, as well. When your colleagues and adversaries request that you represent their wives, husbands and children, it shows the ultimate respect for your skills, knowledge and credibility in the legal profession."
While commanding a courtroom is of utmost importance when trying a case, a lawyer also needs the background of hard work and preparation in addition to trial skills. This is something Borbi is all too familiar with. "Know your case inside and out, and most importantly, be honest with the jury. You will never fool a jury," he explains. "If they accept your credibility from the onset of the trial, you have a much better chance of a successful verdict for your client."
Credibility and integrity are hallmarks of Borbi, Clancy and Patrizi. "We will be honest with every client we meet with," he says. "If there is a way we can help, we tell them. If it's a matter that should not be pursued, either because of the facts of the case or the inherent unfairness to a party the case will bring, we tell them. I never want our firm's credibility or reputation questioned."
Presence in the community is also important. "I want to make sure we are actively part of our communities," Borbi says. "I want all our lawyers out there, socializing, coaching youth sports, volunteering their time to charitable and community events and generally helping people. You cannot just sit in your office all day. You need to be out marketing, meeting people, telling them what you do and how you can help them if they need your services. You can be the smartest lawyer in the county, but if no one knows it, it doesn't matter."
Another important business decision Borbi made for the firm was to help all clients that called, whether the case was big or small. This was a decision he made after noticing a few years ago that several firms were making the move to become boutique practices, only handling substantial injury cases and turning down moderate-level cases. "I saw that as a huge marketing mistake," Borbi remembers. "We help clients no matter what the overall value of the case is. We have cases valued from $10,000 to $20 million. There's a reason for that decision—referrals. If you help a client with a smaller case, they are just as grateful, if not more, than a multi-million dollar resolution. In turn, they will tell their family and friends how you helped them for little to no fee, and you will now have 100 more potential clients that will call you, and most importantly, trust you."
This philosophy is shared among the leadership at the firm. Senior partner Vanessa Patrizi is the epitome of what Borbi, Clancy and Patrizi stands for. Patrizi is a tremendously confident trial lawyer, Borbi notes. "Her presence and command in the courtroom is well-recognized throughout South Jersey. [Patrizi] is engaged with the community, just as I want all our attorneys to be. She is very involved in the community and her notoriety has developed into a significant marketing boon to the firm," Borbi says, noting that Patrizi attracts clients and cases to the firm not only because she is an excellent lawyer, but because she has the ability to market herself and the firm perfectly. Patrizi's last three jury trials have resulted in verdicts over the available policy limits of the insurance company, which presents a significant problem for the carrier.
One of the biggest areas of potential growth at Borbi, Clancy and Patrizi is its Workers' Compensation Department, headed by senior named partner James M. Clancy. Clancy brings more than 25 years of experience handling workers' injuries and claims, is well-recognized as a leader in the state in workers' compensation, and regularly teaches seminars to other lawyers in the same field. Clancy is also on several state boards that are involved with workers' compensation. The firm also boasts multiple other well-experience trial lawyers with Laurence Bafundo, Marianne Bryant, Caroline Granato and John Patrick Borbi.
As for the future, Borbi sees only more growth. "I don't see us slowing down," he says. "We will continue to serve our clients and community with excellent results and credibility. We feel we are well-established in the South Jersey and Philadelphia area." The firm also has plans to potentially expand the practice into Southwest Florida.
Borbi, Clancy and Patrizi
The Rothman Institute Building
999 Route 73 N., Suite 103, Marlton
(856) 424-5400 | BPBCLaw.com
Facebook.com/Borbi-Clancy-Patrizi-229164173798325
Photography by Alison Dunlap

Published (and copyrighted) in Suburban Family Magazine, Volume 12, Issue 5 (August 2021).
For more info on Suburban Family Magazine, click
here
.
For information about advertising in Suburban Family Magazine, click
here
.
To find out where to pick up your copy of Suburban Family Magazine, click
here
.