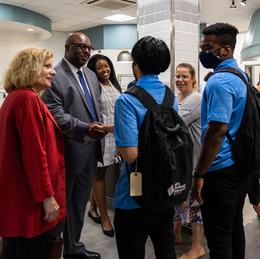 A Higher Purpose
As the new president of Saint Elizabeth University, Dr. Gary Crosby hopes to further personalize the student experience and carry on the school's history of excellence.
Gary B. Crosby, Ph.D., is making history at Saint Elizabeth University. This past July he began as the school's eighth president, becoming its first male and first African American president. Founded in 1899 by the Sisters of Charity of Saint Elizabeth, Saint Elizabeth University (SEU) was the first female higher education institution in New Jersey and remained all-female until its first male traditional undergraduate students were admitted in 2016.
Dr. Crosby has taken up his role with deep respect for the school's principles. "My vision is to move Saint Elizabeth University to the next level. It is a vision built upon a foundation of pride in the university and a deep appreciation for the rich history, collaboration, innovation and excellence," he says.
His career in higher education began nearly 20 years ago. A native of Mississippi, Dr. Crosby served in various capacities at Jackson State University where he secured a multi-million dollar grant from the U.S. Department of Education to support faculty and student research, leadership development and scholarships. From there, he spent six years at Alabama A&M, most recently as vice president for student affairs. His accomplishments at AAMU include growing enrollment, strengthening student outcomes through external partnerships and leading initiatives to significantly diversify revenue.
However, Dr. Crosby had never been to New Jersey until 2019 when he spent a year as an American Council on Education Fellow at Rutgers-Newark. "It was my first exposure to New Jersey and I thoroughly enjoyed both the position and the area," he says. "I was highly impressed by the diversity present throughout the entire state. My time at Rutgers-Newark played a key role in my decision to come to Saint Elizabeth University."
As president of SEU, he now finds himself as an unexpected representation of that diversity that makes the state so successful. "I'm very proud to be both the first male and first African American president at SEU, which strives to provide a high-quality education to those who might not have the opportunity for a college degree. But this is not about me. It is about showing current and future students what is possible through education, perseverance and hard work," he says.
SEU is a small private university based on the Catholic liberal arts tradition, and what Dr. Crosby calls, "the best kept secret in New Jersey." But he wants to change that.
"My vision includes special attention to developing highly personalized and student-centered pathways. The university will not only maintain its commitment to academics, which is our core business, we will also identify and embrace new ways of delivering it to undergraduate and graduate students.
"I also want to grow enrollment, improve our brand awareness and achieve record-breaking fundraising goals. At the same time, we will continue to focus on excellence across the board—both on campus and in our community—which is what drew me to Saint Elizabeth. It is that excellence upon which we will expand and grow," he continues.
SEU boasts an 11:1 student-to-faculty ratio that promotes one-on-one access and interactions with faculty, as well as a more tight-knit community of students that fosters lifelong friendships.
"A liberal arts degree often provides the opportunity for students to explore a variety of career paths as well as specific ones. In addition, these colleges tend to give students more freedom with their studies. At institutions like SEU, students can create their own programs that meet their individual interest," he says. Some of the most in-demand programs include sciences, health care, business or game design, nursing, health sciences, chemistry, biology and a brand-new esports program.
To defer costs, Dr. Crosby says liberal arts schools such as SEU offer generous financial assistance packages. At SEU, 98% of undergraduate students receive some form of financial assistance from federal and state grants, as well as private SEU scholarships, he states.
SEU's beautiful campus in Morristown is close enough to home for students from South Jersey but far enough away to give them independence. Proximity to New York City presents opportunities for internships and experiences that can only be found in the city.
As an NCAA Division III school, all students can participate in sports, which further enhances their educational experience by strengthening leadership and team-building skills. At SEU, 40% of undergraduates are student-athletes.
SEU also ranks as the top university in New Jersey among Regional Universities - North for social mobility by U.S. News & World Report.
Dr. Crosby is looking forward to getting to know SEU's students better throughout his first fall term. "I can tell you there is no greater joy for an educator than watching young people grow, flourish and go on to make a difference in the world."
Dr. Crosby, his wife, Larissia, and two daughters reside in Morristown.
Dr. Crosby invites interested students and families to an Open House on Saturday, Sept. 25 from 10 a.m. to noon. (check-in begins at 9:30). Register at steu.edu/visit.
Saint Elizabeth University
2 Convent Road
Morristown, NJ
(973) 290-4000
StEU.edu

Published (and copyrighted) in Suburban Family Magazine, Volume 12, Issue 5 (August 2021).
For more info on Suburban Family Magazine, click
here
.
For information about advertising in Suburban Family Magazine, click
here
.
To find out where to pick up your copy of Suburban Family Magazine, click
here
.