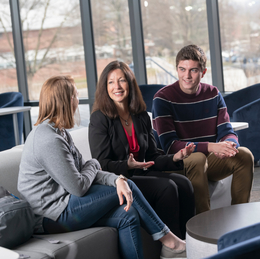 Educate for Service
Elizabethtown College offers a unique approach to learning
Jalen Belgrave knew what he was looking for in his college experience. Having attended a relatively large high school in Annapolis, Maryland, he loved the idea of attending a college that would allow him to have more of a personalized education in a smaller environment. Focusing his search on colleges and universities with no more than 3,000 students, Belgrave found what he was looking for—and more—at Elizabethtown College in Lancaster County, Pennsylvania. Now a junior at the school, the legal studies major could not be happier with his decision.
"The biggest factors separating Elizabethtown College from other colleges are the professors, faculty and staff," Belgrave says. "These individuals are willing to offer advice and work toward your goals outside of the classroom. Of course, they want you to succeed in their classes; however, they put extracurricular activities as priority for students to gain out-of-class experiences to enhance their learning experiences at Etown."
A private college located on a 204-acre residential campus, Elizabethtown College offers professional programs taught by professor-mentors that combine high-impact experiences like research, internships and cross-cultural study with a more than 120-year tradition of learning to think critically, analyze deeply and communicate effectively. The college also offers a student-centered culture, featuring over 75 student organizations, 24 Division III varsity athletic programs, and a wide array of programs focusing on developing and broadening each student's sense of purpose.
While the school is proud of all that it has to offer, President Cecilia M. McCormick, J.D., says what truly sets it apart is its strong commitment to its mission, Educate for Service.
"The Educate for Service mission is a living, breathing mission," she says. "Service at Etown is advocacy, and we want to make sure our students are doing just that—advocating in a peaceful way for the cause they care about and making sure the world is a better place.
"It also means our students consider the repercussions of the choices they make in the pursuit of their education and career goals," McCormick continues. "It represents a commitment to being a force for good in their community and the world."
McCormick says part of what helps make the school's mission successful is a faculty full of passionate educators committed to providing a transformative experience for students.
"Over 92% of Etown graduates shared with us that they had at least one faculty member who made them excited about learning," she says. "With a student to faculty ratio of 13-to-1, our professors are able to connect directly with our students and help them reach their potential. Our college offers and encourages our students to partner with our faculty experts in research projects throughout their higher education journey."
As the founding president of the first Elizabethtown College chapter of the National Association for the Advancement of Colored people, as well as secretary for the student senate executive cabinet, and member of the men's track and field team, Belgrave says this support has allowed him to develop his advocacy skills, and to help him become an effective student leader.
"With the easy access to resources, I had the opportunity to work with Jean-Paul Benowitz, the director of special programs and prestigious scholarship," he adds. "I was awarded the Humanity in Action Berlin Fellowship, which is for sophomores, juniors and seniors committed to exploring social justice issues and includes the opportunity to attend the Humanity in Action international conference, where the responsibility to recognize and address the protection of minorities and promote human rights is instilled among Humanity in Action fellows."
Through the fellowship, Belgrave says he was able to start an advocacy project whose core focus this year will be eliminating educational barriers for immigrant, DACA Dreamers, international and ALANDA (African, Latinx, Asian and Native American) students at Elizabethtown College.
While Belgrave's experience at Etown may be very different and unique from one of his classmates, McCormick says that is all part of the school's signature learning experience.
"Elizabethtown College's Signature Learning Experiences help to transform our students from 'general applicant' in their career search to 'coveted recruit,'" she says. "We offer five experiences including research, internships, cross-cultural experiences, community-based learning and capstone projects, of which our students have the opportunity to complete at least two. These experiences showcase our students' ability to demonstrate real-world application of their academic discipline and help prepare them to be successful in their careers."
Elizabethtown College is a tight-knit community where faculty, staff and students know each other by name. In addition to its strong commitment to its mission, McCormick says there is a true sense of collaboration at Etown, where a supportive, caring and vibrant atmosphere has been cultivated. There is also a great sense of tradition.
"Our institution was founded in 1899, and with that, brings a lot of deep traditions," she concludes. "From our annual homecoming celebration to our day of service, when you set foot on our campus, you will find something that feels connected to our past but is also innovative and unique. We believe no other college will engage students in finding their life's calling, life's work and most fulfilling future like we do."

Elizabethtown College
1 Alpha Drive
Elizabethtown, Pa.
(717) 361-1000
Etown.edu
Published (and copyrighted) in Suburban Family Magazine, Volume 12, Issue 5 (August 2021).
For more info on Suburban Family Magazine, click
here
.
For information about advertising in Suburban Family Magazine, click
here
.
To find out where to pick up your copy of Suburban Family Magazine, click
here
.