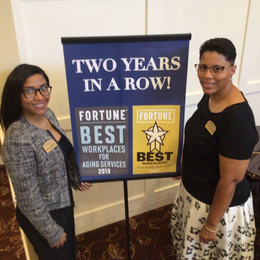 A Community to Call Home
Brightview Senior Living's Mount Laurel location ensures residents are immersed in the activities they love while providing the peace of mind that comes with compassionate, individualized care.
When Dorothy "Dottie" McCann's late husband John was looking for an assisted living facility to move into a few years ago, he only considered Brightview Senior Living.
"We knew during their presentation that this was the place for him," McCann recalls. "Everyone smiled and greeted us with open arms as we met the staff and people who lived there. They made us feel like family right away."
John moved into Brightview's Mount Laurel location after he and his wife shared their Medford home for 56 years. Rather than being a difficult transition, McCann was relieved that the man she "would have been married to for 63 happy years" was getting the compassionate attention he needed.
"Everyone took wonderful care of him," she says.
So when her son and daughter expressed concern about McCann living by herself, she knew exactly where she'd call home next.
"I was excited to come live at Brightview Mount Laurel," she says. "Leaving my home was not an issue because I know firsthand what it's like after watching everyone take care of John. Everything was excellent and everyone is very caring all the time."
From her very first day as a resident in March 2021, McCann felt like it was a homecoming of sorts.
"On Day One, everyone came by to say how much they missed seeing me, and I received a very nice welcome basket filled with items I could use in my new apartment," she begins. "I was reintroduced to some of the ladies who live here, and they welcomed me to their table for dinner. That helped a lot. We had so much fun! Since my first day here, I have not had to worry about anything."
That's exactly the kind of experience Brightview's associates want for every new resident, according to Executive Director of Brightview Mount Laurel Lavanda Clinkscales. Residents are empowered to be community ambassadors who warmly welcome every new arrival, an approach that all 45 Brightview Senior Living communities embrace.
"We ensure their first days will be a time for them to flourish, but this starts before the resident moves in," Clinkscales explains. "By having residents and their family submit a life story, it enables us to provide them with their favorite meal, activities they're interested in and an introduction to new friends who share a common bond. All our residents remember what their first days were like, and it is our residents who come forward to make sure everyone feels right at home—your new best friend may just be here waiting for you."
Being surrounded by fast friends helps new residents decide how they want to fill their social calendars, which include everything from off-site excursions to on-site activities utilizing the myriad amenities found at Brightview. Those include a library, fitness center, walking path, spa, salon and dining areas. Offering two neighborhoods at the Mount Laurel location—one for assisted living, another for residents who have Alzheimer's and dementia—means a specific care plan is tailored to each individual to ensure their medical needs are always exceedingly satisfied, too.
With more than a year and a half of COVID's isolation generating renewed enthusiasm for community living, senior residences are seeing a surge of interest from those "ready to live a vibrant, fulfilling lifestyle again among other people who have been vaccinated and are living safely by taking precautions." Clinkscales emphasizes the importance of doing your homework and in-person research for those seeking either their own or an aging loved one's next home.
"When searching for a senior living community, consider the tenure of the staff and if the associates seem to enjoy their jobs," Clinkscales advises. "Search communities that focus on residents' independence while offering great choices in activities and dining options. Most importantly, take the time to visit communities and meet those currently living there. There is no one better to ask about a community than someone who calls it home."
McCann easily identifies her favorite parts of life at Brightview. "I absolutely love SPICE (Spiritual, Physical, Intellectual, Cultural and Emotional) in Motion," she raves. "Our entire calendar is built on this structure, which we are a part of creating each month. The SPICE exercise program is my favorite, along with conversational activities and of course Happy Hour! That is our time to talk and get to know one another."
"I would highly recommend Brightview because of the staff and great activities they provide," McCann concludes.
And that kind of enthusiastic feedback is exactly how Clinkscales and the other associates know that they're delivering the quality of life they want all Brightview residents to enjoy—and the peace of mind family members want for their loved ones.
"The most common saying we hear from residents after they have lived here for a few months is, 'I wish I had made this move sooner,'" Clinkscales says. "Imagine how relieved families are when they hear those words!"
Brightview Mount Laurel
400 Fern Brook Lane, Mount Laurel
(856) 457-3822
BrightviewSeniorLiving.com
Published (and copyrighted) in Suburban Family Magazine, Volume 12, Issue 5 (August 2021).
For more info on Suburban Family Magazine, click
here
.
For information about advertising in Suburban Family Magazine, click
here
.
To find out where to pick up your copy of Suburban Family Magazine, click
here
.