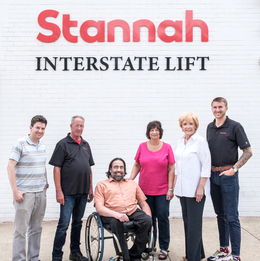 Local Mobility Company Helps Residents Stay Home Safely
With a customized stairlift from Stannah Interstate Lift, customers with mobility problems can take back their freedom and remain in comfortable surroundings.
For those who have lived in the same house for many years, the structure symbolizes much more than just a roof over their heads or a financial asset. Chances are they have amassed a lifetime's worth of precious moments there, transforming the place from just another building to something else entirely: a home. From a child's first steps to holiday gatherings and birthday celebrations, there's no putting a price tag on one's most cherished memories. So, it can be understandably difficult to give a family home up, even as its denizens grow older and start to face the challenges of aging.
But when mobility issues arise and trudging up and down the stairs becomes a burden, moving into a single-story house or even an assisted living community often feels like the most practical option. However, the high costs of moving and even concerns about COVID-19 can lead seniors to think twice about such a move. Others are just not ready to leave their familiar surroundings and seek alternatives that will help them retain their independence—and their cherished homes.
Stannah Interstate Lift, a company with deep local roots, offers a practical alternative for seniors looking to the accessibility market to resolve their issues with stairs. Strengthened by the backing of Stannah, a world-renowned lift manufacturer since 1867, Stannah Interstate Lift specializes in comfortable, affordable stairlifts. These Stannah stairlifts can be customized to any set of stairs and safely take users from one level of the house to another with the push of a button.
"People just want to stay home," says Josh Mansure, Branch Manager of Stannah Interstate Lift, serving South Jersey and the rest of the Delaware Valley. "Especially with COVID, you've seen an influx even more than before of people being afraid to go to these group facilities. This gives them that complete freedom."
Stairlifts are most commonly associated with seniors, but Stannah actually has clients of all ages, even children, and is ready and willing to lend a helping hand in any type of situation.
"It's really anyone in need of getting up and down the steps and looking to regain their independence," Mansure says. "We work with people who have injured themselves or undergone knee surgery and are in a short-term medical situation. Having the freedom and flexibility to be able to go up and down the steps is huge, and you are able to use it when you want to use it. Some days people are having good days and they can walk up and down the steps; other days they're more tired and they need the stairlift."
Stannah is a world-leader in the industry and has been for decades. The company got its start in London as a small lift manufacturer, making cranes and hoists. Now in its sixth generation of family ownership, Stannah maintains a strong presence in both Europe and Noth America.
Interstate Lift, also a family business, was founded by Dave Kzirian and has been selling stairlifts in this area since 1983, becoming a preferred Stannah partner in 2001. Last fall, with the family looking to retire from the business, Stannah eagerly took over operations, and the local branch is now one of the company's eight direct-to-consumer locations in the country.
"Interstate Lift was a great partner of ours and the Kzirian family had been doing great things for a long time in this market," Mansure says. "We are thrilled to build on the reputation they established.
"Stannah is obviously unique in its longevity and being a family-run business, and the Philadelphia branch is a tight-knit group where almost every employee has been here for more than 10 years. Everyone here truly believes in the product; they believe in helping people and giving them the life they need."
That passion is evident in the way Stannah treats customers, creating a smooth process that will alleviate any stress they may have. Team members are transparent about pricing from the first phone call and are happy to answer questions about the different styles offered. After a stairlift is purchased and customized to the specific set of stairs—including straight, curved or even outdoor—a technician will conduct a professional installation to the highest standards. Afterwards, the technician will demonstrate the product to ensure the homeowner can safely use it.
Stannah has pivoted during the pandemic to virtual appointments and demonstrations, and contact is kept to a minimum during in-home measurements or installation. "We've found that a lot of people are making this decision for their parents, so we also offer e-commerce," Mansure says. "They can actually go right on to the platform, answer a few questions, follow the prompts, go through the demos and pay right online. It's quick, easy and seamless."
In as little as a few hours after installation, the residents find themselves delighted with the end result, as they no longer have to fret over going up and down the stairs to retrieve an item or for bedtime. Their loved ones, meanwhile, have the peace of mind that they can safely stay in the homes that mean so much to them.
"The most common feedback we get is: 'I should have done this sooner,'" Mansure says. "We have a lot of people who may be hesitant; it may be a mental hurdle and they don't want to make that jump. When they do go ahead, we find that they wish they had done it sooner because it really does reduce their stress and worries."
Stannah Interstate Lift
Serving the Delaware Valley
(609) 225-5730
Stannah-Stairlifts.com

Photography by Jeff Anderson
Published (and copyrighted) in Suburban Family Magazine, Volume 12, Issue 5 (August 2021).
For more info on Suburban Family Magazine, click
here
.
For information about advertising in Suburban Family Magazine, click
here
.
To find out where to pick up your copy of Suburban Family Magazine, click
here
.