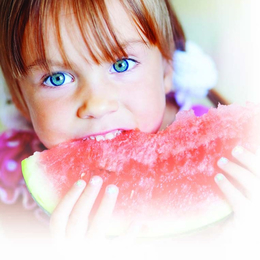 Summer Season Still Strong at Springdale Farms
Additional late-season crop plantings extend the sweet taste of summer.
FOR MORE THAN 72 YEARS, Springdale Farms has been growing and selling fresh produce in the heart of suburban Cherry Hill. As more people pursue local foods, Springdale Farms remains a major source for the "grow-it-here, get-it-here" Jersey Fresh fruits and vegetables.
Today, as Cherry Hill's last remaining working farm, Springdale Farms continues its strong tradition of local growing into its 70th year. The 100-acre farm attracts hundreds of customers with year-round attractions, and is a popular destination for families to purchase fresh, seasonal produce—like herbs, lettuces, berries, vegetables, and 12 varieties of Jersey tomatoes—as well as breads, cakes, muffins and seasonal pies baked daily.
Spreading the word about how best to enjoy the seasonal produce grown and sold at Springdale Farms is the top priority for its dedicated staff. A simple produce chart on the farm's website details which fruits, vegetables and herbs are growing right now.
Jersey Fresh tomatoes & corn
On any given Sunday in the summer, you can guarantee there's a few barbecues taking place with sweet corn and tomatoes being served. Intent on bringing as much of these two popular items to its on-site market as possible, owner John Ebert advocates double and triple cropping on Springdale's 100 acres—essentially, planting a summer crop on the same patch of land where a spring crop has just been grown and harvested.
"We even oversee a third annual planting for our tomatoes, which is rare among large commercial growers, to ensure that this delectable summer staple remains available well into fall," he says.
Contrary to popular belief, Labor Day is not the last chance for sweet corn, either. "Our corn is picked fresh every morning and our corn crop will last through fall," Ebert says. "We purposely plant a late crop so the same delicious corn lasts way, way into October." Other fresh fruits and vegetables that are ripe and ready to enjoy right now include squash, egg- plant, peppers, blueberries, broccoli, cucumbers and a variety of herbs.
Fresh-baked goods
The garden center, home to a host of practical and unique gift items, is only one of Springdale's many indoor spaces. At the market, there's all that great produce, plus unexpected finds like local New Jersey wines. A trip to Springdale's isn't complete, though, until you follow your nose to the bakery, where apple cider donuts and some 60 different pies are baked up daily on the premises.
"We've got so much going on; we're always surprised when people stop in and say, 'I had no idea what happens here. I thought it was just a garden center,'" Ebert says. Among the farm's other activities are birthday hayrides and special evening events in the farm's glass-enclosed conservatory. Springdale Farms also keeps close ties with local Boy and Girl Scout groups and schools, opening its facilities to troops on a regular basis.
As fall is fast approaching and kids head back to school, Ebert encourages local schools to book now for hayrides and pumpkin-picking events.
Community involvement
Springdale Farms also participates in other community programs, ranging from the annual South Jersey Farm to Fork restaurant week to the Food Bank of South Jersey. The farm also maintains a presence each weekend, from May through November, at the award-winning Collingswood Farmers' Market—bringing produce and good food to customers who prefer to shop in town. The best way to keep abreast of the latest farm news, Ebert advises, is to sign up at the Springdale Farms website for the bimonthly newsletter or follow the farm on its dedicated Twitter account. "Our neighbors are our clients and friends," Ebert says. "By reaching out to them, we're blending the best of both worlds—suburb and farm."
PIE OF THE MONTH
AUGUST: Summer Surprise
Stop in and pick one up—or three!
HOME GROWN PRODUCE
Tomatoes
Corn
Blueberries
And much, much more
BAKERY SELECTION
Apple Cider Donuts
Fruit Pies (over 40 varieties)
No Sugar Added Pies
Breads Cakes Rolls Cookies
DON'T FORGET….
Herbs, Plants and Gifts
Springdale Farms
1638 S. Springdale Road | Cherry Hill | (856) 424-8674 | SpringdaleFarms.com
Published (and copyrighted) in Suburban Family Magazine, Volume 12, Issue 4 (July 2021).
For more info on Suburban Family Magazine, click here.
For information about advertising in Suburban Family Magazine, click here.
To find out where to pick up your copy of Suburban Family Magazine, click here.