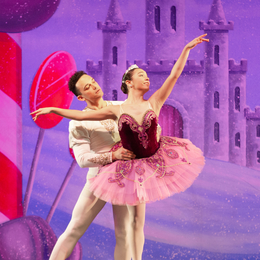 On Pointe
In addition to world-class instruction, students at South Jersey Ballet School find a second family, small class sizes and a wealth of performance opportunities to shape their futures, whether they pursue professional dance or not.
It only looks effortless when dancers gracefully glide, pirouette and leap across the stages they so masterfully command. Behind the scenes, it takes countless hours of training, sweat-soaked leotards and battered toes to bring every meticulously choreographed performance to life.
For the students at South Jersey Ballet School (SJBS), it's all more than worth it.
"You have to really love ballet to stop paying attention to things like calluses, bruises and how your feet really start to hurt when you get en pointe," says Jessica Pratt, a Mount Laurel resident who has trained at SJBS for years. "When you're just focused on the choreography, all of that seems to go away."
While Pratt doesn't recall exactly when she started dancing, she does know her mother enrolled her in classes as a child because she "would always bop along to the music." She began her training elsewhere but SJBS became the obvious choice when her fondness for ballet grew.
"I love basketball, but then I started taking more of the modern and jazz classes," says Pratt. "By the time I was dancing in the company, I was like 'OK, this is what I want to do.'"
Since its founding in 1992, the West Berlin dance school has been dedicated to providing serious students with opportunities they might not find anywhere else. That includes offering them a chance to branch out and try other disciplines, like modern and jazz, as well as contemporary movement and dedicated pointe training, all in a small-group environment.
SJBS also gives students a chance to dance in two full-length classical ballets every year. Director Andrea Duffin, a classically trained ballerina with an impressive international resume, maintains high expectations and standards, the effects of which can be seen in how the South Jersey Ballet Theatre has presented an impressive 29 years of "Nutcracker" holiday performances, yearly repertory programs and spring productions like "Swan Lake" and "Giselle."
"I was 5 my first year of performing in 'The Nutcracker,' and I was a little mouse in that one," recalls Caitlin Flewelling, whose increasingly prominent and challenging roles helped gauge her progress. "It's an additional level of not only working on your technique but also the artistry of it and taking on a character that you learn how to add emotion to."
Flewelling, of Voorhees, fell in love with both dancing and SJBS when she was just 3 years old. On the precipice of her 15th year with the dance studio, she can't imagine finding SJBS's combination of nurturing atmosphere, variety of options and core ballet education anywhere else.
"It's such a great family environment and we're all so close: I've never felt this connected with another group of people," she says. "We also get to develop a really strong ballet technique that every professional dancer—modern, jazz, ballroom, anything—they all benefit from. It's really cool seeing how we've all grown from that base technique and use it in such different ways."
Both Pratt and Flewelling credit their development as dancers to not only the performance opportunities they've enjoyed at SJBS but also its small class sizes, individualized attention and accomplished dance instructors who remain supportive and encouraging while also being strict and exacting as they coax out the best from their students.
"All the teachers are the perfect balance between tough and kind," says Pratt. "They'll come up to you after class and tell you that they see your potential and want you to be the best that you can be."
"You just get so much individualized attention from all the teachers and you can really tell that everyone cares," Flewelling agrees.
They also agree that SJBS provides a warm, intimate environment where classmates are friends rather than cut-throat competitors, and where anything else simply isn't tolerated.
"The girls here are so supportive and kind," Pratt says. "The teachers do not put up with any kind of bullying."
As both teenagers contemplate life after high school, Pratt is mulling a future in visual communication or constitutional law—she attributes dance classes with giving her the poise and confidence to join her school's debate team—while Flewelling has designs on a career in nursing. They both credit dance with giving them all kinds of transferable skills they foresee serving them well as they embrace adulthood.
"I learned a lot about discipline and time management. I'm usually [at SJBS] five days a week, and it can go up to seven days a week during shows, so I had to learn how to balance that with school," Flewelling says. "It's also taught me about discipline and the drive to improve."
"Dance gives you a tougher skin so when you go out into the world, you feel like you're ready for almost anything," agrees Pratt.
South Jersey Ballet School
415 Commerce Lane, Units 6 & 7, West Berlin
(856) 768-1740
SouthJerseyBallet.com
Published (and copyrighted) in Suburban Family Magazine, Volume 12, Issue 4 (July 2021).
For more info on Suburban Family Magazine, click here.
For information about advertising in Suburban Family Magazine, click here.
To find out where to pick up your copy of Suburban Family Magazine, click here.