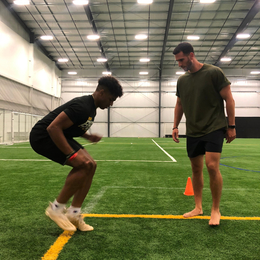 Building a Well-Rounded Athlete
Stellar Athletics combines functional training, nutrition and mindset development to improve performance.
In the Moorestown community, the last name "Brennan" is a familiar one. In a family of five kids, all are athletes, including T.J., a professional hockey player who has been a part of the Buffalo Sabres and Toronto Maple Leafs, and Shane, an accomplished hockey player in his own right who played for the Philadelphia Little Flyers.
Drawing from his experiences in health and wellness, Shane Brennan is sharing what he's learned with the community and the next generation of athletes through Stellar Athletics, a division of his Carefree Livin' brand.
This new path is what Brennan sees as the chance to make something positive out of a dark time in his life. In the prime of his career, Brennan says he battled depression and what helped him get out of it was focusing on self-development, which became a business plan for Carefree Livin'. "The idea behind it is to do the things that it takes to live carefree, and it's not as easy as you think," he says.
One component of the brand is Stellar Athletics, co-owned by Brennan and Mike Weaver, which aims to train the minds and bodies of high-level athletes, including student-athletes. After a brief delay due to COVID, Stellar Athletics opened last September and is already working with various top teams, including Moorestown girls and boys lacrosse and football, as well as Rancocas Valley lacrosse and individual athletes.
"We do a lot of team training—preseason, in season and off—but we also have programs for individuals looking for self-development or to get in shape," he says.
The primary philosophy at Stellar Athletics is functional training. "The old days of overloading weight and burning athletes out physically and mentally is not as effective. Functional training focuses on strength, speed, mobility conditioning and mindset," he says.
One of the first things you might notice when watching the athletes work out at Stellar Athletics is the lack of sneakers. "We do most of our training barefoot or in socks for foot and ankle health. We want to build the joints, tendons and ligaments, and sneakers can coddle them. We want those tendons to be like steel cables," Brennan says, adding that the organization has partnered with The Foot Collective, a global community that promotes natural foot function, thanks to Stellar coach Mike Pisani.
Looking around the gym, Brennan says it's obvious that the athletes are enjoying the training. "Our approach keeps things interesting. It's not just reps and sets. They are building strength, form and etiquette because at that age they have to learn how to move properly. The middle school athletes are especially loving it and we are looking forward to taking them through their high school years."
Nutrition is also included with all training programs, including teams, and it teaches athletes healthy habits about quality foods, such as what to eat and when to eat on game day or after a workout.
But as much as Stellar Athletics trains the body, there is equal attention paid to the mind. "Skill levels are so high in sports nowadays that mindset is a big variable. If you're a good athlete with a poor mindset, you'll be weaned out," Brennan says.
"Just as we are training the body to get through adversity, we do the same with their mental attitude. Athletes need to learn how not to let their fears or worries hold them back from performing. … When an athlete goes from middle school to high school, they might be up against bigger athletes and feel a lack of confidence. But if they know to expect it and how to prevent it by talking to themselves in times of stress, it will help push them through."
After all, bigger is not always better, says Brennan. "We want to find where their comfort zone ends and gradually develop them to go past it, but we are also aware that we don't want to break them."
Parents who may be interested in bringing their child into Stellar Athletics can sign them up for a trial class and meet with Brennan personally to discuss an individualized program. "I like to discuss their goals and lay out the options, whether it's private training or group classes," he says. "We also stand by our program and offer a money-back guarantee on every service we offer. If they go through a month and don't like it, I'll give the money back."
In less than a year, Stellar Athletics is already building a strong presence in the community and garnering the attention of big brands in the fitness industry, including Whoop, PEScience, Truform and Lululemon. "We're now official partners with Lululemon—and their standards are high for partners. The partnership will help gear out our athletes, teams, trainers and staff, and moving forward they can offer classes through us," he says.
It is also important to note that Stellar's staff is second to none. "We have a high standard when it comes to the environment and personnel at Stellar Athletics. I am very grateful for my partner and co-owner Mike Weaver, and all the Stellar coaches," Brennan says. "They are the makeup and heartbeat of this establishment and I'm very excited to be able to develop and grow such an amazing infrastructure. Our impact would not be as wide if we didn't have such a great team.
"Mike and I are very passionate about positively impacting this area and we'd like to work with other facilities and organizations to improve the fitness and wellness of the community. This idea has come a long way and manifested quickly and we have no intention of stopping. We want to see South Jersey residents become optimal versions of themselves."

Stellar Athletics
605 Glen Ave.
Moorestown
(856) 630-8447
StellarAthleticsNJ.com
Published (and copyrighted) in Suburban Family Magazine, Volume 12, Issue 4 (July 2021).
For more info on Suburban Family Magazine, click here.
For information about advertising in Suburban Family Magazine, click here.
To find out where to pick up your copy of Suburban Family Magazine, click here.