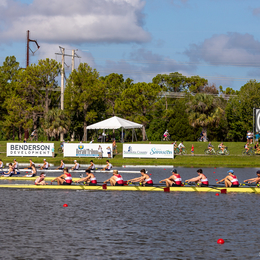 A Brotherhood of Leaders
The rigorous curriculum and commitment to co-curricular activities at St. Joseph's Preparatory School help young men be their best while offering them opportunities to make a difference.
In Latin, "cura personalis" means "caring for the entire individual." At St. Joseph's Preparatory School, it's the guiding principle in developing the hearts, minds and characters of students attending the Philadelphia campus.

Dan DiBernadinis joined St. Joe's as athletic director in June 2020. It was a challenge completing all three sports seasons in the midst of a pandemic, but his new coworkers rose to the occasion.
"I got so much support from all different departments and everyone was so welcoming," says DiBernadinis. "That helped us give our boys the opportunity to safely play the sports they love."
A veteran of the Delaware Valley School Sports scene, DiBernadinis was always aware of the unity and focus that St. Joe's demonstrated, and is now seeing it from the inside.
"There's that brotherhood," he says. "The activities are immense, the academics are elite, and it all ties together. The characteristics they build in these young men translate into sports and into life."
The students take their performance on the field just as seriously as their performance in the classroom.
"The prestigious academics really stood out to me," says rising senior and lacrosse player Mitch Lloyd, "It's the athletics, too. There are so many amazing coaches who constantly push you to not only be the best at your sport but also be the best man. This goes with the whole mantra that Prep has of being a man for and with others."
A Moorestown resident, Lloyd started out at his hometown's public high school before transferring to St. Joe's as a sophomore. He has since parlayed his experience playing for the Prep and all the opportunities he's been given into a bevy of accomplishments. In addition to racking up more than 100 volunteer hours and maintaining a 3.7 GPA, he was named to both USA Lacrosse All American and 1st Team All-Eastern PA, and has already committed to attending the University of Maryland in the fall of 2022 and playing for their nationally ranked lacrosse program.
The student-athlete, too, was ecstatic to find out that St. Joe's sense of community is embraced and exemplified by all.
"I've heard so much from so many people about this brotherhood and this idea of being part of something," Lloyd recalls. "When I got there, I had so many teachers who really do care about the students. They always offer help or extra time or just to be someone guiding you through not only academics but life, too. That pushed me to not only be the best in the classroom but to be the best version of myself outside the classroom."
DiBernadinis, too, believes part of his job is maintaining St. Joe's legacy of excellence on—and off—the field.
"They're student-athletes, so being students comes first," he notes. This commitment to academic excellence in the classroom translates into success in sports. Football, soccer and rugby have all received local, state, national and international accolades, with the crew team competing in England, the world's most prestigious regatta.
The Prep ensures that support is given to the entire person holistically as programs rally around the entire student. Lloyd says that effect "carries over into the service aspect, where all the support that I've gotten from teachers and coaches really, really inspired me to give it back to the community."
"I wanted to find every opportunity I could to give back," he continues. That meant not only in the school's Philadelphia home, where Lloyd has tutored local elementary school students, but also in Moorestown, where he helps his younger neighbors find the same confidence and sense of accomplishment he's enjoyed by teaching them to play lacrosse.
That sense of proactive involvement stays with students beyond their time at St. Joe's.
"These are your brothers for life. In 20 years, you're still going to be friends with these guys, and we'll still be there for them," DiBernadinis says. "I've met so many alumni already. They're around, they reach out, they just want to stay involved and help."
The Prep is proudly a Philadelphia school competing internationally, and has a long history of educating students from South Jersey. They include NFL standouts John Reid, Jon Daniel Runyan and Olamide Zaccheaus, as well as basketball star Steve Vasturia. Recently, rowers Colin Rosser and Quinn Sullivan joined the crew program at the University of Pennsylvania; football players Kyle McCord (Ohio State) and Jeremiah Trotter Jr. (Clemson) also hail from South Jersey.
As Lloyd diligently upholds the athletic and academic legacy he's seen previous Hawks epitomize as graduates, he knows the lessons he's learned at and his pride in St. Joe's will last a lifetime.
"Lacrosse alumni have made donations to help pay for jerseys or transportation. It might be 10 years since they've graduated and they're still looking to give back," Lloyd says. "It's all about continuing to inspire others. You see how much one person can have an effect on your life and push you to be a whole different person, in a good way."
St. Joseph's Preparatory School
1733 W. Girard Ave.
Philadelphia, Pa.
(215) 978-1950
SJPrep.org

Published (and copyrighted) in Suburban Family Magazine, Volume 12, Issue 4 (July 2021).
For more info on Suburban Family Magazine, click here.
For information about advertising in Suburban Family Magazine, click here.
To find out where to pick up your copy of Suburban Family Magazine, click here.