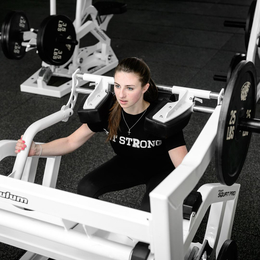 What Women Want
With the launch of a women's-only gym, Jersey Girls provides a dedicated space where they can focus on building healthy muscle, creating body tone and reducing cellulite.
If you ask any group of women their least favorite thing about going to a gym, you will likely hear a common theme: the men. Women often get hit on or even catch men trying to sneak photos of them working out—proof of which is often shared on TikTok—and in a poll by FitRated, 71% of women admitted to having an uncomfortable interaction at the gym. These experiences are contributing to declining women's membership at fitness clubs, but Jersey Girls and Giant Fitness are hoping to reverse that trend.
With multiple locations across South Jersey, Giant Fitness prides itself on top-of-the-line equipment and a focus on strength training. Its Voorhees location, featuring a sprawling 8,500-square-foot free weight room—double or even triple the size of most gyms in the area—and a 7,000-square-foot cardio room. This will be the home of Jersey Girls, a new women's-only club.
Think of it as a gym within a gym. At just $9.99 a month, women can access the latest and greatest strength training equipment in an enormous private room.
Giant Fitness made the decision to focus on strength equipment within Jersey Girls for women, especially in the 18-35 range. Giant Fitness has seen that millennials and Gen Z aren't interested in the typical high-intensity cardio classes that the older generations prefer. They recognize strength training is so much better for them and they are getting great results.
Jersey Girls believes, when you look at aerobics, bootcamp, spinning—they are all glorified cardio workouts that skyrocket your heart rate. That high impact actually makes your body burn muscle because the body is panicking, so it shuts down and stops burning fat. The body thinks it's in danger and conserves the fat, giving you the opposite result you want. You lose your body tone and bring on the onset of cellulite.
Women are often misled about the benefits of strength training. Giant Fitness says women just won't get big like men. But stimulating muscle growth is what will reduce cellulite and give them the toned, beach-body look they want.
There is one body part in particular that women want to define: the booty. Women are gravitating toward equipment that works their glutes. They want specialized squat machines, squat racks, leg presses. Jersey Girls will have new squat machines that no fitness centers in the area have, yet exclusive to Jersey Girls, adding that all of this equipment will be grouped together in what is being appropriately dubbed "The Booty Zone."
There's no need to be intimidated by the equipment either. For anyone unfamiliar with it, there is a membership option for $149 a month that includes two (2) weekly personal training sessions. At any time, members can return to the basic $9.99 plan.
Giant Fitness says this women's-only gym will prioritize the problem areas women want to improve most. Women will see the benefits of building healthy muscle for a toned look, as well as an overall healthier lifestyle.
Jersey Girls will be open at Giant's Voorhees location and is expected to roll out to all other locations in the future. For presale pricing go to giantfitnessclubs.com.
Giant Fitness
120 Britton Place | Voorhees
(856) 504-3333
GiantFitnessClubs.com

Published (and copyrighted) in Suburban Family Magazine, Volume 12, Issue 4 (July 2021).
For more info on Suburban Family Magazine, click here.
For information about advertising in Suburban Family Magazine, click here.
To find out where to pick up your copy of Suburban Family Magazine, click here.