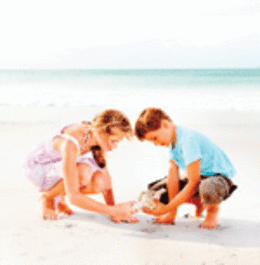 Best of the Beach Family Guide 2010
The lure of the Jersey shore goes beyond the beach—be in the know about where to go once you get there.
The lure of the Jersey shore goes beyond the beach—be in the know about where to go once you get there.
With several weeks left of prime shore season, many vacationing families haven't even scalded their feet on the sand, let alone gone sightseeing, shopping or enjoyed so much as a soft-serve on a sugar cone.
Buckets of fun—new spots, never-dull standards—await you a short ride away, at sea level in South Jersey. So, what are you waiting for?
Avalon
After a day among the towering dunes of Avalon — which shares the Jersey Cape's Seven Mile Beach from Stone Harbor, and vice versa) — your little sand sharks can revert back to landlubbers at one of this quiet ocean town's brightly themed and well-outfitted playgrounds: Grace O'Brien Park (8th and Ocean Drive) or Marion P. Armacost Park (74th and Ocean). Or give the kids a morning reprieve at Community Hall (30th and Avalon) for some good, old-fashioned Arts & Crafts (Mondays, Wednesdays and Fridays). Avalon also hosts free concerts from noon-3 p.m. every weekend and "big movies" Tuesday nights on the beach at 30th Street.
Eats and Treats
For delectable pasta plates, hoagies, stromboli, all manner of munchies, a kids' menu and a free-delivery option, Nemo's Family Restaurant (2542 Dune Drive, plus a Stone Harbor location) has our vote to win the heart of your hungry brood. And with the most expensive meal—Mediterranean gourmet pizza (marinated grilled chicken, sun-dried tomatoes, green and black olives and artichoke hearts)—running less than $20, Nemo's also wins our wallet.
For something more south-of-the-border than South Jersey, take a trip to Tortilla Flats (2540 Dune Drive), another family favorite. Among the reliable Tex-Mex offerings are blue-crab nachos and grilled scallops wrapped in jalapeño bacon.
Shop Stops
Take advantage of antiquing in your flip-flops at the enormous, über-eclectic Antiques, Etc. (280 W. 20th St.), where conversation-piece jewelry shares space with objets de home décor and other assorted curiosities old and new.
Cape May
For starters, park the car — and leave it there until you leave town. Because Victorian Cape May is meant to be strolled (unless you're taking an evening carriage ride or going on a whale-watching expedition — both highly recommended). But go ahead and start the engine if you're taking your little monkeys to the shore point's family-friendliest (and budget-friendliest) attraction: Cape May County Park and Zoo (Route 9, Cape May Court House). Cost of admission: $0. Lions and tigers and bears — and more than 500 other creatures. Buy lunch at the café on the premises or, better yet, brown-bag it and dine in the picnic area.
Eats and Treats Patrons can be as breezy as the ocean at Henry's on the Beach (702 Beach Ave.), where you're only a few specks away from the sand. The menu is fairly standard and includes seafood, of course (try the "Big Ass Fried Clams" appetizer, if for no other reason than to ask for them by name), as well as specialties like Chicken Marsala. On Wednesdays, kids get to pick a toy; combine that with an early-bird special, served 4-5:30 p.m., and splurge on breakfast the next day at The Blue Pig Tavern at Congress Hall (Congress Place and Perry Street) for the Cape May Seaside Omelet ($14), containing jumbo lump crabmeat, asparagus tips and hollandaise sauce.
Shop Stops Don your comfiest footwear and head to Washington Street Mall (between Perry and Ocean streets) — a three-block outdoor thoroughfare lined with fanciful mom-and-pop shops, cozy restaurants and the celebrated pub aptly named The Ugly Mug (426 Washington St.), featuring live music.
New to the Mall is Bath Time (318 Washington St.), featuring fancy soaps and scents, plus an oh-so-fine assortment of rubber duckies that even Ernie on "Sesame Street" couldn't resist.
If your own little duckies aren't delighted, waddle them over to the shopping area known as Washington Commons and enter Oma's Doll Shop (315 Ocean St., No. 5), where more than 1,000 dolls take up residence at this emporium of collectibles and toys.
Long Beach Island
This Ocean County barrier isle is comprised of a half-dozen communities, all with their own characteristics. But the area along the northern tip, Barnegat Light, boasts the foremost—and indeed, the most protruding—attraction: "Old Barney." Soaring 175 feet above the sea, Barnegat Lighthouse now anchors a museum and a state park, where visitors flock to learn maritime history and to watch the multitude of bird species. For a more moving view of the stalwart sight, hop aboard one of the Paradise Cruises vessels, docked at Lighthouse Marina (Sixth Avenue and the Bay). Seasickness is rare on this hour-long sunset cruise of Barnegat Bay, says co-owner and first mate Maria Nucci, whose husband, Chuck, captains the boat.
Also in Barnegat Light is Viking Village, housing one of the biggest commercial fishing fleets on the Eastern seaboard, and a filming site of a new Discovery Channel series on swordfish hunting aptly called Swords: Life on the Line.
And, although LBI has no boardwalk, even the youngest family members will be entertained at Surflight Theatre (Engleside and Beach Avenues, Beach Haven
Eats and Treats
LBI is situated 6 miles out at sea—so, if salt air really increases appetite, it's no wonder you're always hungry here. Two island standards, Panzone's Pizza and Country Kettle Fudge, both in Beach Haven and family-operated, are celebrating 30 and 50 years, respectively, in the business of feeding locals and visitors and shouldn't be missed, says Lori Pepenella, Destination Marketing Director for the Southern Ocean County Chamber of Commerce.
And all LBIers recommend Show Place Ice Cream Parlour, next door to the Surflight, where the "waitri" wear red-and-white-striped uniforms and sing while they serve.
Shop Stops
This 18-mile island has several off-the-beaten-beach-path haunts, but among the most unusual is Unshredded Nostalgia (323 S. Main St., Route 9, Barnegat), a retail hub of all things old, memorable and miscellaneous. For souvenirs, Nucci recommends a longtime visitor favorite, Andy's at the Light, 202 Broadway—an ideal stopover after you've climbed the 217 Barnegat Lighthouse steps.
Margate/Ventnor
Families with young children who vacation in these adjoining towns generally head to Margate's most famous icon—Lucy the Elephant (9200 Atlantic Ave.), which soars 65 feet above the shore town— and, luckily, remains stationary so you can take a tour inside. The old girl, built in 1881 to attract investors to the coast, has spent a few years in rehab, and now she's as good as new — and affords quite an ocean view.
And what tastier way to support Lucy's future stability than to eat? Bella Luna, an al-fresco restaurant in the shadow of the popular pachyderm, recently made its debut to positive reviews (try the crab cake, the watermelon salad or, for the more adventurous, the bison) — with profits going toward replacing Lucy's damaged tail and shoring up her other parts.
Ventnor's boardwalk, with no commercial venues, makes it ideal for a family bike ride. The city also has three playgrounds on the beach and two more in the Ventnor Heights section. Check the town schedule for live family entertainment on the beach, suggests Kim Lovecchio, a Ventnor Heights resident.
Eats and Treats
Domenico's (5223 Ventnor Ave.), a BYOB with a moderately priced Mediterranean menu, is one of the area's newer offerings and has quickly gained a local following.
Got a sitter? Then head to Johnny's Cafe and Bar (9407 Ventnor Ave.), which has relocated from Ventnor to Margate and now has a liquor license and live music weekly. For your family's ice-cream fix, queue up at the Margate Dairy Bar (9510 Ventnor Ave.) for soft-serve or longtime Ventnor favorite Mento's Ice Cream & Water Ice (5304 Ventnor Ave.) for everything else.
Shop Stops
At Margate's Heavenly Couture (9600 Ventnor Ave.), nothing costs more than $17.95 — retail paradise for young women.
For a piece of heaven that can only be achieved from chocolate, don't miss a visit to Jagielky's Homemade Candy (5115 Ventnor Ave., Ventnor; 8018 Ventnor Ave., Margate). This nearly four-decades-old treatery boasts a 70-percent cocoa infusion in its dark-chocolate offerings — so a sampling of the coated pistachios and cranberries is actually good for you.
Ocean City
Sure, there's the 8-mile stretch of beach, featuring swimmers, surfers and parasailors galore, plus plenty of sandcastle-worthy grains on which to sun. But if you're packing little ones and looking for less mess, try another kind of paradise: SandCastle Park (34th Street and West Avenue). This swinging, sliding climbfest is colossal, fun and — even better — free.
But the boards are a must-stroll. The kiddie-enticing Gillian's Wonderland Pier (Sixth Street and Boardwalk) unveiled several new amusements for tots this summer, including an indoor miniature-golf course. Don't miss Mummers Night on Tuesdays and Family Night on Thursdays.
Your older brood might enjoy a true matey experience aboard the Sea Dragon, a specially crafted vessel run by Pirate Voyages and launching daily from 10th Street and Palen Avenue. The one-hour jaunt in the back-bay area includes treasure-hunting and loudly bellowed tall tales, as well as water cannons (prepare for a soaking).
Eats and Treats
For an old shore standard, try Cousin's (104 Asbury Ave.), where the bounty of the sea is blended with Italian-American cucina. How about broiled grouper with a side of broccoli rabe?
If it's the dough you crave, there's much ado about Mack & Manco, with three thin-crust locations on the boardwalk. Or head to the other side of town for a slice of variety at Randazzo Pizzeria & Family Restaurant (34th Street and Asbury Avenue), a favorite eatery of many locals, as much for its pies as the plentiful pasta dishes.
For a sweet start to the day, "Dot's rocks!" says Ocean City vacation-homeowner Marcella Canfarotta. The cream doughnut is a favorite — but don't dawdle, as Dot's Pastry Shoppe (3148 Asbury Ave.) sells out the goods fairly early. For something cooler, O.C. regulars say the friendliest service and most fabulous flavors can be found at À La Mode Ice Cream Parlor (301 E. 55th St.).
Shop Stops
Downtown's Asbury Avenue, from Sixth to 11th streets, is lined with some 100 shops and eateries. Favorites include Bookateria Two (1052 Asbury), for best sellers with the best pricing, and the Ta-Dah! clothing and accessory boutiques (four locations on the 900 and 1000 blocks of Asbury), for affordable and eye-catching apparel.
Further west, Discovery Seashell Museum (2721 Asbury) is a haven for exoskeleton enthusiasts and, for young visitors, a preferred hermit-crab vendor.
Sea Isle City
This 5-mile collection of beaches and surrounding waterways offers a bounty of boating and, on the 1.5-mile paved pathway known as The Promenade (on the beachfront from 29th to 57th streets), plenty of playtime.
Start the day on wheels: Hit The Promenade — Sea Isle's version of a boardwalk, sans wooden slats — on a bike or, if you dare, in a pair of in-line skates.
Later, when the kids are substantially sun-baked from swimming, surfing and sailing — not to mention kayaking and catamaran-ing — it's time to pump them up for an evening stroll along JFK Boulevard, where you're sure to find a live concert or family dance party (JFK and The Promenade) or an outdoor movie (Excursion Park, JFK and Pleasure Avenue; bring your own beach chair and blanket), depending on the night. Your merry little ones will enjoy a go-round on the carousel — and many other dizzying attractions — at Gillian's Funland (between JFK Boulevard and 42nd Place), open for only its second season.
Eats and Treats
There's usually a long wait, and the fare itself can be hit-or-miss — but the casual picnic-style tables and the Isle's friendliest servers make Carmen's Seafood Restaurant (343 43rd Place) a must-dine. Bring your own bottle, be it formula, milk or booze.
As for that other shore staple, grab your piece of the pie — "Old Italian" style, please — at Uncle Oogie's (6208 Landis Ave.). This popular pizzeria, known for its parsley-packed "old-style" tomato pie, also serves up much-ballyhooed sandwiches and salads — and will even deliver the goods to your beach blanket.
Shop Stops
When you care to shop the very best in sundries, visitors agree it's Dalrymple's Hallmark Shoppe (20 JFK Blvd.) — because, when you're at the beach, what else do you really need besides sunscreen, a bucket and shovel, a good read and a few postcards?
Stone Harbor
An excursion to the famed Wetlands Institute (1075 Stone Harbor Blvd.) is a worthwhile alternative to a beach day. Like summer school in a terrarium, visitors absorb nature as they learn about the life history of the diamondback terrapin and the Institute's unique conservation efforts; climb into the 40-foot Observation Tower for a bird's-eye view of the wetlands area and, on a clear day, the surrounding shores; and trawl along the Salt Marsh Trail for close-up glimpses of migratory birds, laughing gulls and other loud and lovely creatures.
Eats and Treats
After a seafood pizza and a couple juicy calzones at Nemo's (9815 Third Ave.), head east four blocks and chill at one of the sweetest spots on the Jersey Coast. For starters, spring for a round of cones at Springer's Homemade Ice Cream (9420 Third Ave.). This old-fashioned parlor is the real deal: Just ask pop-country sensation Taylor Swift, who spoke of early-childhood summer nights in this decades-old dairy spot — and of feeling overwhelmed by the astounding number (try 50!) of flavors on offer. The creamy treats have earned accolades far inland as well. And you never know whom you might bump into while waiting in that long line.
Shop Stops
This town claims countless quaint shops and galleries, but a universal favorite is clothing, footwear and accessories retailer Global Pursuit (262 96th St.). Throughout 21 years of business, this shop has earned icon status and, even better, is a "company with a conscience" — meaning the owners pledge at least 1 percent of the store's year-end gross revenues to support ecological causes, including efforts of the nearby Wetlands Institute. All this, and shelves full of Ugg, Patagonia, Lucy Love, Billabong and Nike 6.0.
Wildwood
It's not for the squeamish, and certainly not for smaller children — but if you're looking for a real thrill, you'll get it aboard Wildwood's newest attraction: this summer's highly anticipated Ghost Ship (Morey's Piers, on Mariner's Landing). The 14,000-square-foot vessel took two-and-a-half years and $3 million to become spooky reality. Actors provide the haunting for a hair-raising, 20-minute walk-through — for what some consider an alarming admission of 12 tickets ($11.40).
For far less — $2.50 per person— you can hop aboard the 2-mile boardwalk's ubiquitous tram cars. The bright yellow-and-blue electric-powered vehicles — complete with that famous pedestrian warning that has both endeared and annoyed all who have crossed its path — run from Cresse Avenue on the Wildwood Crest border to 16th Street in North Wildwood.
This town's most famous attraction, however, is completely free: the wide expanse of free beaches.
Eats and Treats
From the crunchiest boardwalk fries to the freshest catch of the day, The Wildwoods offer something for every vacationer's palate. This summer, the best of both worlds has arrived in the form of Joe's Fish Co., at Morey's Surfside Pier (25th Street). The new boardwalk eatery, named for its late entrepreneur, Joe Marchiano — the man behind the city's indisputably most-famous export, Curley's Fries — is an extension of the Curley's location. Enjoy locally caught fish and locally grown produce for the seafood dishes, pizzas, salads and sandwiches.
For a quick lunch away from the bustle of the boards, and some of the best hoagies and cheesesteaks this side of South Philly, stop by longtime local favorite A & LP Foods (15th Street and New Jersey Avenue, North Wildwood).
Shop Stops
Stride by the sensory-overload of boardwalk T-shirt shops and proceed to Wildwood Crest for Diamond Beach Bums (10100 Pacific Ave.), where you'll find goods for the whole family, and even for your neighbors back home. It's a one-stop shop for clothing, shoes, accessories, books, beach items, artwork, home décor, souvenirs and trinkets — all comfortably displayed in the 4,000-square-foot superstore.
Published (and copyrighted) in Suburban Family, Volume 1, Issue 5 (July, 2010).
For more info on Suburban Family, click here.
For information about advertising in Suburban Family, click here.
To find out where to pick up your copy of Suburban Family, click here.