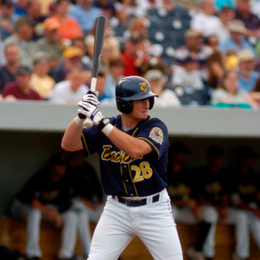 That's a Dinger
Under the instruction of veteran players at We Drop Bombs, athletes can improve on their baseball fundamentals with a focus on hitting technique.
Any baseball player—and even spectators—would tell you there's no better sound during a game than that of the bat connecting with the ball. Players can tell instantly if it's going beyond the fence and start their trot around the bases as the crowd cheers.
What the fans don't see are the hours the players have spent in the batting cage, working on the mechanics of their swing. It's something Al Roach knows all too well, and he's been helping up-and-coming athletes of all ages build the strength they need when stepping up to the plate for more than a decade now as owner of We Drop Bombs, a year-round training facility for baseball and softball players.
As a star outfielder for Shawnee, Roach earned all-county, all-conference, all-South Jersey and all-state honors, followed by a collegiate career at Temple University and five professional contracts with various minor-league teams. Those experiences have contributed to a wealth of knowledge about the game of baseball.
"Along the way in my career I've been able to learn how to hit from over 20 former major league hitters. I've had input from all different avenues, this and that, and I've put it all together to form a solid method on teaching rooted in maximizing bat speed and minimizing head movement," says Roach.
The methods at We Drop Bombs stand out for their mechanical instruction, he says. "We want to build a more powerful swing, so we create a rotational axis swing, almost like a slingshot for the hands to get out and maximize the bat speed. The batter needs to be balanced before, during and after contact."
Players are often resistant at first, he continues. "Some kids don't like change and have to be pushed a little to do something a certain way and it can be uncomfortable, but after a few hundred times it becomes comfortable. The question is, do they have the patience to do that?" Roach says.
While Roach is personally more involved in the hitting aspect of things, athletes have access to an experienced staff of instructors who have all played on the collegiate or professional level to help fine-tune pitching, fielding and catching.
If a young athlete is willing to work hard and has discipline, their skills can be improved. "We've had players come to us at 10 years old who were below average and bored with the game but they stuck with us until age 18 and got offers to play in college," Roach says. "It comes down to dedication and working hard. If you want something bad enough you can make it happen, and that's a message a lot of kids need to hear. If you enjoy baseball or softball, imagine how much more you will like it once you are better, but that takes time and a lot of training."
Take Cedric Mullins for example, says Roach. Mullins, an outfielder for the Baltimore Orioles who just appeared in the All-Star Game, didn't start playing varsity baseball in high school until his senior year. He attended junior college and worked himself up the ladder, eventually becoming a 13th round draft pick.
"He was a small guy and not recognized at age 16 or 17, but if you have the heart and keep pushing, you never know what can happen," Roach says. "Some players have to work harder than others, and that's true for so much in life. … That's one of the things about this game, it molds players into better adults who are disciplined, responsible and know how to be a part of a team. It helps a lot with communication skills, which will help them later in life."
We Drop Bombs is home to the Jersey State Bombers, an organization consisting of 10 youth baseball teams from 10U to 18U. It's another opportunity for local players to keep their skills sharp, play in tournaments and be coached by the veteran instructors of We Drop Bombs.
"There's no politics on these teams. Everyone has to earn their own playing time. Our main focus is development so therefore everybody plays, because if you don't play you don't develop. Once everybody develops, the team will win more," Roach says.
Baseball has been a part of Roach's life since he was a kid and he never imagined where it would take him in life. "Growing up, our social network was outside. My neighbor and his brother and I would all play on the street, just playing stick ball and all kinds of sports, building our athletic ability. All three of us ended up with Division I college scholarships," he says.
"Some kids today would rather sit in the air conditioning. They need an extra push because at age 10 or 12 they don't know what's best for them. If they are lazy with a sport, they will end up being lazy in life and struggle in other aspects. We hope we can give them the skills to be successful in life, even if they don't go on to college or be a pro, we hope they find good jobs and become good people."
We Drop Bombs
10 Tidswell Ave., Unit D
Medford
(609) 654-1707
WeDropBombs.com

Published (and copyrighted) in Suburban Family Magazine, Volume 12, Issue 4 (July 2021).
For more info on Suburban Family Magazine, click here.
For information about advertising in Suburban Family Magazine, click here.
To find out where to pick up your copy of Suburban Family Magazine, click here.