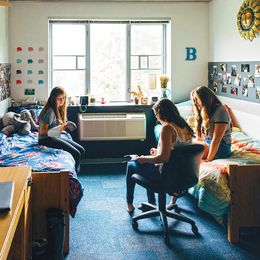 A Place to Call Home
Ramapo College of New Jersey has made student comfort and safety a top priority, and is earning national praise in the process.
Ramapo College of New Jersey has made student comfort and safety a top priority, and is earning national praise in the process.
Packing up and moving off to college is a big adjustment for any student, whether it's their first time away from home or their final semester. So when it's time to make the big move, it's essential that students have a safe and comfortable place to settle into, giving them the resources they need to excel in their educational pursuits each and every year.
Ramapo College of New Jersey's award-winning residence halls give residents comfort, convenience and a safe space to live and learn. Their attention to detail has earned them the No. 1 ranking for Best College Dorms in New Jersey by Niche, the market and data study network for colleges across the United States, for the third time in the past four years. They were also ranked No. 34 in the country for best dorms, putting them in the top 2% of universities nationwide for their student housing.
About half of Ramapo students live on-campus, including 70% of incoming first-year students. Meanwhile, all students are guaranteed on-campus housing for all four years and students are allowed to bring their cars with them to campus. That makes housing a serious priority for Ramapo, and they've taken that responsibility to heart. With seven residence halls or areas spread across campus, each of Ramapo's residential areas offer special features and amenities to its students, making living on the beautiful 300-acre wooded campus an amazing experience. In fact, Ramapo College was also recently named by CondeNast Traveler as one of the 50 Most Beautiful College Campuses in America.
Ramapo College has answers for some of the typical pain points residential students have faced when living on campus at universities in the past, including:

• Student-controlled air conditioning and heat in each room
• Individual bathrooms in each area as opposed to communal bathrooms
• Kitchen spaces, or mini fridges and microwaves in-unit
• Free laundry facilities
• High-speed WiFi across all buildings
• Cable TV with special channels like HBO included
From there, the school has additional amenities built across their different residence hall options. Many of the residence halls also have computer labs, game rooms, pool tables, common lounge spaces, basketball and beach volleyball courts, and even a 50-seat movie theater.
First-year students live in Pine, Mackin or Bischoff Halls, which are designed to give students privacy but also the freedom to bond and meet their new classmates. The suites feature double bedrooms and individual bathrooms with mini fridges and microwaves in-suite.
Sophomores and juniors can stay in The Overlook where they are treated to four-person suites, each with two bedrooms, two bathrooms and a lounge area. The building "overlooks" all of campus, the mountains and Kameron Pond—a breath-taking view. It has an open lounge with a big-screen TV, game area and designated study rooms. Juniors can also stay in the College Park Apartments (CPAs) which are four-bedroom apartments not far from Overlook.
Upperclassmen have the pick from additional residence halls, including the College Park Apartments, Laurel Hall and The Village. With full kitchens or kitchenettes, living rooms and more of an apartment/duplex design, these buildings serve as a great transition phase for students acclimated to their campus who also still want the full Ramapo experience.
"We are thrilled to once again be recognized as the No. 1 dorms/residence halls in the state of New Jersey and take great pride in the many different styles of housing options our students have available to them. The eclectic makeup of our buildings affords us many opportunities to engage our residential students in an active campus environment while complementing formal classroom learning," says Lisa Gonsisko, director of residence life.
This environment extends into the Mahwah community, which has been named the safest town in New Jersey in 2021 by security company SafeWise. Ramapo echoes that priority with their on- and off-campus public safety programs. They also have constant security for residence life specifically and employ RAs on-the-clock at all hours.
It's these individualized touches that have earned Ramapo College the reputation for housing excellence, making it a sought-after place for students looking to call their campus home. Being named one of the 2021 Best College Dorms in America—and the best in New Jersey—by Niche is no small feat. Niche analyzes every detail of student living, studying data around safety, cleanliness and modern amenities across millions of national survey responses submitted by the best judges around: students and their parents.
"Ramapo is excited and proud to yet again be ranked as the best dorms/residence halls in New Jersey and among the best in the country," says Christopher Romano, vice president for enrollment management and student affairs. "We know that a highly engaged, vibrant and safe residential life are essential elements of collegiate life for many of our students because it maximizes student engagement and the likelihood of student success. Our residence halls offer all of these and we are proud to maintain our commitment to deliver programs, services and opportunities that foster outside-of-the-classroom learning. In fact, it is what distinguishes Ramapo as the premier public college in New Jersey and the region."
Ramapo College of New Jersey offers a full range of tour options for families interested in learning more about the residence halls and the campus including weekly in-person tours, open houses and online virtual tours and videos. Online, you can take a virtual campus walking tour, watch a detailed video Residence Hall Tour with a Ramapo sophomore or even take an online skateboard excursion, to see what a day in the life of a Ramapo resident student looks like at ramapo.edu/tours.
With all these possibilities and amenities, the only thing future Ramapo students need to focus on is building memories while making life-long connections and exploring all the social and learning experiences Ramapo College has to offer.
Ramapo College of New Jersey
505 Ramapo Valley Road
Mahwah
(201) 684-7500 | Ramapo.edu
Published (and copyrighted) in Suburban Family Magazine, Volume 12, Issue 4 (July 2021).
For more info on Suburban Family Magazine, click here.
For information about advertising in Suburban Family Magazine, click here.
To find out where to pick up your copy of Suburban Family Magazine, click here.