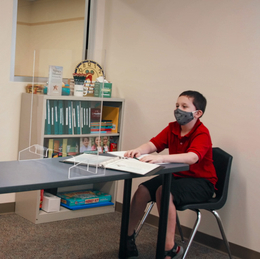 An Educational Edge
Students can recover lost skills and get back on track with personalized attention from Huntington Learning Center.
Summer brings an inevitable slide for students as they tend to lose some skills between grades. This year, however, there's a new concern for a COVID slide due to inconsistent learning during the school year that is affecting all ages. These two things combined could create the need for more review time come fall, delaying the relevant grade-level skills students should be learning. One proactive measure to consider is personalized tutoring with Huntington Learning Center.
Richard Bernstein, director of the Huntington Learning Centers in Cherry Hill and Turnersville, says he has witnessed the impact on a range of students. "Younger students in K-4 were not well-equipped to learn virtually. They can barely sit by themselves let alone for six or seven hours looking at a screen. In many cases, they didn't get the education they needed, and it's no fault to the education system—they were thrown into it," he says. "These early years are a crucial time for reading and math skills and could pose a long-term challenge if they are still behind next year."
High schoolers too were at a disadvantage. "If learning remotely, they could have been distracted by other things in the house, or other things on their computer. Many districts were not doing midterms or finals and used a different grading scale than in the past," he continues. "And it was hard for teachers to force the attention of an entire remote class. The net result is a whole lot of kids didn't get what they needed and many of them will have to learn how to be a student again and the accountability that comes with it."
Considering it's the longest-standing tutoring service of its kind, Huntington Learning Center is the best choice when it comes to working with students to achieve improvements in grades, test scores and self-esteem. All instructors are certified and trained extensively, earning Huntington Learning Center accreditation by the Middle States Association.
Because each student is given an individualized tutoring plan, an evaluation must be conducted to determine their current skill levels, says Bernstein. "We evaluate first and then instruct based on their needs. We don't want to presume if they are in third grade that they have all of those math and reading skills. This allows us to home in on their individual needs," he says.
The company's slogan "personalized instruction with proven results" is more than a tagline. "In an average of three months, students see an average increase of 1.6 grade equivalency in reading and 1.2 in math," Bernstein says. "This is life-changing across all levels."
Summer offers an opportunity for students to find out their baseline on college entrance exams. Despite tests being canceled due to the pandemic and scores being optional for some acceptances, students between sophomore and junior year need to prepare for this aspect to return to normal as well. In fact, their SAT or ACT score could be a key distinguishing factor in their college applications.
"As we know, grades were not weighted as normal during the pandemic. If colleges are looking at applications where every student has the same GPA, their test score could be the element that pushes them to the top of the pile," Bernstein says, adding that scholarships are often determined by SAT/ACT scores.
He recommends using the summer before junior year to take a practice exam. "Junior year is the busiest year of high school. This practice test shows where work is needed and gives you plenty of time to prepare over the course of the year before taking the real test as a junior. If a student comes in the middle of junior year, they are already under so much pressure. Early preparation helps relieve the pressure," Bernstein says.
The earlier the tests are taken, the better for college applications and tours. "Picking a college is like buying a house. You want to know if you qualify for it, if you can afford it, if you can get in," says Bernstein. "Taking the test early lets students know where they stand and then they can spend their junior year doing the appropriate research."
Bernstein recommends contacting his centers for an evaluation as soon as possible. Sessions are available in person as well as online. "If a child spends the summer at the Shore or with another family member, we are still able to offer the same quality of service virtually so they can strengthen their skills and still enjoy summer vacation."
Huntington Learning Center
Cherry Hill | (856) 795-1933
Turnersville | (856) 227-0033
HuntingtonHelps.com
Published (and copyrighted) in Suburban Family Magazine, Volume 12, Issue 3 (June 2021).
For more info on Suburban Family Magazine, click
here
.
For information about advertising in Suburban Family Magazine, click
here
.
To find out where to pick up your copy of Suburban Family Magazine, click
here
.