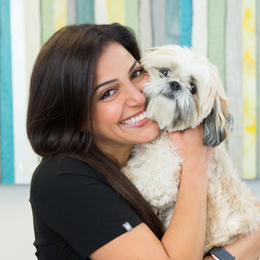 Putting Patients at Ease
All Smiles Family Dental provides unique ways to relax patients and offers various cosmetic dental treatments to freshen their smile and face.
IT IS NOT EVERY DAY YOU SEE A THERAPY DOG IN A DENTAL OFFICE, but All Smiles Family Dental is not your typical dental office. Dr. Nermeen Rifai is continuously looking for ways to reduce patients' anxiety. Zoey is All Smiles Family Dental's therapy dog and has put many patients at ease since the moment she joined two years ago.
"Another thing that helps calm my patients is I put something over their eyes so they can't see what is happening. When you look at the instruments coming into your mouth, your anxiety goes up versus not anticipating anything if your eyes are closed," she says. "Ninety-five percent of anxious patients request not to see anything that is going in their mouth."
A major factor that differentiates All Smiles Family Dental from other dental offices is the ability to offer the majority of dental procedures under one roof. You no longer need to travel to every different specialist.
One of the major procedures offered at All Smiles Family Dental is Botox and fillers for cosmetic purposes. Dr. Rifai, who recently became a member of the American Academy of Facial Esthetics, is known as a perfectionist and will move mountains to give patients the perfect smile and face. With the help of her expertise, she can wipe away that fatigued look and an aged face making patients appear refreshed.
"One of my patients came in and just wanted to say thank you," Dr. Rifai recalls. "She said she never knew how life-changing this was and everyone is telling her she looks so rested and refreshed. She says she sends everyone she knows to see me for esthetic facial treatment.
"This to me is worth millions. I love giving my patients a smile or correcting something that has been bothering them all their life, whether it be a gummy smile, a nose tilt, a straighter nose, wrinkles around their eyes or any small issue to a patient that would make them feel on top of the world. It does not take much time for me to do, but knowing that I made a patient smile or more confident is what corrective facial esthetics is to me."
Dr. Rifai truly enjoys working on her patients and wants to give everyone the facial treatment of restfulness, and offers competitive pricing for Botox and fillers. It is the happiness she brings amongst people that makes her love what she's doing.
"The majority of patients suffer from chronic headaches and migraines. With the proper use of Botox in certain trigger points, the headaches go away within three to four days and patients are pain-free for the first time in a very long time," she says. "Every patient is not treated the same. A detailed history of the pain and where it originates and travels is taken, and based on different factors from the detailed history we evaluate where and how many units to administer. A lot of people don't even realize just how bad the headaches were until they are gone. Once they live without them, the Botox treatment becomes essential in their life."
At every appointment, Dr. Rifai goes over each patient's medical history, as certain medical conditions can affect the prognosis of dental treatments. She may request bone scans to evaluate the extent of bone loss and the prognosis for certain procedures, such as implant placements.
"People with diabetes, for example, have a slower healing time. Implant integration may be affected in patients who suffer osteoporosis, due to the weaker bone structure," she says. "I recommend all medical conditions are under control as I guarantee all treatment. If treatment fails, I will make it right. That is why it is essential to take a thorough history of every patient. Treatment planning is crucial for a successful outcome."
Dr. Rifai's goal is to have every patient pain-free, even if that means taking calls at 2 a.m. She will make the time to squeeze emergency appointments into her schedule so she can properly fix the issue instead of putting anyone on painkillers in hopes the pain will go away.
"Whether we are open or closed, as long as you call and leave a voicemail, we will get back to you shortly after," she says. "We have calls directed to our cell phones and if you are in massive pain at 2 a.m., leave a voicemail and by 7 that morning, you will get a phone call saying to come in that morning. I will see you that day no matter what is going on in my schedule and get you out of pain." Going the extra mile in all parts of their practice is what sets All Smiles Family Dental apart, and that includes Dr. Rifai getting to know patients on a personal level.
"Myself, our staff and patients, are all family. A lot of patients have my cell number and will text me personal questions," she says. "We ask about their weddings and other things going on in their life. It's not your typical dental office. It's a great community and a family."
All Smiles Family Dental
420 N. Black Horse Pike
Williamstown | (856) 740-1416
AllSmilesFamilyDentalNJ.com
Published (and copyrighted) in Suburban Family Magazine, Volume 12, Issue 3 (June 2021).
For more info on Suburban Family Magazine, click
here
.
For information about advertising in Suburban Family Magazine, click
here
.
To find out where to pick up your copy of Suburban Family Magazine, click
here
.