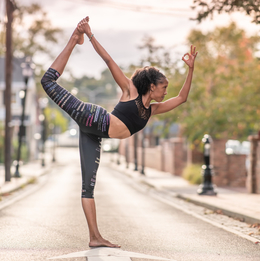 Fitness Family
At Echelon Health & Fitness, members become family as they progress on their journey to a healthier lifestyle.
Deciding to pursue a fitter, more active you is a big decision, and so is deciding on a gym to meet those goals.

Since 2016, the team at family- and locally owned Echelon Health & Fitness has gone on that personal journey with its members. Managing partner Jeff Quinn says they don't take that role lightly.

"My partners, David and Susie Chung, and I are here every day, and that allows us to build
fantastic relationships with our members and community, " he says. "We have a core value of family and outstanding programs and world-class customer service. Our members say all the time that they love the feel of our culture we've created in the gym."

That community even extends beyond the gym's walls, as MemberPERX means the benefits of membership equate to discounts on more than 750 services, shops and eateries throughout South Jersey.

Getting to know the clients who are spinning, swimming and sweating their way to their goals helps the Echelon staff offer personalized advice while tapping into their passion for and knowledge of fitness in ways that best suit an individual.

Whether you're a new member or a regular, signing up for group classes or trying the strength and conditioning in the one-on-one Thrive program, you're not just a number at Echelon Health & Fitness: You're someone whose mission they share.

"Our biggest competitor is inactivity," Quinn says. "Once people are here and off the couch, they take part in our programs, group fitness, Thrive personal training, MemberPERX, Clean Plate Meal Prep and Be-Fit Chiro, to keep them active."
The Women of Echelon Fitness
Susie Chung, Co-Owner
Chung has been in the business of health and fitness for 5 years, all of them at Echelon. She was drawn to the positive vibe in the gym and helping people change their lives for the better. She loves meeting new people in her career and providing a place where the community can become healthier. For those who are just starting on their fitness journey, Chung says, "Great job! The first step is the hardest but you are doing it! Make small habit changes that you are comfortable with and soon you will see how those 'little changes' have become big changes."
Leah Pileggi, Group Fitness Director
For more than 11 years, Pileggi has been helping others reach their health goals. She has a passion for cycle, barre and kickboxing, which all have different benefits for mind and body. "I encourage people to try a variety of workouts and mainly focus on things they love to do. It's so much easier when a client enjoys what they are doing," she says. Pileggi's philosophy is that working out should not be a punishment, but a habit we maintain to feel good. "I love coaching women to love themselves and to share that love with others. There is nothing more rewarding than watching someone become aware of their very own potential, find their purpose and to use it to encourage the next person. It has added so much meaning and happiness to my life," she says.
Kayla Gorrell, Yoga and Indoor Cycle Instructor
Gorrell has been at Echelon for more than five years in her 14-year career. She teaches yoga—
which she calls an amazing mind/body practice that develops mental and physical strength, flexibility and balance—and cycle, an intense but low-impact cardio exercise that's a great calorie burner and fun. Gorrell knows that one approach does not work for every individual and encourages clients to find a form of movement they enjoy. "You are more likely to stick with it. Set small attainable goals and focus on progress and consistency over perfection."
Crystal Martin, Group Fitness Instructor
As a fitness instructor for five years, Martin thrives on the connection she makes with members. She specializes in group fitness, including spin, boot camp, body pump and HIIT classes. "My philosophy with helping others is not to compare themselves to the other members in their classes or even in the world. Gym time is your time and your self-care, so in order to help others you have to help yourself first," she says. "Fitness helps with your health, mind, body and spirit. I try to encourage others and just thank them for showing up and showing out and remind them that they can do anything that strengthens them."
Bridget Stibbard, Head Thrive Coach
Stibbard's background is in teaching health and physical education, which she did for eight years before joining Echelon three years ago. She is one of five Thrive coaches at Echelon. Thrive is a small-group personal training program. "We focus on helping all individuals to look, move and feel better by using functional-based training to help improve overall strength, endurance and stability," she says. "Everyone is on their own journey and no two people are the same. At Thrive we ensure that each person's experience is unique to them and their overall goals."
Jessica Bitman, Thrive Coach
As someone who has always been interested in health and fitness to keep herself active, Bitman decided to become a trainer and teach others, and joined Echelon about one year ago. As a Thrive-certified trainer, she helps all clients, whether 18 or 80, reach their goals. "Goals are essential because they drive us to work harder, train more effectively and stay focused. My coaching philosophy is that setting realistic goals is the key to feeling and looking your best! I love watching clients accomplish goals and milestones they didn't think were possible!" she says.
Echelon Health & Fitness
1160 White Horse Road | Voorhees | (856) 454-2976 | EchelonHF.com