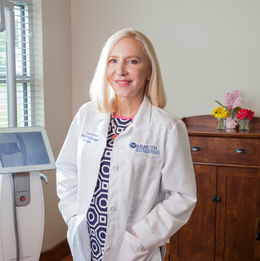 Beyond Skin Deep
Dr. Ingrid Warmuth offers a full range of medical, surgical and cosmetic skin care services to restore patients' confidence and overall well-being.
Summer is fully underway and many of us are finally emerging from our cocoons, shedding the sweatpants and screens that have kept us company throughout the pandemic. But now that we're seeing more people in person, returning to the office, attending parties and spending days at the swim club, there may still be some hesitation about how we look.
Enter Dr. Ingrid Warmuth, founder, medical director and board-certified dermatologist of The Warmuth Institute of Dermatology. Dr. Warmuth is joined in her practice by board-certified physician assistants Lauren Hartman and Brittany Davis, who together create a safe and compassionate environment where patients can receive treatment and find a well-deserved ego boost.
Men, women and children can be treated at The Warmuth Institute, whether seeking medical, surgical or cosmetic skin care services. Dr. Warmuth provides general dermatology, cosmetic dermatology, Mohs surgery, laser skin treatments, anti-acne and anti-aging light treatments, nail disorders, psoriasis management, skin cancer screenings and treatment, and hair disorders.
The practice stays on the cutting edge and Dr. Warmuth has invested in the most innovative technologies for minimally invasive cosmetic treatments. Along with dermal fillers and laser skin resurfacing for wrinkles, lines and stretch marks, she also offers platelet rich plasma (PRP) therapy, which promotes healing and regeneration for facial treatments and hair loss rejuvenation. Body contouring methods at The Warmuth Institute of Dermatology include CoolSculpting, Ultrashape and VelaShape III. CoolSculpting is the only non-invasive, FDA-cleared treatment that uses cooling technology to eliminate and destroy stubborn fat. Additionally, The Warmuth Institute of Dermatology is a CoolSculpting-certified practice, as both the staff and providers have attended and graduated CoolSculpting University.
The diversity of dermatology is what inspired Dr. Warmuth's career. "Dermatology is an amazing field and it provides so much variety. I always enjoy seeing different patients of all ages and applying new advances to help them. It's so incredible," she says.
No patient is the same, and Dr. Warmuth excels at customizing treatment to achieve optimal results. Consultations are complimentary and will allow Dr. Warmuth to observe the particular concerns of the patient. In fact, she's seeing a good deal of patients who put off dermatology care due to the pandemic.
"Unfortunately, in regard to skin cancer patients who were not coming in for appointments, I'm seeing that the cancer has not subsided, has enlarged or I'm detecting it in new patients," Dr. Warmuth says, adding that having an expert skin check is vital for early detection.
Protocols have been put in place to help patients feel as safe as possible. Dr. Warmuth says there is no unnecessary waiting at appointments, and contact is minimal. But the personal approach hasn't been lost.
"We treat patients like family. First and foremost, we're here to understand their concerns and needs. Skin is so important in how we interact with others and we want to feel good about how it looks," she says. "The emotional aspects of interaction are so important and if we can help the patient feel more confident, we will find a way."
Dr. Warmuth says she has seen some conditions present in patients as a result of COVID. "There has been a manifestation of COVID in skin and in some cases the recognition of it helped diagnose and treat early COVID sufferers."
Stress-related skin conditions and hair loss are also showing up in those who had COVID. "It could be eczema or psoriasis, and the hair loss is striking and in the last few months I've seen a whole group—usually women—who fell into this category. … It's almost like their body was focused on surviving rather than supplying hair, similar to what a cancer patient might experience," Dr. Warmuth says.
No matter what a patient might be dealing with—lack of confidence in their appearance, frown lines or skin conditions—Dr. Warmuth understands the connection between outward appearance and mental health. As someone who has been a pillar in the community for nearly 20 years, patients know they are working with a medical provider who cares.
"We love being in this community. We give back to our neighborhood and show appreciation by donating regularly to grocery funds, church funds and the Inspira Health Foundation. We try to help out where we can. There is no other community we'd rather be," she says.
Finally, Dr. Warmuth, who is a gardening enthusiast, encourages everyone to keep their skin in mind as they venture outdoors this summer.
Dr. Ingrid P. Warmuth, Medical Director
The Warmuth Institute of Dermatology
Two locations in Swedesboro and Elmer
(856) 358-1500