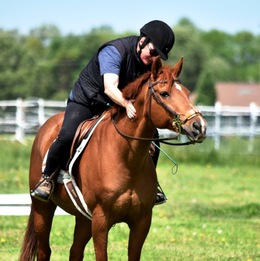 Spreading the Love
At Suffolk Stables, Deborah Lyonsgreer shares the peace she found through horses with others
They say you're either a horse person, or you're not.
For Deborah Lyonsgreer, her love of horses was almost instant. Growing up in Suffolk, England, she says the moment she stepped onto the farm for the first time as a young girl, she felt like she was finally where she belonged.
But she didn't follow her passion then, and it wasn't until a cancer diagnosis 14 years ago that Lyonsgreer decided it was finally time to head down the path she truly loves.
"Having cancer woke me up," she says. "I asked myself, 'I do so much for everyone else, what do I do for myself?'
"It was while I was thinking this that I saw a sign—an actual sign—that said horseback riding, half an hour for $15, and I was like, as a single mom, I can actually afford that," Lyonsgreer continues. "So, I went and that was it; I didn't look back."
Lyonsgreer eventually started working for a farm fulltime and finally decided she was ready to take the next step. With a whole lot of hard work, love and dedication, she developed Suffolk Stables, a horse farm located on 100 acres in Shamong.
"I was a single mom starting a new business in a recession so I'm really not sure what I was thinking," Lyonsgreer says. "But I started the farm, with a pony that didn't belong to me, a paint horse that wasn't completely friendly, and a standardbred that wasn't easy to ride."
Within a month Lyonsgreer was buying more horses, and today she has 58 at the farm—30 of them are her own and the rest she boards and cares for. It's a lot of work, but everyone who steps onto the property does his or her part to make sure the horses are properly attended to.
"We are busy," she says, adding she recently took on a business partner, Joanne Butler. "A lot of my horses are rescues, and they came out of really difficult situations. But we get on the horses and teach them how to be trusting of humans again and find out if they are jumping or non-jumping horses. The rescue horses are some of the safest horses in my program."
Safety is a major concern for Lyonsgreer, as horses are powerful animals that can bring an element of danger to a situation if scared or spooked. She says that is why it's important to take the time to match a horse with a rider, to be sure they are a good fit.
"We have camp coming up in a week and the very first day is always about matching the kid to the right horse," Lyonsgreer says. "If they are a nervous rider, we're not going to put them on a horse that is going to react to that nervousness.
"All too often people are mismatched with a horse and have been scared off because of it," she continues. "We make a valiant effort to match you up with the right horse."
In addition to summer camp, Suffolk Stables also offers a full schooling show circuit throughout the year for English and Western, Hunter and Jumper, plus driving and dressage, and a miniature horse division, as well as lessons and trail rides.
In January, Suffolk Stables was also named a United States Pony Club riding center, where people can come to study about horses, as well as learn to ride them. Lyonsgreer notes that the knowledge acquired through the pony club is especially advantageous for youth looking to extend their horse experience through college, and is looked upon favorably on college applications.
With all that is going on, Lyonsgreer says students as young as 3 have stepped foot on the farm, and anyone is welcome to join.
"We really have a mentorship here as well," she says. "Not a lot of kids here have a lot, but we take them under our wing and make sure they have what they need.
"We have a donation shed, where if someone doesn't have something, they can go in there, pick out what they want, and take it and use it," Lyonsgreer continues. "They can use it as long as they need to, and if they outgrow it and it's still in good condition, it goes back in the shed so someone else can use it."
They say not everyone is a horse person. But in an environment like Suffolk Stables, it's difficult not to be.
"We don't tolerate drama, divas or bullies," Lyonsgreer says. "It is an absolute pleasure to walk outside my house and know we have peace here on the farm.
"The parents know it," she concludes. "I'm firm, but fair, and the kids can find a peace and quiet here they can't always find anywhere else."
Suffolk Stables
1418 Old Indian Mills Road
Shamong
(609) 346-7093
SuffolkStables.com
Published (and copyrighted) in Suburban Family Magazine, Volume 12, Issue 3 (June 2021).
For more info on Suburban Family Magazine, click
here
.
For information about advertising in Suburban Family Magazine, click
here
.
To find out where to pick up your copy of Suburban Family Magazine, click
here
.