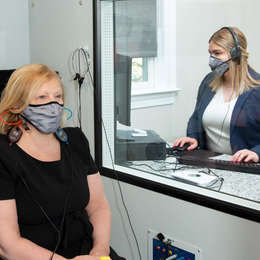 Listen to the Signs
Associates in Hearing HealthCare aims to raise awareness on hearing loss and its connection to other medical concerns.
Hearing loss is likely something that will affect many of us at some point in our lives. One in three people experience hearing loss by age 65, and it is estimated that 50 million Americans experience a ringing in their ears, known as tinnitus. While many people dismiss symptoms and delay seeking treatment, what they do not know is that hearing loss could be linked to additional health issues, including diabetes, cardiovascular disease, fall risks, cognitive decline and depression.
The team at Associates in Hearing HealthCare is hoping to educate practitioners across South Jersey and help improve the quality of life for the local community.
Founded in 1984 by Dr. Elizabeth Kennedy, Associates in Hearing HealthCare is now owned by Mr. Jonathan Ayes. Locations include Barrington and a new, state-of-the-art office in Voorhees. Services range from hearing tests, wax removal, hearing aids, swim plugs, shooter plugs (for hunters or first responders), as well as cognitive screening.
Although age-related hearing loss begins around age 50, it can affect all ages, including babies with congenital hearing loss, or those with noise-induced hearing loss due to their occupation.
Hearing loss can present differently, and most people don't initially recognize it as a problem, says Dr. Rosario Saad, clinical director. "Typically, those who have mild hearing loss are somewhat unaware they have it. They may find it's only difficult to hear in noisy environments and therefore, not until it becomes a moderate loss do they realize there may be a problem."
Treatment approaches vary depending on the type of hearing loss a patient is experiencing, whether it's conductive—an interference with the passing of sound to the inner ear, which could include earwax buildup—or sensorineural, which is when the cochlea or auditory nerve is damaged and cannot accurately send electrical information to the brain. This is the most common, says Dr. Saad, and presents in aging patients and those with loud noise exposure.
However, it is the difficulty processing information coming from the ear that is concerning as it relates to a person's cognitive abilities. Studies have shown there are merits to some theories about how brain cells respond when hearing loss occurs, possibly not processing information as quickly or easily as it once did.
Associates in Hearing HealthCare recently began using Cognivue Thrive, an adjunctive tool for evaluating cognitive function. It is not a stand alone diagnostic tool. "This takes about five to 10 minutes and evaluates a patient's pattern memory, visual spatial ability, executive function, reaction time and processing speeds," Dr. Saad says.
That's not the only comorbidity connected to hearing loss. "Studies have shown there is a high association between loneliness, depression and social isolation, and incidences increase as hearing loss becomes more severe and untreated," Dr. Saad says.
Dr. Saad also says, along with an emotional impact, certain diseases are also connected to hearing loss. "Diabetes is strongly associated, and hearing loss can happen quickly. An estimated 54% of adults with kidney disease have hearing loss related to the toxins of kidney failure, and studies have shown certain types of hearing loss are associated with a higher incidence of heart attack and stroke," she says. "Fall risks are also a concern. When someone is not getting auditory cues from their environment, they are more vulnerable to falls, and they are one of the highest indicators of severe injury or mortality in the aging population.
"Most people don't realize these connections and we're working on educating patients and other providers so those affected can get help sooner," Dr. Saad continues.
Tinnitus can also put a strain on people. Mr. Ayes himself has experienced it. "I've had a ringing in my ears for years," he says and now wears hearing aids to help with his tinnitus.
Dr. Saad says most people think the sound they hear is occurring in their environment, and only when they start reporting to others around them do they realize it's within their ears or their head. What's more, 85 to 90% of those with tinnitus also experience hearing loss. Therapies can be used to address tinnitus depending on the level and how it affects their daily life, but if hearing loss is also present, hearing aids will more than likely be part of the process.
If a hearing aid is needed to treat any type of hearing loss, it's important to note that over 90% of the options are digital, unlike the analog models some may recall being used by their grandparents growing up.
"The devices today are so tiny you can't notice them," says Mr. Ayes. "We work with all the large manufacturers including Widex, Oticon, Phonak and ReSound. We're also the only ones in South Jersey offering Lyric, an invisible, 24-hour wearable technology placed inside the ear and replaced every five to six weeks."
Hearing aids now offer connectivity via Bluetooth and can connect to your phone, TV or other devices, Mr. Ayes states. "Most people are surprised when we show them the hearing aids. Some even have a GPS option in case it gets lost." He also adds that price should never be a deterrent and options can be tailored to any budget.
Mr. Ayes and Dr. Saad encourage readers to be proactive and call their office to arrange for a full audiological exam. After the exam, a provider will go over the results and discuss further recommendations if necessary. And even if no hearing deficit is detected, the exam is a good baseline for the future.
"By age 40 everyone should consider an exam and if there is nothing found, an exam is recommended every three years until age 50 or when they notice a change. By age 50, we recommend exams every two years and if loss is detected, annual exams are appropriate," Dr. Saad says.
To speak with a patient care coordinator, call (888) EARS-4YOU today.
Associates in Hearing HealthCare
502 Sheppard Road, Voorhees
121 Clements Bridge Road, Barrington
WWW.EARS4YOU.COM