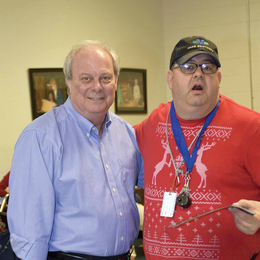 A Future in Question
The Occupational Training Center of Burlington County gives people with disabilities a community and daily goals, but a national movement could compromise it all.
For more than five decades, the private nonprofit Occupational Training Center (OTC) of Burlington County has helped neurodivergent and disabled adults learn a vocational trade in its shelter workshop or out in the greater community, offering its workers the agency of a daily purpose and an inviting, supportive social environment.
Nearly 180 individuals work on packaging and assembly operations in the workshop while others are out in the community assisting with recycling collection or working in a janitorial capacity for various state and local contracts, and OTC aims to provide each of them with opportunities "to grow and work at their top potential," according to Executive Director Jeffrey Haines. It also has a lower-level training class that teaches the fundamentals of job skills.

But Haines fears for the programs' future. A decade-old issue previously affecting Maine and other New England facilities has been picking up traction and could set its sights squarely on OTC's workshop.

"They're trying to eliminate Section 14(c), which deals with allowing the payment of subminimum wages to people and would pretty much eliminate OTC's ability to provide services to people in our workshop," he explains. "All our people who work outside on the government contracts are already far above minimum wage so it mainly would affect the 180 people in our workshop."

Section 14(c) of the Fair Labor Standards Act grants holders of a 14(c) certification the ability to pay workers less than the federally mandated minimum wage. OTC pays its workshop workers for the pieces they complete, with some making an average of $2 or $3 an hour. That means the federal committee preparing to submit a presidential recommendation to eliminate 14(c) jobs would take direct aim at OTC.

Haines says that if these efforts come to fruition in New Jersey, workshop workers' daily community would be torn apart by an initiative that may have begun with good intentions but has dangerously missed the point of how organizations like OTC both operate and enrich their employees' lives.

"The theory is that, 'Well, if they didn't have workshops, they would all go out and look for jobs' because we're holding them back, we're keeping them here at the workshop," he says. "But nothing could be further from the truth."

Haines says that OTC's workshop employees typically don't have to worry about things like rent and grocery shopping, as they tend to live with family members or in group homes. The real payoff for them, he says, is the autonomy of having a job to both do and go to every day, the personal pride they take in contributing to the community, and the interactions they have with the friends they've made.

"The fact is that they don't want to go back to a program where they're not working, and they have friends here," Haines says. "This is their choice of programs. They're safe here, they feel safe here, there's not a lot of pressure to produce and they get to socialize with their friends."

On the local level, Haines says elected officials "have been fantastic."

"The state politicians in New Jersey are so supportive of people having this kind of choice, of having this situation where people can work and feel comfortable and safe," he says. "But nationally, this movement has been trying to take over for years."

A group of employees' parents and supporters have since formed Friends of The OTC in response to the proposed legislative impact that could render the program too financially unfeasible and over-regulated to run—and leave those who benefit the most from a unique program without the support and opportunities they have found there.

"The parents and families are obviously very disturbed because there might not be a program," Haines reports. "They don't know what they're going to do. [Detractors] talk about day programs instead, but our workers don't want to go to those because they're for a much lower-fuctioning level. They say that they can just find another program—there are no other programs like this!"

In the end, Haines fears that what's played out in other regions where similar facilities' 14(c) was eliminated is the sad fate that awaits the individuals who have found a community and purpose in the OTC workshop.

"They're used to working and they're just lost without it," he says, adding that their voices haven't even been heard or their opinions considered as the fight rages on and gets closer to home. "They're in the middle: They can't go up and they can't go down. That's the major problem. There's no place else for them to go. Wherever this has happened—New England, Maine, everywhere else—most of the people just wind up sitting at home alone."

Occupational Training Center of Burlington County
2 Manhattan Drive, Burlington Township
(609) 267.6677
OTCBC.org
Published (and copyrighted) in Suburban Family Magazine, Volume 12, Issue 3 (June 2021).
For more info on Suburban Family Magazine, click
here
.
For information about advertising in Suburban Family Magazine, click
here
.
To find out where to pick up your copy of Suburban Family Magazine, click
here
.