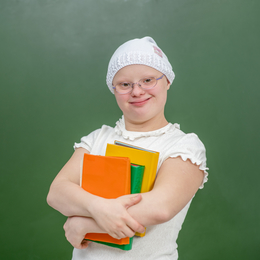 Independence for your Special Needs Child
How structure and community can help your child blossom
As children with special needs get older, parents may have concerns about their child's ability or opportunities to be independent. Just as all special needs differ, so does independence for each individual, whether it's finding a job or completing daily living tasks. Finding the right program is the first step in giving your child a chance at independence and success.
Jeffrey L. Haines, executive director/CEO of Occupational Training Center (OTC) of Burlington County, says organizations like OTC provide services assisting people in finding employment and job training. "Depending on the person, some may be at our programs for years or they may come short-term and look to advance. We structure the programs so that they meet the individual's needs at whatever level that they are at," he says.
One of the best elements of the program is the clients' ability to try different jobs to see which is the right fit. If a site is too overwhelming or not challenging enough, they can try something else.
Success stories are everywhere Haines looks. "There was one gentleman in particular who has stood out the past year. He worked with us for a few years and then was interested in working somewhere outside of the OTC. We placed him part time at a greenhouse and he remained working for us part time as well. He was a little bit hesitant to work beyond the comfort of the OTC, but he ended up really enjoying it and doing very well. When the pandemic hit, many of the workers at the greenhouse did not want to come in, but he did! So he worked through the pandemic and they eventually upgraded him to full-time employment. This is a great example of someone who was nervous at first but became confident and ended up successful," he says.
Parent involvement is also important, he adds. "We need them to give us insight as to what kind of support their child may need at a job. Reinforcement from our clients' parents is needed consistently while their child is in one of our programs."
Ultimately, parents will see the value of this independence. "All parents are concerned about the safety or well-being of their child when sending them off to a job or program, but it is important to let their child try and find a place where they feel comfortable enough to thrive," Haines says.