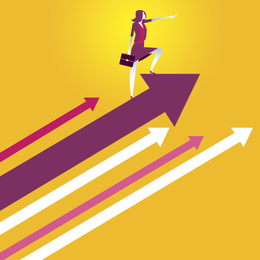 Ladies Who Launch Part II
How local females found professional success and personal rewards in their career path.
When embarking on a career, most people expect that it will earn a living and provide professional growth. However, there are times when "going to work" doesn't feel like a job at all, but a daily chance to live out your passion by changing the lives of others. This section of "Ladies Who Launch" profiles features inspiring examples of local female entrepreneurs and leaders who haven't given up on making a difference in South Jersey. From family law attorneys to fitness instructors, these women go beyond the 9-to-5 status quo.

"Your success as a family lawyer is based upon your reputation and it is essential to set the foundation for your career early," Stephanie J. Zane, Partner, Archer & Greiner
"Helping people through a very difficult time and helping them meet their goals is the most rewarding aspect of this job," Jennie A. Owens, Partner, Archer & Greiner
"Working as a neutral I try to get each party to be collaborative. That way each person finds satisfaction in accepting the result," Marie E. Lihotz, Of Counsel, Archer & Greiner
"Helping clients see the light at the end of the tunnel and playing a part in their new beginning is the most rewarding aspect of my job," Tara L. Hanna, Associate, Archer & Greiner
"It is so important to me that all of our residents feel that Brightview is truly their home where they are fortunate to spend the next chapter of their lives and that they receive exceptional care and service," Samantha Lawrence, Regional Director of Operations, Brightview Senior Living
"When I am greeted as I walk into the community with smiles on everyone's face, that is the second paycheck everyone talks about and boy does it feel good," Lavanda Clinkscales, Executive Director, Brightview Senior Living, Mount Laurel
"The most important part of my job is being visible and keeping the lines of communication open as well as timely," Jennifer Steen, Executive Director, Brightview Senior Living, Greentree
"Knowing all the residents by name, knowing their life stories, their likes and dislikes makes them feel loved, valued and appreciated. That's what it's all about," Tracy Gill, Executive Director, Brightview Senior Living, Woodbury Lake
"I'm firm, but fair, and the kids can find a peace and quiet here they can't always find anywhere else," Deborah Lyonsgreer, Suffolk Stables
"Dermatology is an amazing field and it provides so much variety. I always enjoy seeing different patients of all ages and applying new advances to help them. It's so incredible," Dr. Ingrid Warmuth, The Warmuth Institute of Dermatology
"People are under phenomenal stress when a loved one has been diagnosed with dementia,
which is the most common situation we deal with. We can really help people with our expertise,
really interact with people and do good things," Nancy Rice, CELA, Rice Elder Law
"I love my job. I'm excited for Monday just like I'm excited for weekends with my family," Pamela Quattrone, CELA, Rice Elder Law
"There is nothing more rewarding than watching someone become aware of their very own potential, find their purpose and to use it to encourage the next person. It has added so much meaning and happiness to my life," Leah Pileggi, Group Fitness Director, Echelon Health & Fitness
"I love giving my patients a smile or correcting something that has been bothering them all their life," Dr. Nermeen Rifai, All Smiles Family Dental